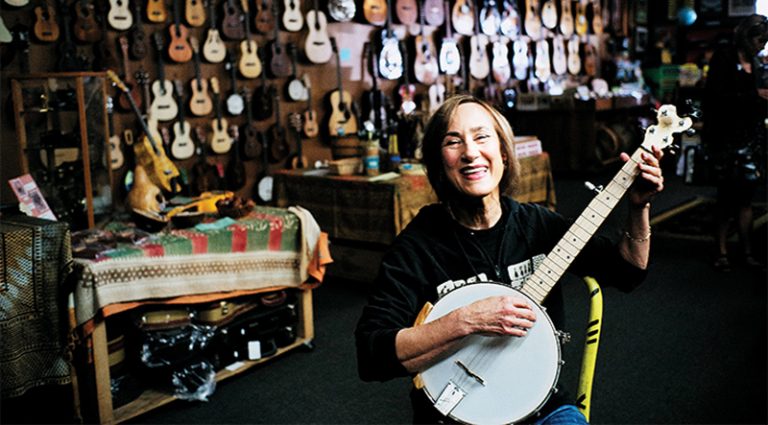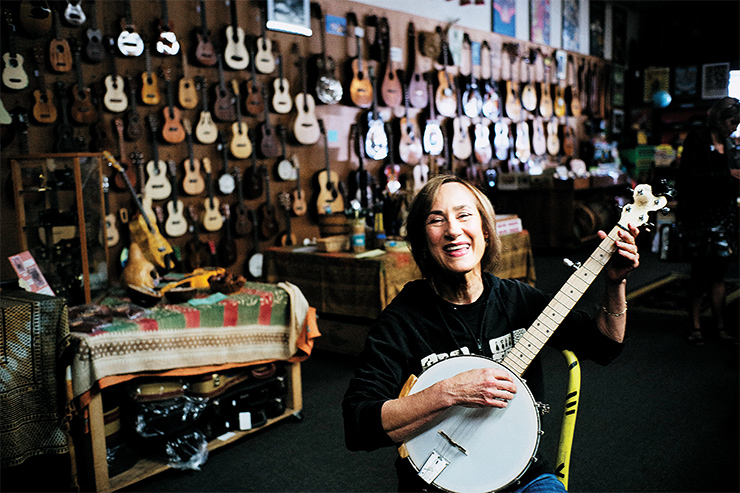 "Ben likes to joke that this album had a lifetime of pre-production," Ellen Harper says of Childhood Home, her collaboration with her Grammy-winning son. A spare rhythm section, Ben's Weissenborn slide, guitar, dulcimer, and Autoharp, and Ellen's acoustic guitar and banjo provide the subtle bed for the beautiful mother/son harmonies on 10 unapologetically folkie originals.
Stints playing bass in a conjunto group or gigging with a country band aside, Ellen Harper has been surrounded by folk music her whole life. After moving from New England to Southern California, her parents, Charles and Dorothy Chase, opened Claremont, California's Folk Music Center in 1958. "Boston had a very active folk music scene, which was very tied into political movements of the time," she recounts. "My mother, who played banjo and guitar, got involved with the Lomax family. As long as I can remember, she played and taught."
Her father, a schoolteacher, lost everything when he was blacklisted in the Red Scare of the McCarthy era. Moving the family to California, Charles happened to go to graduate school in Claremont, and within months Dorothy formed the Claremont Folk Song Society.
The Folk Music Center started in "just one tiny room," but it grew so quickly it relocated twice before settling at its 220 Yale Avenue location in '71. Early customers included David Lindley, Ry Cooder, and Taj Mahal.
Ellen's grandfather, Albert Udin, also moved from Massachusetts to work at the shop. "From junior high on, my job was to go there after school every day to relieve him," says Ellen. "It was irresistible to me; there were so many interesting people coming through and music happening. By 14, I was playing guitar as much as working there. After college and having kids, I went back to work at the shop and did repair work – the same way Ben later did. I think that's why we love the instruments so much."
In 1961, Harper's parents also opened the Golden Ring coffee house to feature live music – meaning that Ellen would come downstairs in the morning and icons like Sonny Terry and Brownie McGhee might be sitting at the breakfast table, or, after school, Doc Watson might be in the living room getting ready for his gig that night. During its five-year existence, other future legends such as Rev. Gary Davis, Hedy West, John Fahey, the New Lost City Ramblers, and Guy Carawan also played there.
The sheer excitement of the Folk Boom of the late '50s and early '60s is invariably, and unfairly, overlooked. "That whole movement has been marginalized and given no credibility. It was the folk movement that brought all those blues artists like Lightnin' Hopkins up to folk festivals."
The Martin 000-45 that Ben is pictured playing on the January '14 VG cover was Ellen's. "When I was about 16, I was playing out at places like the Cat's Pajamas in Pasadena. I would just use whatever guitar caught my fancy, so I was playing that 000-45. Then one day it disappeared, because my father sold it. About eight years ago, a fellow who had run the Cat's Pajamas came in and said, 'I was going to leave this to you in my will, but I wanted to give it to you now.' I opened the case and said, 'You don't want to donate this; it's worth a lot of money.' He said, 'No, I want you to have it. I remember you playing it. I came into the store one day, and your father said he was tired of his daughter dragging this around and was afraid she'd ruin it. He sold it to me, but I felt bad for so long, I wanted to give it to you.' He said, 'The only caveat is, I want you to keep it in the family.' Ben said, 'Well, that shouldn't be a problem.'"
Ellen achieves a surprisingly authentic banjo sound on the old-timey "Farmer's Daughter," one of four tunes she wrote for the CD. "I'm playing clawhammer on a shorter-scale Goodtime banjo [by Deering], and I tucked a thick violin-type foam pad between the post and the bridge," she explains. "It gives it that leather-head sort of sound. I have a Mystic, a Lady Stewart, a Luscomb – these beautiful banjos – but I like to leave them original. Which means it's a pain in the neck to tune them, and I don't want to change out the tuners. So I try to make a new banjo sound like an old one."
In 1976, FMC's museum (with hundreds of rare and antique instruments) was incorporated as a non-profit educational, cultural corporation. Its services to the community include a musical instrument loan program to schools and support for instrument making at high school and college levels.
In order to keep the Folk Music Center in the family and alive for the generations to come, Ben Harper purchased the store from his grandparents. Today, Ellen is its manager.
---
This article originally appeared in VG's April 2015 issue. All copyrights are by the author and Vintage Guitar magazine. Unauthorized replication or use is strictly prohibited.
---