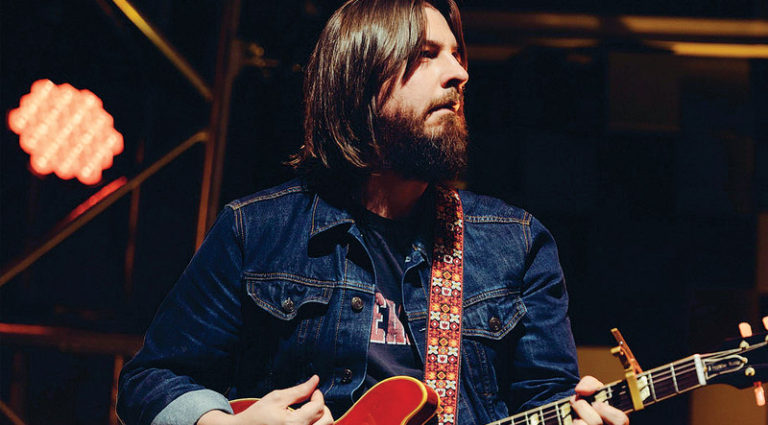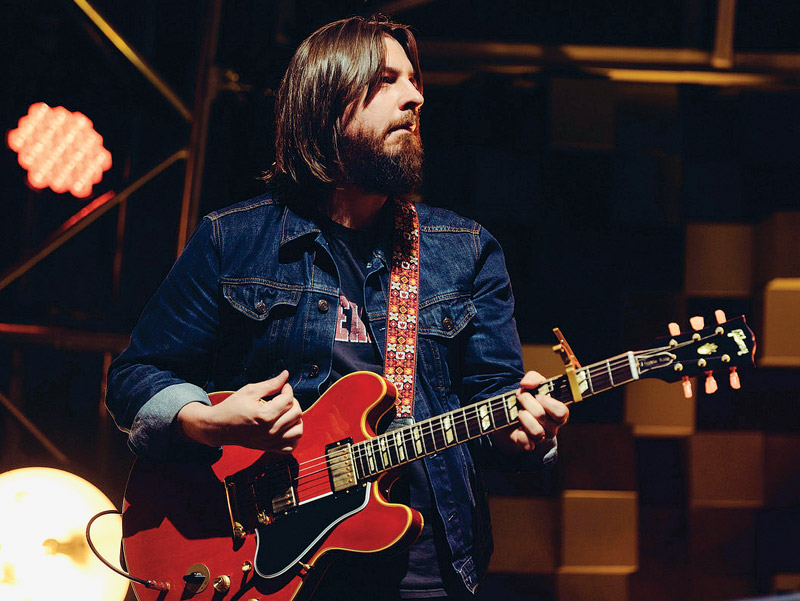 Grandson of a Pentecostal minister, as a kid, Dave Cobb attended church every day, weaving old-time hymnal music into his DNA. Rather than constraining his musical inclinations, church music – and watching relatives play it – helped open his mind. From the moment he heard rock and roll on the radio, he connected the sound and energy of the two forms.
"To me, rock is six degrees of separation from gospel," he said. "When people are playing hymnals and everyone's singing, stomping, and clapping, it resonates no matter who you are. And of course there's a strong link to religious music in the blues. It's all interwoven; the blues come from gospel, and people from all over the world came to America, where they created jazz, soul, rock and roll, bluegrass, and country music.
"A good AC/DC record resonates like a hymnal, in a different way," he added. "But it's from the same place."
Artists from Chris Stapleton and Brandi Carlile to John Prine and Jason Isbell have recently relied on Cobb's expertise. After Slash became the third VG cover subject within a year to hit his resumé, it was time to find out what makes him such a go-to.
Slash, Travis Tritt, and Charlie Starr – guys with very different musical styles – all put you in charge of their latest albums.
Yeah, I've always admired their music, they all have a unique voice, and what they do resonates with everything I grew up hearing in the South, from Lynyrd Skynyrd to Guns N' Roses to country music. I've always listened to AC/DC as much as George Jones.
Artists flock to your method of putting everybody in RCA Studio A together and capturing everything live, including vocals. Why are you such a disciple of that?
It's way easier. Plus, when people sing with the band, they get loud when the band is loud, and when they get quiet, the band gets quiet. Everything fits together and sounds like a song, as opposed to trying to assemble the music.
A lot of people have success with the assembly-line process, but I like a more-present human element. Whether it's turn-of-the-century folk, rock and roll, blues, or soul, human interaction is the most important thing. Finding the soul. And that's harder to achieve when everything is under a separate microscope.
When Charlie and the guys in Blackberry Smoke showed up with their guitars, word is you were rubbing your hands together like an evil genius…
Oh, yeah! Drums are my first instrument, but I've been playing guitar since 1987, and I love guitars. I love looking at them. I remember getting my first SG when I was 13. It wasn't a great one – brown, mid-'70s – everything was wrong about it. But I'd fall asleep looking at it in the stand, then wake up and play it all day.
I've still got that fever, and it's funny, the people I really get along with – Charlie, Slash, Chris Stapleton – we're all possessed by it. In the studio, we talked as much about guitars as we did about songs.
What was the keystone to your visual guitar fixation?
Seeing Angus Young with an SG; the shape of the horns, the look of it. It was a piece of art.
Who is on your short list of guitar heroes?
My number one is Jimmy Page, hands down. The Beatles are my favorite band, but I remember seeing The Song Remains the Same and getting Led Zeppelin IV when I was 13 or 14. It was mystical to me. You didn't know if Page hung out with Aleister Crowley in a dungeon, if he did magic, or whatever, but there was this power in the songs, the riffs, and his sound. Zeppelin guitar parts were orchestrations.
Was IV your first Zeppelin album?
Probably. Everyone had it. My favorite is their first one, but the sound of IV, I think, led me to producing records. The first time I heard the word "producer," I didn't know that was. But when I read on the label that Jimmy Page produced that album, it mattered.
Who are your other guitar heroes?
Angus and Malcolm [Young]. I put them on the same level because of the pocket Malcolm created, and the "danger" added by Angus (laughs). That was huge for me.
George Harrison was also huge because he was such a melodic soloist. What he played made beautiful sense and brought this interesting vibe.
Also on the list is Pete Townshend because of his right hand. Listen to "The Seeker"; the timing with his right hand was so inspiring, that alone made me want to be a rhythm-guitar player. You can solo all day, but the right hand of Townshend is a force. I always admired that and tried to emulate it when I was a kid. I got into The Who's earlier stuff first, like "I Can't Explain." That simple riff, to me, is everything. Then, "The Seeker," and later, Next. Again, those records are mystical; I can't imagine bands getting in a room today and making "5:15." It's such a big, expansive, powerful sound.
What was your first AC/DC album?
Dirty Deeds Done Dirt Cheap. I was a drummer, played bass a bit, and I went to take a guitar lesson at this little music store. The teacher had a black SG and I remember thinking, "Man, that's the coolest thing ever!" Just like that, I didn't want to learn "Mary Had A Little Lamb"; I'd been playing music since I was four, so I didn't want to start at the beginning (laughs). So, I told him what I was into and he sent me to a record store in the same shopping center to get Dirty Deeds. He said, "Come back and we'll learn it." I remember him showing me the chords – that [hums the intro riff]. Really simple, and I was off to the races – learned how to play a G like the Young brothers and I've never played it any other way. I only took a few more lessons.
For rhythm-guitar players, Malcolm is a huge part of my vocabulary – the angst they conveyed through the guitar and those Marshalls running clean but nearly to the point of breakup. I always admired somebody who could take an amp that wasn't high-gain and make it sound like it's exploding; Malcolm's hand – the way it hit the guitar – was loud, you know?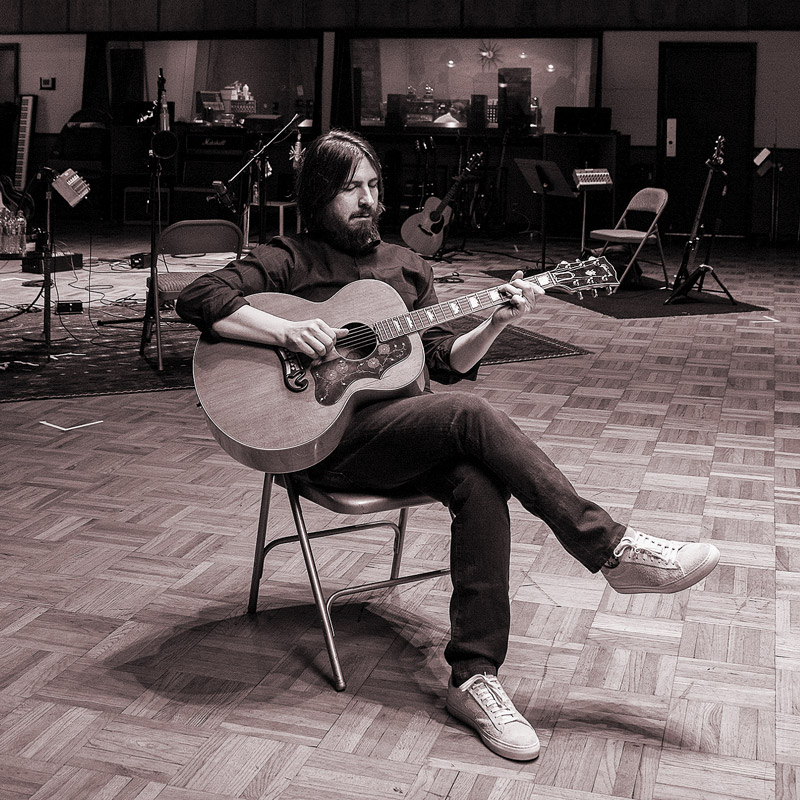 In your 20s, you moved from Georgia to L.A. specifically to produce rock bands.
Yes, early on I worked with Rival Sons, Europe, and Sammy Hagar. I've always had a pretty heavy rock vocabulary.
How did you connect with Slash?
We talked on the phone about making records the old way – a rock-and-roll band in a room with no headphones going to tape live off the floor. He was excited to do that, and I was super-excited to work with him.
What was it like, watching him in the studio?
Well, growing up, I was a huge fan of Guns N' Roses, and a huge fan of his playing. So, of course it was cool to get to know him. In the studio, he was even better than I expected. Very few people can make a Les Paul and a Marshall sing like he can.
Did you ever grab a guitar and jam?
Oh, man, I'm not picking up a guitar around Slash – that's terrifying (laughs)! When I'm around incredibly talented guitar players, I just shut up and play percussion.
Did the Blackberry Smoke guys need any guitar help?
None whatsoever (laughs).
Did you play on the Travis record?
I played some acoustic guitar. Leroy Powell played a lot of electric, and Travis also played.
Travis and Charlie are both fellow Georgia boys…
Yes, and it's very easy to speak to somebody who comes from the same raising in lot of ways. Travis loves Lynyrd Skynyrd and George Jones as much as I do, so we had a lot of common ground. I also connected him with some like-minded writers who'd grown up listening to his music, like Adam Hood, Channing Wilson, and my cousin, Brent Cobb. They hit it off, and they'd call me, freaking out, going, "I can't believe I just wrote with Travis Tritt!"
How many of your own guitars are in the studio on any given day?
I'll never tell (laughs). Let's just say I have more guitars in there than I have hands. Obviously, they're tools. They're art, but they're put to work.
I got to tour a bit with Chris Stapleton last year, and we'd sneak out to guitar shops. Walking into a shop not knowing what you might find is one of the best feelings – chasing what's next, finding that new guitar that has a song in it. That's one of my favorite things. I'm not a partier, but I have a great time going to guitar shops.
How many of your amplifiers are in the studio?
More than there are guitars (laughs). I've always loved amps; there's something very special about old Fenders, Marshalls, and Voxes.
---
This article originally appeared in VG's April 2022 issue. All copyrights are by the author and Vintage Guitar magazine. Unauthorized replication or use is strictly prohibited.