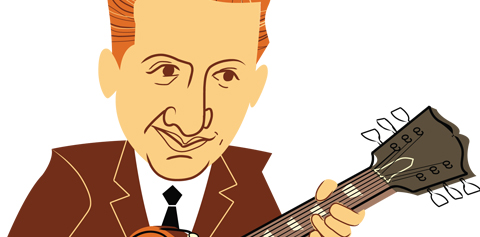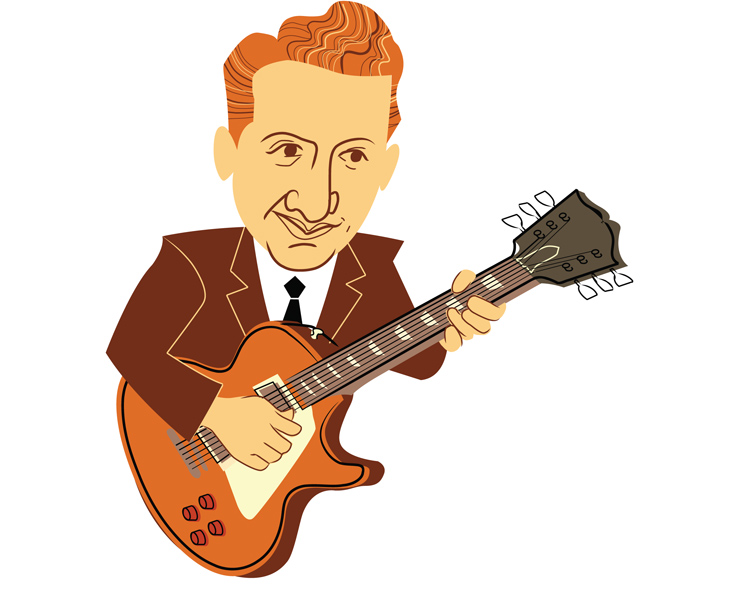 In 1952, Gibson's new Les Paul model was becoming one of the company's most popular guitars, and though there was no way of knowing it at the time, it would ultimately achieve mythical status in the realm of the electric solidbody – and do much the same for the man whose name it carried.
Lester Polfuss was born in Waukesha, Wisconsin, in 1915, the grandson of German immigrants. As a very young boy, he would listen to his divorcée mother play the piano while he sat in the kitchen conducting an imaginary orchestra made up of pots and pans. The first instrument he played was a harmonica given to him by a worker repairing the street in front of their house; on lunch break, the man would play, and the sound caught the boy's ear. Seeing the kid stare at him every time he made it sing, the worker eventually handed over the instrument.
At age 11, Lester was given his first guitar – a Troubador flat-top from Sears and Roebuck. At first, he couldn't reach his fingers across all the strings, so he removed the low E then spent most of his spare time playing it, learning chords from a book. At the time, the guitar was far from being predominant in popular music, bowing to the tenor banjo, plectrum banjo, ukulele, piano, mandolin, and violin, but he happily whiled away countless hours practicing and keeping an ear tuned to famous guitarists of the day. Within a year, he was playing guitar and accompanying himself on harmonica, and he took to playing anywhere in Waukesha that would have him; his first paying gig happened when he was 13, with a group that billed itself as "Red Hot Red."
In the following years he would expand his musical undertakings and begin to experiment with ways to amplify his guitar.
At 16, he played his first radio show, on WRJN in Racine, Wisconsin, followed by others around the state and region.
His first foray into experimenting with the construction of a guitar happened in 1934. While working at a radio station in Chicago, he learned that the Larson Brothers' operation was also located in the city.
"I went to see them, and [we talked about making] a guitar with no f-holes. I talked them into it and tried to explain that I was going to put pickups on it. In those days it was difficult to break the rules." And the Larson Brothers weren't interested.
In the late '30s, Paul moved to New York City and began to experiment further with building a solidbody guitar. In 1941, he visited the Epiphone guitar factory with an idea for a guitar… kind of!
"I told them, 'I want to build this log.' It was just a 4″ x 4″ with a pickup and an Epiphone neck. It took three Sundays, and a guy helped me put it together.
"I took it to a tavern in Queens, and people looked at me like I was nuts. The sound and everything was there, but I found out that people hear with their eyes, so what you're playing has got to look like a guitar. So I thought, 'I'm going to put wings on it, and make it look like a guitar, and see if that makes any difference.' Geez, they went crazy!"
For a second experimental guitar he dubbed "Klunker," he changed other elements (i.e. re-braced its body with a 3/8″ steel bar and installed hot pickups he wound himself) until he had a very playable, good-sounding instrument.
Lord of the Overdub
Beyond his reputation as a brilliant jazz/country/pop guitarist, Paul today is known as the father of multi-track recording. Working in Hollywood's recording studios – and feedback from his mother – prompted him.
"I was at the Oriental Theater, in Chicago, in 1946, playing with the Andrews Sisters, when my mother called and said, 'Lester, I heard you last night on the radio.' I said, 'Mom, it couldn't have been me, I was onstage with the Andrews Sisters. It had to be someone else.'
"So I thought about it, then went back to California to develop a new concept… with slap-back echo and reverb and speeding up the tracks – all the creative things you can do to sound different as a player." This new sound was employed on the instrumental "Lover," his first hit for Capitol Records.
By 1946, Paul was doing nine "sustainer" shows each week for NBC radio in Los Angeles, playing jazz and pop. Harry Brubeck, the station's program director, asked Les if he knew anyone who did a different style of music and could handle a workload like Paul's. Remembering his days with his first groups, Paul offered to do the shows. Needing a "cowgirl singer," he asked Gene Autry (who was working for CBS radio at the time) whether he knew anyone. Autry suggested Paul give a listen to one of the ladies in Autry's Sunshine Girls trio. That girl was Colleen Summers, and when Paul called to gauge her interest, she admitted to being a fan of his music. The two connected and began working on material for the show.
In January of 1948, Paul and Summers, whom Paul had given the stage name Mary Ford, were driving from Wisconsin to California when they encountered a storm as they passed through Oklahoma. Paul, who was ill with a fever, was lying in the front seat while Ford drove. On an overpass between Davenport and Chandler, the car hit a patch of ice and plunged 20 feet into a ravine. Ford and Paul were ejected through the convertible's cloth top while the car came to rest upside down in the river below. There was virtually no traffic passing by and the couple was discovered hours later, and only because they had knocked down a utility pole, which forced crews to search for a break in the electrical line.
Ford was not seriously injured in the crash, but Paul broke his collarbone, shoulder, six ribs, and some vertebrae. He also fractured his pelvis, punctured his spleen, and smashed his nose. Most critically for his career, his right elbow was shattered.
Doctors debated amputating Paul's right arm – the normal course of treatment for a limb in that condition at the time – but one of the first doctors to see him knew of his music, and knew he needed that arm. After a couple of surgeries to fix it (including setting the shattered elbow in a position that would allow Paul to play guitar), Paul underwent 18 months of rehab and recovery.
After getting back in the groove, he continued to play jazz shows on NBC radio, and agreed to take on more work, including a country-music program where he would use the stage name Rhubarb Red while fronting a trio that included Ford. Their first gig was in Milwaukee, helping open a tavern for Les' brother-in-law. Wanting to add another gig or two in the city, Paul drove down Milwaukee Avenue and spotted a club whose marquee advertised live music.
"I approached the owner and said, 'I'd like to play in your club.' He said, 'I've lost a lot of money on everything I've tried.' I said, 'We'll play for nothing,' and he said, 'Come on in!' So we went in, and three months later they were lined up around the block. I said, 'Mary, I think this thing is going to work.'"
In December, 1949, Les and Mary were married. And aside from their rising status as a live and recording act, they were also pioneers in the field of advertising, starting with a very successful radio/print campaign for Rheingold Beer and culminating with "Les Paul and Mary Ford At Home," a television program produced and sponsored by Listerine mouthwash and broadcast out of their home/studio in upstate New Jersey. For five minutes every day, the two would act out a skit, perform a song, then go to commercial break for Listerine mouthwash or some other product. After the break, the show would resume with a second song, often an instrumental by Les. Each five-minute show was broadcast five times each weekday, and the audio portion of each show was broadcast on the NBC radio network.
Les and Gibson's Solidbody Guitar
Among the many things under development by Les Paul, the eternal tinkerer, were several ideas for a solidbody electric guitar. Paul recalls approaching Gibson's Guy Hart with the idea beginning in 1941, and for 10 years he tried to convince the company to develop a production model.
Finally, in the early '50s, Gibson began to seriously consider making a solidbody guitar. Gibson was aware of Leo Fender's success with the Esquire/Telecaster.
"Everything about the looks of the first guitar was discussed with Maurice Berlin and myself," Paul said. "And when we were finished he said, 'What color are we going to make it?' Without really thinking, because it never entered my mind that anybody would ask, I said, 'Gold,' and there were two other people in the room, another manager and Mr. Berlin's right-hand man, Mark Carlucci. One guy said, 'It's a terrible color to work with.' But M.H [Berlin] said, 'Gold it is.'
"Then they said, 'What about the other guitar?' I said, 'Black.' They asked why, and I said, 'I like to see the player's hands move…'
"Mr. Berlin and I talked about maple and mahogany bodies, and the Gibson people got them backward; the black guitar, which was the most expensive, was all mahogany, and the cheap guitar, with the maple top, cost the most to make.
"When I got my hands on the prototype, I found quite a few errors. I said, 'Why don't you… just make them all with a maple top and mahogany on the sides?'"
Living Legend
Les Paul did many things right; he found his passion at an early age, and he had natural rhythm and musical ability. He worked tirelessly and improved until he found his sound. And he also strived to be well-rounded – not only as a guitarist, but as an engineer, inventor, promoter, and celebrity.
Today, Les' status as a legend is cemented. In 2006, he won two Grammy Awards for his album Les Paul & Friends: American Made World Played. And biographical documentary, Chasing Sound: Les Paul at 90, premiered last May at the Downer Theater, in Milwaukee. The film was broadcast on PBS as part of its "American Masters" series. Today, at 92 years of age and suffering from arthritis, he still holds down a weekly gig at the Iridium Jazz Club in New York City.
For more on Les Paul, see Les Paul: In His Own Words, by Les Paul and Michael Cochran, published by The Russ Cochran Company (2005), and "Les Paul: Birth of a Guitar Icon," Vintage Guitar, November '02, by Gil Hembree.
---
This article originally appeared in VG March 2008 issue. All copyrights are by the author and Vintage Guitar magazine. Unauthorized replication or use is strictly prohibited.
---