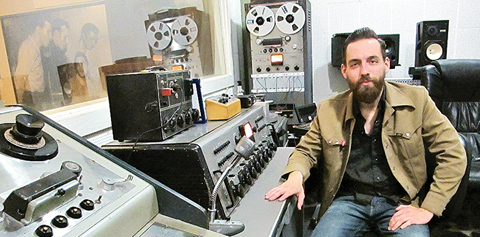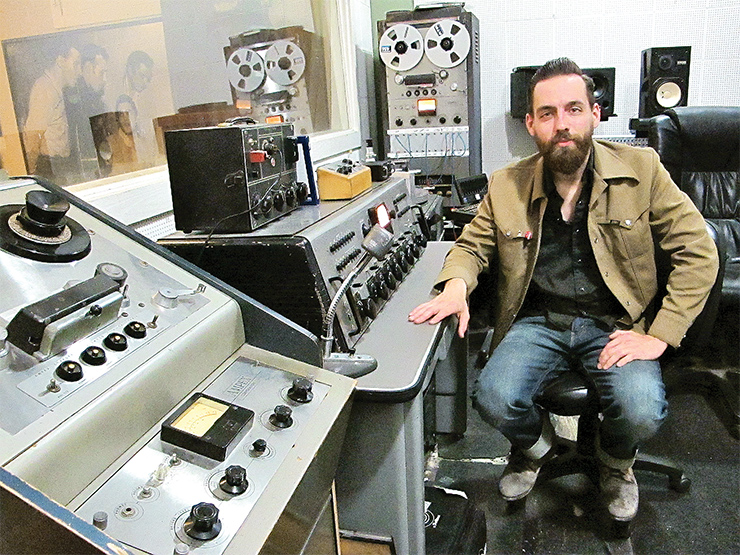 January, 1950: 27-year-old Sam Phillips opens Memphis Recording Service, soon to become famous as Sun Studio and launching rock and roll with the 1951 Jackie Brenston-Ike Turner ode to an Oldsmobile, "Rocket 88," and Elvis Presley's epochal 1954 tune "That's All Right."
January, 2014: 27-year-old Matt Ross-Spang completes a six-year crusade restoring Sun to its '50s glory with working, period-correct equipment – all in glorious mono.
In the beginning, rock and roll orbited around Sun. Even blues, country, and gospel music had an early home here, thanks to Phillips' passion. Yet while Sun's music was great, the facilities were anything but; the studio was a true hole in the wall at 706 Union Avenue, looking like an afterthought to the neighboring café, which served double duty as Sun's de facto business office; Phillips proudly didn't have a desk – just his usual café table and coffee mug. The recording studio measured a mere 17 by 28 feet, enough room to swing that proverbial cat, but be careful about the headstock on your doghouse bass. And the control room was a cramped 17 by 20 feet crammed with recording gear seemingly from the laboratory of a '50s B-movie mad scientist. There was nothing remarkable about the place – but it was auspicious. Lightning struck here more than once: Ike, Elvis, Howlin' Wolf, B.B. King, Carl Perkins, Jerry Lee Lewis, Johnny Cash, and so many more first recorded here.
It was indeed a hole in the wall – surrounded by legends in the making.
Today, the hallowed studio is one of Memphis' great tourist attractions, a true-blue American institution, listed since 2003 as a National Historic Landmark along with Mount Vernon, the Alamo, the Statue of Liberty, and yes, Graceland. Visitors throng here from around the globe like the religious faithful coming to see where so many greats worked their magic.
At night, Sun still shines. After the tours end, the guides roll up their sleeves and begin their real work. Since reopening as a studio in 1987, it has hosted sessions by artists as diverse as U2, Def Leppard, and John Mellencamp.
Sun Studio may have looked like it did at its zenith in the mid '50s, but in fact the recording equipment was all modern. That old magic might have existed – perhaps in the age-darkened acoustic tiles glued in place by Phillips himself or the vintage Shure 55 mic used by all the greats, an X on the floor marking the sweet spot. But, back in the control room, they were cutting to 24-channel stereo.
Ross-Spang has changed all that. While you can still use the modern gear, Sun now has Phillips' setup resurrected, circa 1956.
"I've long had this dream," says the Memphis-born guitarist-turned-head engineer, who began with little of nothing. Much of Sun's original gear had been sold for scrap or trashed in the '70s, when the building became a plumbing-company office, then an auto-parts shop. But he did have two photos of Sam in the control room, and began there.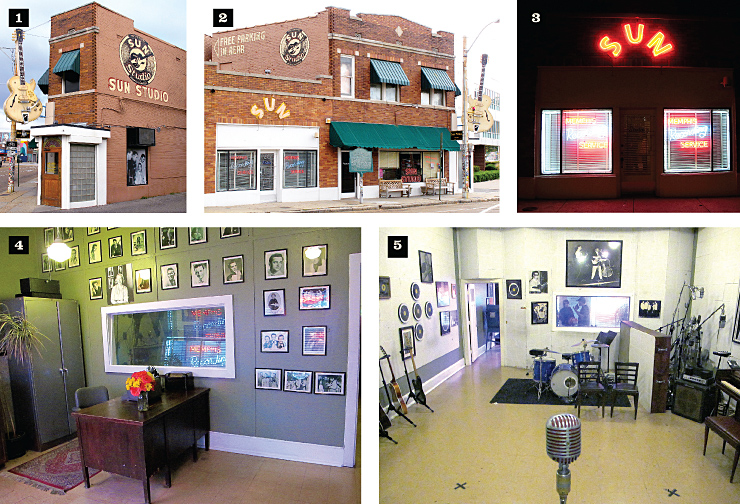 "Sam just kind of jerry-rigged it – that was before studios had a 'normal' way of doing anything," he says. "I love history and research, and so I worked backwards. There are only two pictures showing the control room, so I studied those for what he had and how he used it."
Ross-Spang had enthusiastic help from Sam's sons, Jerry and Knox Phillips, as well as Sun's current owner, John Schorr, Elvis' guitarman Scotty Moore (who had worked at Sun), and other session men including house-band guitarist Roland Janes and modern-day recording ace Mark Neill.
Ross-Spang searched for the correct vintage gear among audiophiles and on that worldwide garage sale that is the internet. Tracking down equipment was difficult; finding stuff that actually worked or was salvageable was even tougher. Affording it all was the final challenge, but Ross-Spang got lucky.
When he was 22, he worked bagging groceries to support his Sun work and pay for a jumbo Guild guitar. He left the Guild at Sun for session work, asking artists to sign it, including Hubert Sumlin, Robert Plant, and Memphis heroes Jim Dickinson and Jack Clement.
"One morning, I came in and someone asked, 'What happened to your guitar?' It was just smashed – there were bits everywhere. The studio insurance paid for the guitar, the most money I'd seen for a long time.
"I'd been looking for years, trying to find an old RCA tube console. And the next day, one from 1936 popped up on an online auction site – and it was for almost the same amount of money as my insurance check.
"A lot of things lined up all at once for me to get the old setup going. It was a sign. It sounds trivial because it's all material things, but it was a sign."
The studio still had two Ampex 350 tape machines like Phillips used. Ross-Spang then found a '40s Presto 6″ lathe just like Phillips used to cut demo actetates.
"It went from not finding anything to it all coming together and just lining up. I swear Sam was up there smiling, saying, 'Here you go, son,' making it all happen."
As Ross-Spang rounded up the gear, he had a tech repair and fine-tune it, paying for things on the installment plan with each paycheck.
Ross-Spang next set about re-creating Phillips' signal path. The greatest challenge was determining how he created Sun's famous echo – which even the RCA engineers couldn't re-create for Elvis' first big-time recordings.
"Sam cut on one Ampex 350 and used the other for the echo. He also had a couple little portable [Ampex 401 recorders] that his son, Jerry, told me he also used for echo."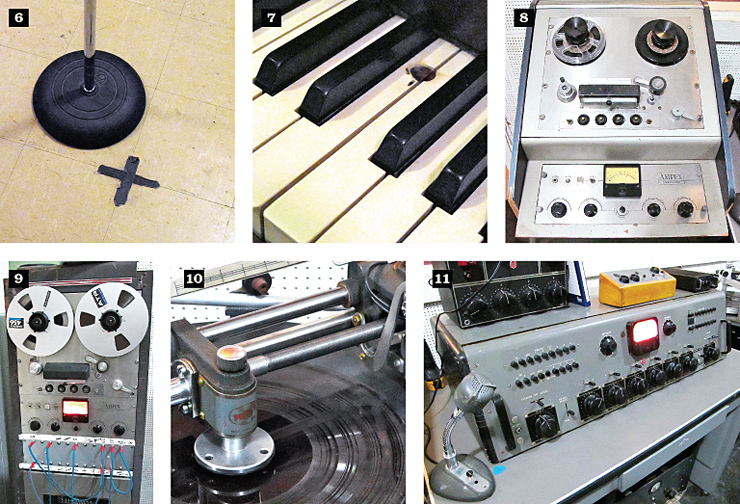 From talking to Sun old-timers and listening to recordings, Ross-Spang discerned how Sam crafted the echo at different times for different sounds.
"There's basically two ways Sam did the echo," he explains. "When he first figured it out, he had four mic inputs on the console, and he'd have a separate mic in the room that he'd send out straight to the echo Ampex and return into the console. So, he was giving up one of those precious inputs on the board – and he'd get echo on the whole thing."
He also used a dedicated vocal or guitar mic, which created a natural echo.
Despite Ross-Spang's fascination and dedication to the vintage gear, he is adamant it's not the equipment that makes the sound. The magic comes from discipline.
"People don't just walk in and sound like 'Mystery Train,'" he says. "I quickly realized that the real sound is in the limitations of all stuff – you're in one room together with no headphones and you're playing quietly, that's really where the sound is. You have to be very careful; the mics all have to be in the right spot. It's a game of inches."
Recording to mono is an art that Ross-Spang had to learn. The whole band has to get their parts right in one take. There's no fixing in the mix.
"You'd think having 16 or 24 channels would be scarier, but you can ProTools or slide it later. This kind of recording is so much more scary," he says.
"It's an old tube console, so if you get too loud it's going to distort – sometimes in a cool way. So you're watching all the meters, listening to the song and the parts, watching your tape-machine levels – you're monitoring all that stuff at the same time trying to get a good take. Every time I do it, I'm sweating!
"But when you get it right, it's the coolest thing in the world."
---
This article originally appeared in VG's March 2015 issue. All copyrights are by the author and Vintage Guitar magazine. Unauthorized replication or use is strictly prohibited.
---