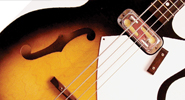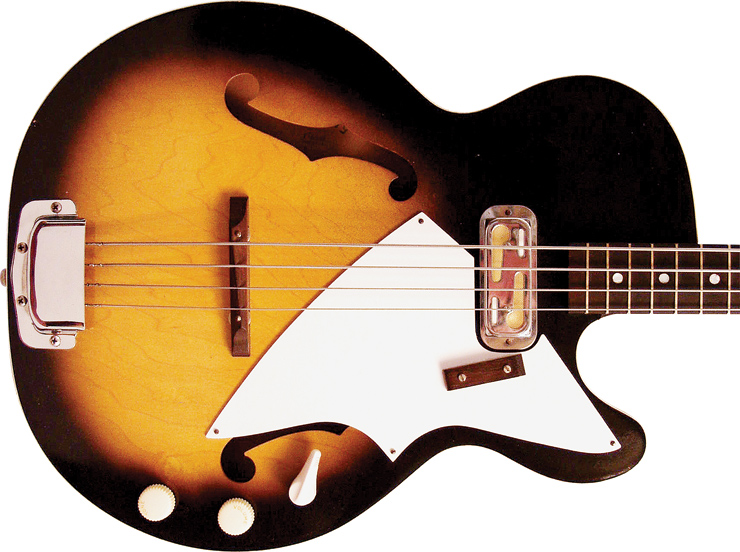 Duh-Duh-Duh-Duh-Duh, Klunk!
It's not the most artful musical introduction, but it was effective. And by the time a screaming Hammond organ slides in over the pounding bass-and-drums, most listeners are hooked. The song is "Gimme Some Lovin" by the Spencer Davis Group, and the 1966 record is a showcase not only for the vocals and organ of a young Steve Winwood, but the sound of the Harmony H-22 bass in the hands of his brother, Muff.
While budget-priced four-strings are rarely given their due, the hollowbody H-22 has more than once proven a surprisingly efficient low-end tool – and made its mark on classic recordings.
The H-22 Hi-Value was Harmony's first electric bass, debuting in 1962 and featured on the catalog cover. The name was descriptive, if unromantic (like Kay's Value Leader), still, Harmony was the largest student-level guitar maker in the country and this model helped make the electric bass obtainable for kids everywhere. It had been a long time coming – 10 years after Fender's first bass and local rival Kay's response. Kay was America's premier upright bass maker, and in a quick reaction to this new low-end idea created the hollowbody bass in late '52 with the flat-top/arched back K-162 Electronic Bass. The H-22 bore a general resemblance to the original, but at a much lower price – and it hit just in time for the '60s rock explosion.
The H-22 was well-conceived despite being built with price as a primary consideration. "The value built into it is unsurpassed!" claimed the catalog, and it's hard to argue. A full/16″ body – thin-rimmed, flat-topped, and hollow (it almost looked like an archtop) – gave the instrument better balance than many short-scale basses. There was a lot of space between the simple wooden adjustable bridge and the tailipece, so it required long-scale strings though its scale was just 30″. And it's hard to imagine a pickup design simpler than the DeArmond Golden Tone Indox mounted near the fingerboard; a flat single-coil with an internal magnet, it puts out a surprisingly powerful tone with plenty of definition. Indeed, the Harmony offered a much clearer sound than the upscale Gibson EB-2 and Epiphone Rivoli basses, with more output than similar Höfner, Kay, or Framus instruments. The wiring was basic but functional, with Volume and Tone knobs and a lever-activated Klunk switch for a baritone effect.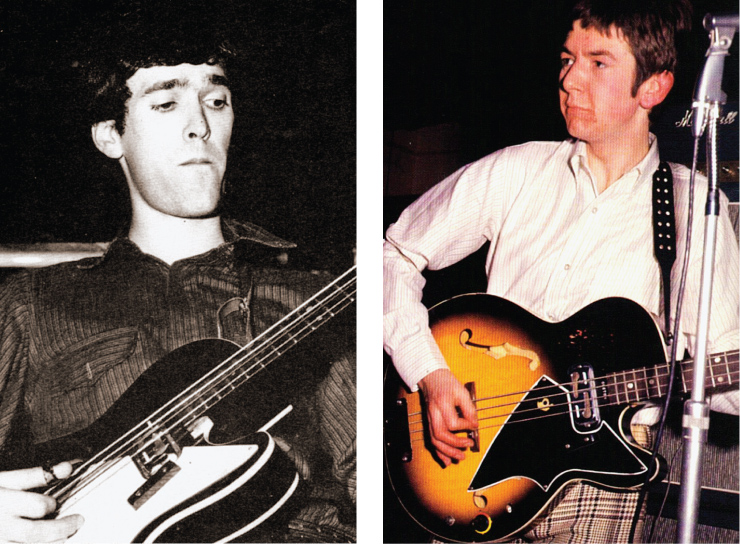 The H-22's oddest feature was a large white plastic pickguard that covered much of its face, with a vaguely batwing shape along the lower edge. This carried a rosewood finger rest below the strings, and both were often removed. One of the best features was the maple neck with an "ebonized" fingerboard and Gibson-style truss rod that keep it functional long after many other cheap bass necks of the era had packed it in. The instrument's weakest point was its tuning pegs – instead of tuners with large shafts, it was given the same open-back Waverly strip units Harmony used on banjos. In this, Harmony followed Danelectro, the other notable purveyor of bargain basses.
Overall, the design was visually similar to a Kay and Gibson, but closer in price to the Dano – a Lincoln look at a Ford price!
In action, the H-22 was very light, handy, and surprisingly professional-feeling bass. It debuted at $95 in 1962, only $10 more than the boxy shorthorn Danelectro model and $15 more than Kay's Value Leader 5961, which had a 24″ guitar-scale neck and felt more like a toy. Other lower-end four-strings like Danelectro's Longhorn, Supro's Pocket Bass, and Kay's full-scale 5965 Pro were $150 or more. Harmony's price rose to $99.50 in March of '63, then $104.50 in '65 and 109.50 by '67. Even with the increases, the H-22 was still the best value on the market – lending truth to Harmony's slogan, "The best you can buy… for the money you spend!"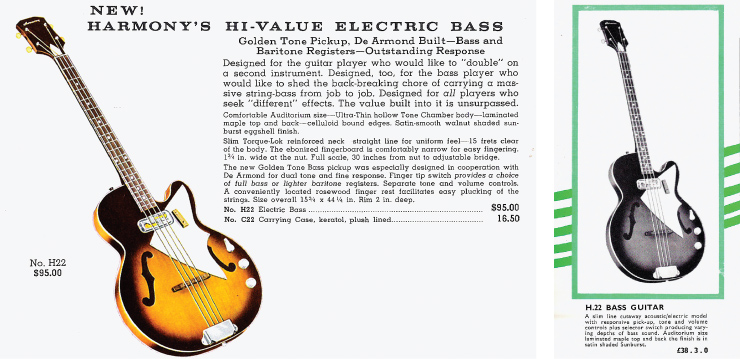 The H-22 was produced in fairly large quantities in the mid '60s. Along with Danelectro and Silvertone basses, it was a popular choice to equip the first-time bassists of many budding surf and garage bands across the U.S., including the pre-"Wipe Out" Surfaris. One notable user was the San Diego combo Count 5, remembered for the 1966 hit "Psychotic Reaction." Still, if they kept at it, many young bassists would buy a Fender or other professional-quality bass as soon as they were able, leaving the Harmony in the garage.
However, such was not always the case across the pond!
The Harmony line was marketed in England by Boosey & Hawkes; the H-22 was listed in '62 at just under £40, up to £45 by mid '65. Either way, it was one of the best values in a bass for the U.K. in the mid '60s. Professional-level semi-hollow U.S.-made choices like the EB-2, Rivoli, or Gretsch cost four times that – even a Fender Precision was triple the price. Others in that range were mostly dodgy imports from Europe or Japan. At 31 guineas, Selmer's single-pickup Höfner Senator was the only similar bargain, and arguably neither as good-sounding nor as hardy. Whether for economic or stylistic reasons, two soon-to-be-celebrated R&B groups embraced the H-22 and took it with them to the top of the charts – and into pop history.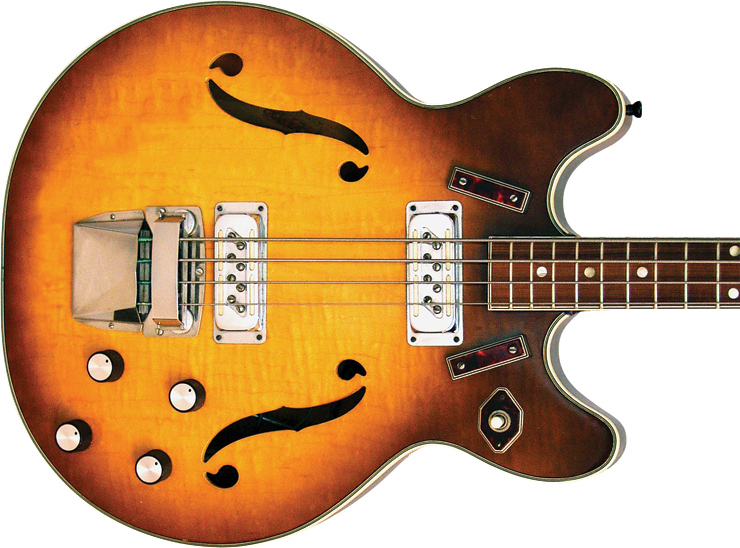 Birmingham's Spencer Davis Group started in mid '64, playing American R&B, and soon caught a buzz among musicians and critics as one of the country's best unsung bands. Throughout '65 it was tipped for success if it could just score the elusive hit single. Even at this early stage, bassist Mervyn "Muff" Winwood and the other members (including Spencer Davis) were rather in the shadow of Muff's younger brother, Stevie. After all, the kid could sing like Ray Charles and play organ like Jimmy Smith! Still, the hits which lifted them to the top of the U.K. charts in late '65 – "Keep on Runnin'" and "Somebody Help Me" owed a lot to the bass player's contributions. Both were Jamaican-influenced numbers written by island expat songsmith Jackie Edwards, but the records were powered by the thudding hammer of Muff's bass riffing under Stevie's powerhouse vocal and trendy fuzz guitar. Unusually, the group had recorded a full LP before gaining hit status, but the two singles made them bona fide stars in the U.K. This was repeated with the worldwide breakout of "Gimmie Some Lovin'" and "I'm a Man" a year later, which made them a top act in the U.S. Both were produced and co-written by Jimmy Miller, who would go on to produce Steve Winwood in Traffic and Blind Faith, then work with the Rolling Stones. By the spring of '67, Steve Winwood had moved on to form Traffic, bringing about the end of the original Davis band. During the group's two-year run, Muff Winwood was occasionally seen with other basses (like a Höfner 500/1), but the Harmony remains his signature instrument, visually and sonically. The whole band was even Harmony-equipped for a while – Davis himself brandished a Stratotone Jupiter, as did Steve Winwood for a time, before picking up a Fender Jaguar (and most famously the Hammond organ).
The H-22 was also the instrument of choice for a London band, the Small Faces, which broke on their home turf at nearly the same time. Bassist Ronnie "Plonk" Lane was nearly always seen with a Harmony – his first H-22 was the spark that ignited the group to begin with. The core of The Small Faces, considered the ultimate mod band, met when Lane went to the J160 Music Bar in east London looking for his first bass. He bought the H-22 from fast-talking salesman Steve Marriott – at "A whacking great discount!" Marriott glommed the Gretsch Tennessean Lane had intended to trade in, and the two struck up a musical rapport that would carry them through the '60s. Marriott and Lane became the creative team that powered the Small Faces, writing and singing their increasingly sophisticated material. While they never became stars in the U.S. (despite a top 40 hit with "Itchycoo Park" in '67) the original Small Faces are revered as one of the finest of all English pop groups.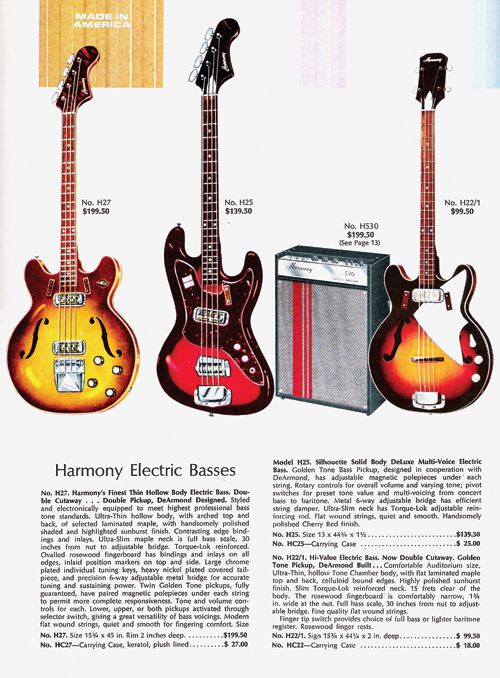 Thanks to a fiercely energetic stage show, their gear took a lot of abuse. The group also showed no compunction about modifying instruments. Mariott's Gretsch guitars changed finish and hardware over time, and Lane's H-22 took a beating. As 1966 went on, the bass lost its knobs, the pickguard became black, then went missing entirely. "The… thing to suffer is the equipment," Lane reported to Beat Instrumental in May of '66. "My Harmony bass has been through so much action – there were no Volume controls left and I had to turn the volume up and down with a pair of pliers. I've just bought another couple…. The old friend is being renovated." Lane's loyalty to the H-22 is unusual, but he stayed true to his first love at least until he met her posher sister!
By late '66, Harmony expanded its bass line to three instruments. The H-22's price dropped to $99.50 again as it gained two classier siblings. The H-27 was much fancier; it kept the 16″/thin-rimmed form but as double-cutaway, fully arched, laminated maple hollowbody with a honey-brown sunburst finish. "Styled and electronically equipped to meet the highest professional bass tone standards," was how Harmony announced it. The H-27 carried two fancier DeArmond pickups, each with a double row of adjustable poles in an interesting variation on Fender's offset-bobbin idea. The strings terminated on a nifty metal bridge and tailpiece with adjustable saddles and detachable covers. There was no pickguard but two body-mounted finger rests with tortoise celluloid tops and a conventional four-knob/one-switch wiring rig. The maple neck led to a large oddly droopy Fenderesque headstock, also faced in tortoise plastic and equipped (at last!) with actual bass tuning machines. In a sign of the times, these were of Japanese origin. The H-27 listed at $199.50 – double the price of the H-22, but by the standards of '66 still an excellent value. While it feels classier, the H-27 does not handle or balance as well due mostly to the heavier headstock and different bridge placement.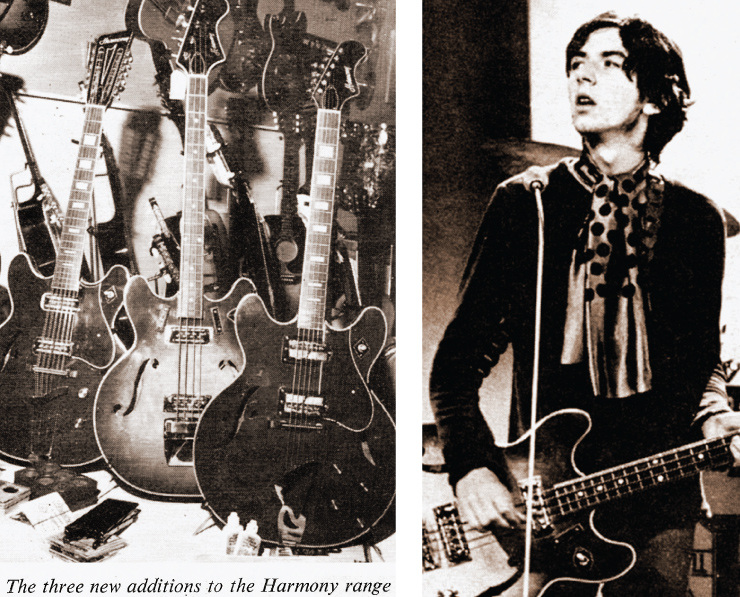 The new model did find one enthusiastic fan – Lane bought the first H-27 into England from central London's St. Giles Music Centre, fresh off Boozey & Hawkes' display stand at the September '66 British Music Trade Show. "Plonk has gone for the very first of a new line in harmony Bass guitars," reported Beat Instrumental. This bass can be seen (and heard with a persistently flat E string!) on the band's September, 1966, German TV "BeatBeatBeat" broadcast, available on DVD, which captures them at peak power. "The sound I want is chunky and sharp," Lane explained, and based on this footage, he succeeded! The bass in the hands of a prominent player created a buzz, but few other pros took up the H-27. And while they are rarer than the H-22, today they are also far less sought-after.
Also introduced around that time was the solidbody H-25, given the ungainly moniker, Silhouette Solid Body Deluxe Multi-Voice Electric Bass. This was a vaguely Fender-shaped solidbody initially built with a centrally located pickup and rocking tone switches – a second pickup was soon added. Neither distinctive or attractive as its hollowbody sisters, The H-25 was never popular and saw few professional users. At $139.50, it remained a budget instrument, but had none of the stylish look (or distinctive feel) of its hollowbody siblings. Offering little advantage over many similar imported Fender-like basses in the late '60s, the rather warped looking (if decent-playing/-sounding) H-25 made minimal impact.
In the meantime, the original H-22 moved through the decade with a few changes. The tailpiece, originally a block of rosewood screwed to the top under a metal cover (the same stamped metal piece seen on Gibson lap steels before World War II!) became a cheaper integral unit that performed both functions. The major change came in '68, when the H-22 went to a double-cutaway body shape. This made little functional difference, but the classic look was lost a bit. By the early '70s – dawn of the era of stadium volume – hollowbody basses fell out of favor. Former user Muff Winwood had laid down his upon leaving Spencer Davis in '67, moving into production as an A&R man for Chris Blackwell's Island Records. Among his notable production credits are Sparks and the first Dire Straits album. Ronnie Lane (no longer going by "Plonk") stayed with the Small Faces in '69, after Steve Marriott departed (replaced by Rod Stewart and Ron Wood). Lane's love affair with Harmony ended as well, and he switched to Fender then Zemaitis basses. Lane left the renamed Faces in '73, but his enduring talent and charm were much admired on the English music scene, despite an aesthetic allergy to commercial success and slow decline in health due to Multiple Sclerosis.
The H-22 was gone by Harmony's 1972 catalog; the other basses remained, but in an era of cheaper imports the once-mighty Harmony faced a shrinking market and ceased operation in '75. They outlasted domestic competition from Kay, Valco, and the like, but could not compete with the increasingly sophisticated Japanese product that eventually cornered all but the highest levels of the market. The mostly forgotten H-22 became a pawnshop prize or garage-band revivalist's trophy in the '70s and '80s.
After this long period of obscurity, there has recently been a revived interest in the H-22, from younger bassists taken by its vintage sound and look. There's even an Asian-made reissue. Somehow, the H-22's unique visual and sonic character summons a time when the electric bass was more fun, before rock got "heavy." Really not a bad legacy for 40 quid!
---
This article originally appeared in VG August 2013 issue. All copyrights are by the author and Vintage Guitar magazine. Unauthorized replication or use is strictly prohibited.