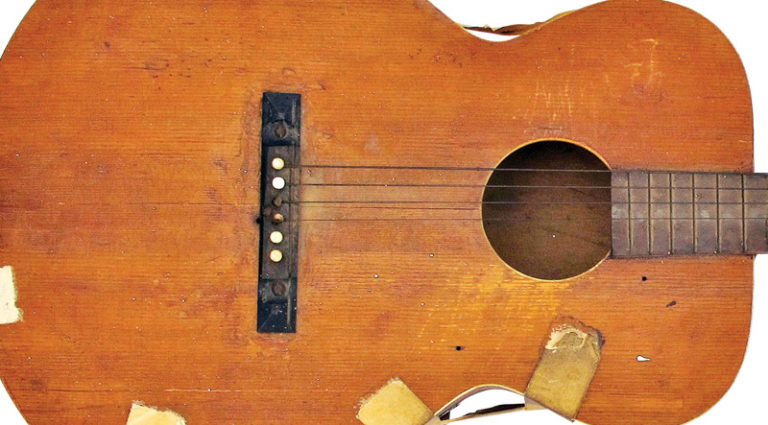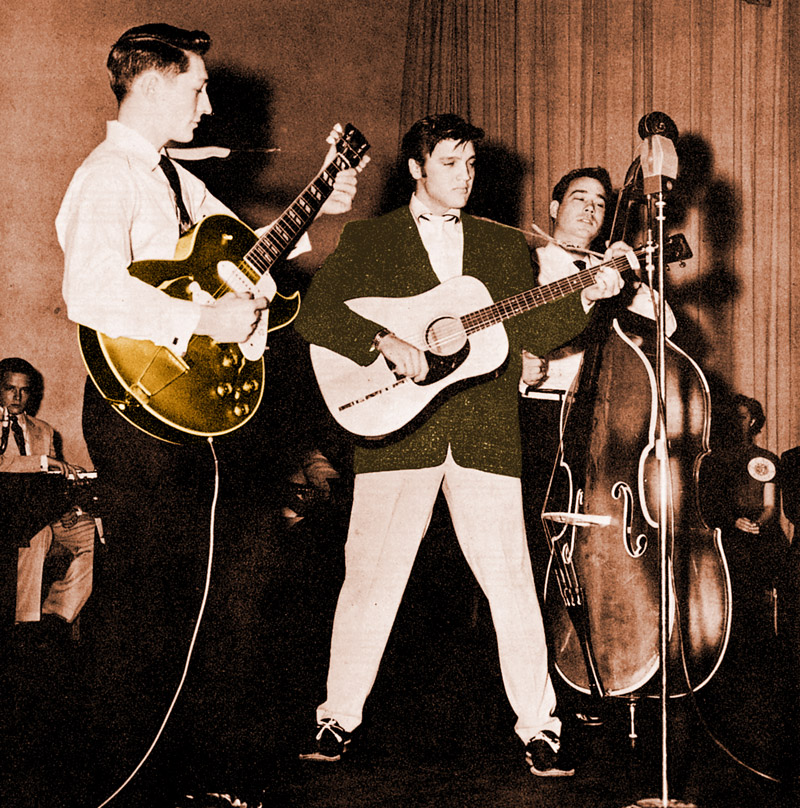 Had he survived to this day, Elvis Presley – cultural icon extraordinaire – would be 80 years old.
The man who would rise from very modest means to become arguably the greatest star of any generation was the first true rock and roll front man/heartthrob. Blending the gospel music he heard as a child in church with the R&B from his teen years hanging on Beale Street in Memphis to contemporary country and pop, nobody could have seen the coming revolution when Presley first stepped foot inside Sam Phillips' Sun Studio one fateful day in 1954. By the end of '55 – nearly 60 years ago – he was signed to RCA Victor and getting set to release his first single, "Heartbreak Hotel." That story is well-known. Less told, however, is the tale of two guitars that played key roles in his ascent.
"Son, wouldn't you rather have the guitar?"

The question, according to a 1956 story in the TV-Radio Mirror, was posed by the understandably concerned Gladys Presley after her 11-year-old son, Elvis, asked to get a .22-gauge rifle one day as the pair shopped at Tupelo Hardware Company in their Mississippi town.
Mothers the world over can relate to the emotion in her query, and, to the boy's credit, he had first asked for a bicycle (the family couldn't afford), then ultimately agreed on the six-string Kay spotted by his mother. "It would help with your singing," she reasoned. "And, everyone does enjoy hearing you sing."
"I can well remember the afternoon when Elvis and his mother came into Tupelo Hardware, where I worked for 20 years," salesman Forrest L. Bobo recalled in 1979. "I got the guitar for him to look at. I put a wood box behind the showcase and let him play with the guitar…"
And yet, Elvis, who had earned money running errands and doing small jobs, didn't quite have the $7.75 to buy the guitar. As Bobo recalled, his mother told him that if he bought the guitar instead of the rifle, she'd pay the difference.
It proved a good investment.
The story of Elvis' first guitar has become legend. Details are disputed and misted by time, like all good origin stories. But, there's no doubting the impact of that simple Kay he bought that day and used through his first audition at Sun Studios.
Where would Elvis – and the world – be if he had instead bought that bike or rifle?
Elvis' rags-to-riches story is so perfectly American it's almost pure cliché. He was born in a two-room shotgun house in the poor white section of Tupelo to Gladys Love and Vernon Elvis Presley. His identical twin brother, Jesse Garon Presley, was delivered stillborn 35 minutes before him – a fact that haunted Elvis throughout his life.
The family attended a Pentecostal Assembly of God church. There, he was schooled in Southern gospel music, which became a love that never left him. He also received basic guitar lessons from his uncle Vester, who played local honky-tonks, and his uncle Johnny Smith, who taught him some chords. But it was his pastor at church – 21-year-old Frank Smith – who served as his main tutor, according to Elvis biographer Peter Guralnick, to whom Elvis once recalled, "I took the guitar, and I watched people, and I learned to play a little bit. But I would never sing in public. I was very shy about it."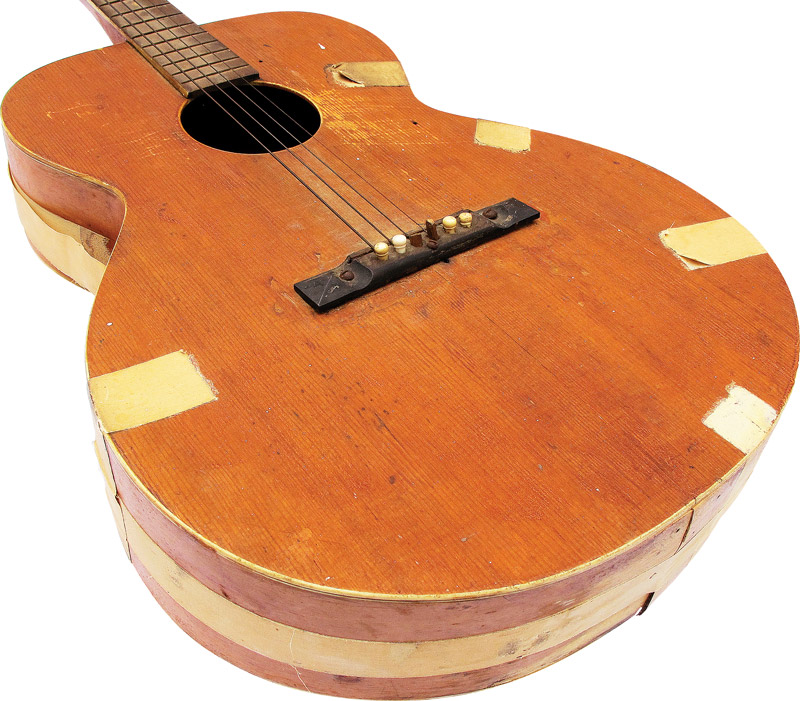 Elvis soon conquered that shyness. By seventh grade, he toted the guitar to school most every day.
In November of 1948, the Presleys moved to Memphis, where he began practicing under the tutelage of neighbor Jesse Lee Denson. He also played at the Humes High School talent show and sometimes picked along with two neighbors, brothers Dorsey and Johnny Burnette, who would go on to found the great Rock and Roll Trio.
Elvis' musical interests were broad. He heard a range of country music on the radio thanks to "Grand Ole Opry," gospel quartets at his church and revivals, and blues along Memphis' infamous Beale Street. In April of '53, he competed in a minstrel-show talent contest, playing the recent country hit "Till I Waltz Again With You" while strumming that hardware-store Kay.
In August '53, Elvis walked into the offices of Sam Phillips' Memphis Recording Services at 706 Union Avenue, cash and guitar in hand to pay for studio time and a single acetate disc of himself as a gift for his mother. He sang two songs, "My Happiness" and "That's When Your Heartaches Begin."
Phillips was not impressed by Elvis' singing, but something about him lingered in the back of Phillips' mind. Receptionist Marion Keisker asked Elvis what kind of singer he was. "I sing all kinds," he politely responded. When pressed on whom he sounded like, Elvis proudly answered, "I don't sound like nobody."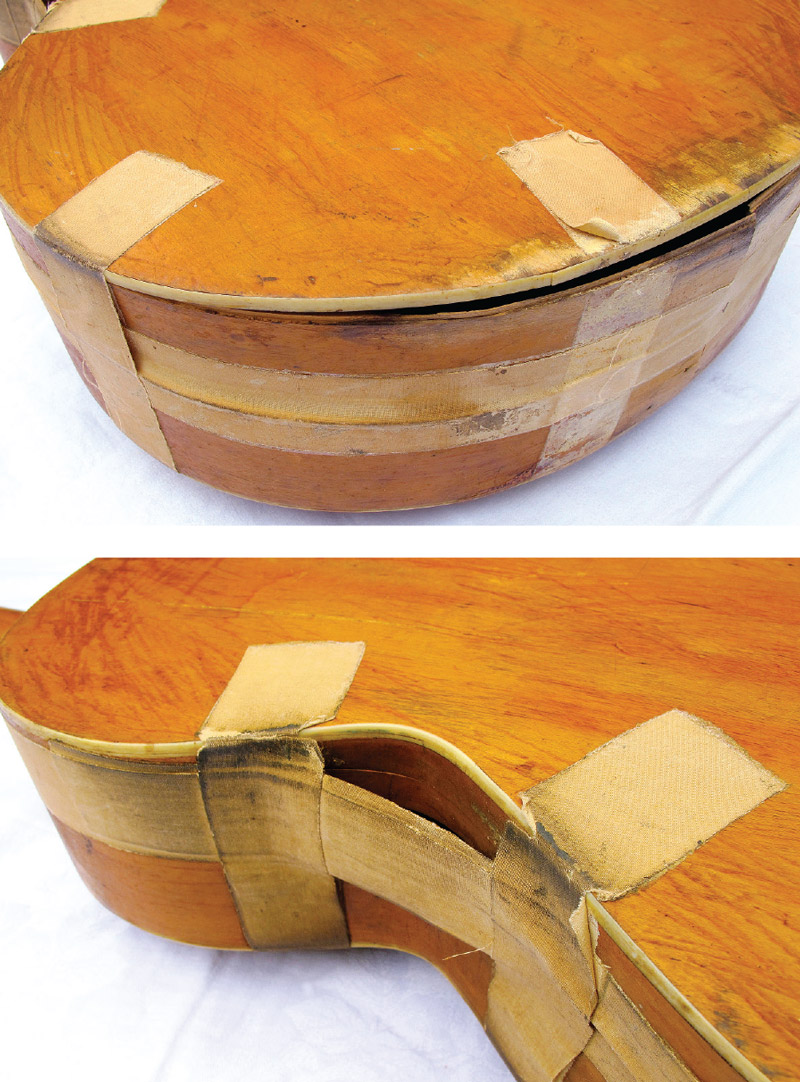 On Phillips' request, Keisker noted next to Elvis' name, "Good ballad singer. Hold."
In June of '54, Phillips called Elvis and invited him back to the studio to audition a ballad, "Without You." The recording didn't quite have it, but Phillips dialed up Scotty Moore, a guitarist in a country band called the Starlite Wranglers. The band seemed to be going nowhere, and Moore was always seeking something new, hounding Phillips for projects. So, Phillips asked Moore to try jamming with Elvis.
On the evening of July 5, Moore rounded up Elvis along with bassist Bill Black, and the three, who had played together at Moore's house the day before, moved their gear to Sun Studio. They'd worked up a couple ballads, some gospel tunes, and country songs they hoped would inspire Phillips, but the session fell flat as they went through tune after tune, each rejected by Sam.
Their hopes mostly gone, they took a break during which Elvis began fooling around, strumming a guitar (perhaps this Kay, perhaps another guitar – no one knows for sure) and clowning his way through an old blues tune, "That's All Right," which Arthur "Big Boy" Crudup first cut in 1946.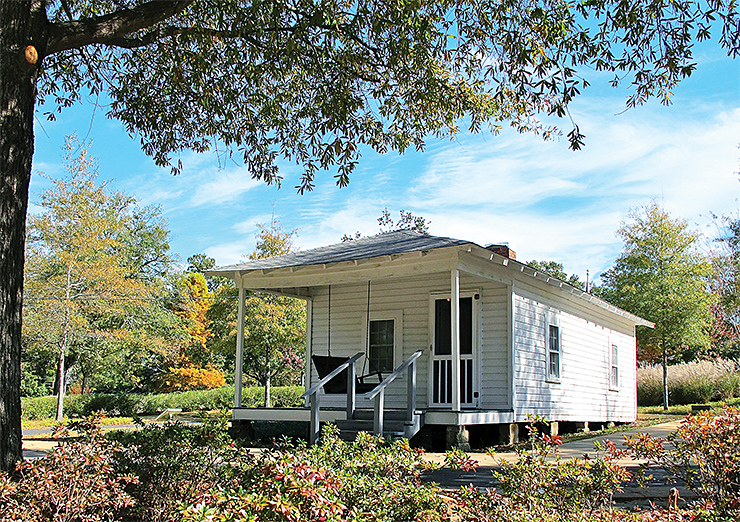 It was almost as if Elvis was speaking in tongues, like the worshippers at his Assembly of God church, channeling all of the music he heard growing up – gospel, country, blues, R&B, and more.
In a 1955 interview, Moore recalled the trio was "just jamming, just cutting up" when it rocked and rolled the old blues number.
"Bill and I only went in with [Elvis as] meager accompaniment, so he wouldn't be standing alone in the studio, you know? We [were] taking a break… and Elvis started clowning around. Just picked up his guitar and started kibitzing, singing 'That's All Right' and dancing. Bill picked up his bass, started slapping it, and clowning also. I joined in with just a rhythm vamp. Sam was in the control room, the door was open. He came out and said, 'What are y'all doing?' Said, 'That sounds pretty good.' We said, 'We don't know…' He said, 'Well, see if you can do it again the same way. Let's put it on tape, see what it sounds like.'"
Phillips cut an acetate of the best take, and three nights later took it to Memphis' radio disc jockey Dewey "Daddy-O" Phillips. Despite the shared surname, the two were related only by a love for music. Dewey spun "That's All Right" on his "Red, Hot & Blue" show on WHBQ. Listeners instantly began calling in, raving about the performer – many assuming he was African American due to the song and his delivery.
Over the next two hours, Dewey continued to play the disc while someone pulled Elvis out of a movie theater to do an on-air interview. Dewey began by asking what high school he attended, a not-so subtle point that proved to listeners he was a local white boy who could certainly sing the blues.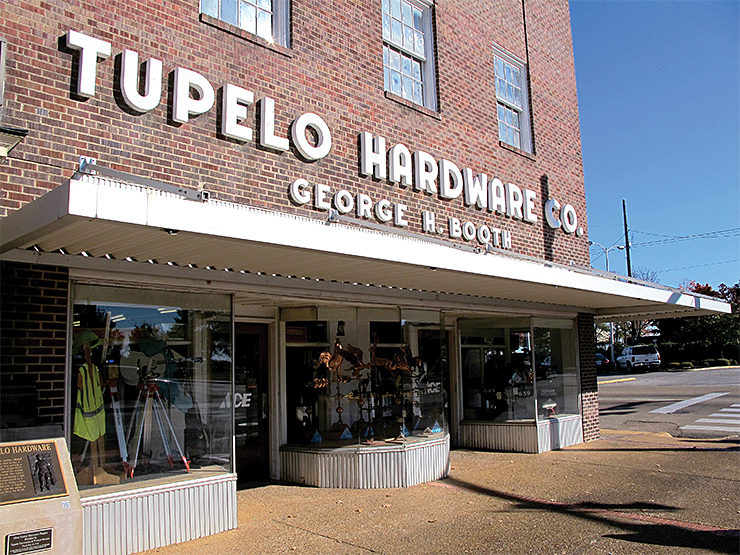 During the next several months, Elvis, Moore, and Black cut three more singles at Sun. Their music became a regional phenomenon, then broke nationally in '55. Along the way, Elvis stoked fires in young girls, angered jealous teenaged boys, caused ulcers in plenty of parents, upset the country-music old guard, inspired other would-be rock and rollers, outraged moralists, and changed music forever.
By August of '55, Elvis had enough money to pay $5 down on a new guitar – a 1942 Martin D-18.
Some reports say he traded the old Kay on the Martin. But, the truth is, Elvis gave the guitar to one of his high-school friends, All-Memphis football star Red West, who had begun to travel the region with him and had once saved Elvis from bullies who had pinned him against a bathroom wall in their high school, ready to cut off his long hair.
West took the guitar with him to college and eventually gave it to his roommate, Ronnie Williams. It bounced around among members of Williams' family before ending up with devoted Elvis collectors, Judy and Larry Moss.
---

Christmas Gift From the King
By 1957, Elvis was established in Graceland, the stately mansion he bought for himself and his parents on the outskirts of Memphis. The scene was set, and fans and detractors alike assumed his next step would be marriage.
In July, he met a pert, blond, beauty-contest winner – 19-year-old Anita Wood, whom Elvis nicknamed "Little." Whenever he was in Memphis, they went everywhere together, from the movie theater to the drive-in. Wedding bells were rumored. Instead, Elvis was drafted into the Army.
While in the service in 1959, Elvis' sent to Little a Christmas gift – a '50s Gibson LG-1. As with his own Martin D-18, he added a personal touch to the guitar – stick-on hardware-store letters spelling out "To Little From EP."
Today, the Gibson also resides in the collection of Judy and Larry Moss.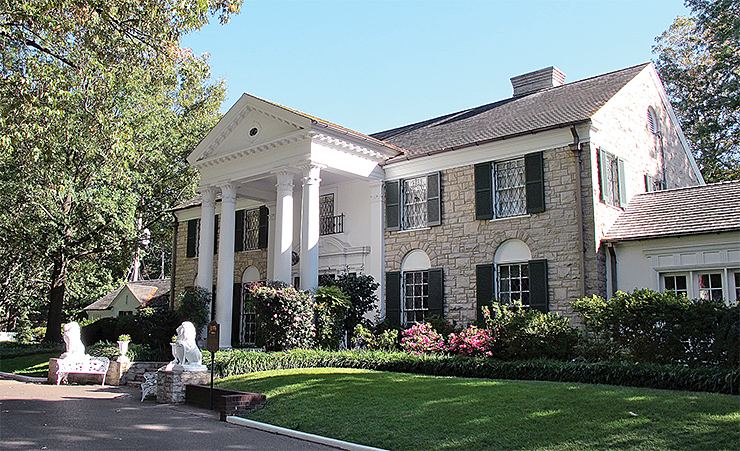 ---
This article originally appeared in VG's March 2015 issue. All copyrights are by the author and Vintage Guitar magazine. Unauthorized replication or use is strictly prohibited.