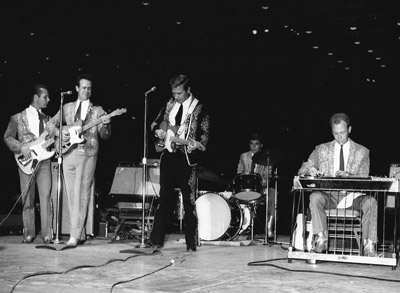 Buck Owens' track to stardom had an unorthodox start and believe it or not, his singing didn't launch that journey as much as his guitar skills; it started when another singer needed a lead guitarist on short notice.
With his second Capitol recording session looming in September, 1953, Tommy Collins, a cast member of Southern California's "Town Hall Party" TV show, was up a creek. His buddy, Ferlin Husky, who played the lead on Collins' first session, was busy promoting his own hit single. Then Collins remembered playing the Blackboard, a club in Bakersfield, and the hot guitarist in the house band; Bill Woods & the Orange Blossom Playboys. The recollection brought him to Buck Owens' modest Bakersfield home one evening. Always up for extra income and opportunities, Buck agreed to play the session in L.A.
On the afternoon of September 8, at Capitol's Melrose Avenue studios, Owens unleashed sharp, fluid Tele licks behind Collins' vocals on four numbers, including the novelty "You Better Not Do That." During an instrumental break in the song, he swapped licks with fiddler Jelly Sanders. Collins' faith in Buck was dead-on, and the song became his first hit.
People around Bakersfield already respected Owens as a picker. Now he'd been heard by people of consequence, who could open even bigger doors. He still had ample dues to pay and plenty to learn, but everything Owens became as a singer, guitarist, businessman and later, household word, began with the licks he played that day. The story of Buck the guitarist, and how his instrumental skills defined his songwriting, the talents of protégé and musical alter ego Don Rich, and the sound of his legendary band, the Buckaroos, has never been examined in-depth. Until now.
The Owens family was musical before Alvis Edgar Owens, Jr. was born in Sherman, Texas, in 1929. He was later self-nicknamed "Buck" in honor of the family mule. His mother, Maicie, played piano, his dad played harmonica, and two uncles picked guitar. The family left Texas in 1937 to escape the crop-wrecking drought that created the Dust Bowl. Their new home was Mesa, Arizona, just outside Phoenix. In addition to working day jobs, Buck was playing mandolin with singer-guitarist Theryl Ray Britten in the duo Buck and Britt, where he got his first performing and radio experience. Learning guitar, steel guitar, and even saxophone, he graduated to a larger band, playing an eight-string Rickenbacker steel with Mac's Skillet Lickers when he wasn't driving a truck. That's where he met future wife Bonnie Campbell, the band's vocalist, who he married in 1948.
Bob Wills and his Texas Playboys, a particular favorite of Buck's, were enormously popular in Southwest dancehalls. So it was little surprise that Playboys country-jazz wizard Jimmy Wyble became an early hero, followed in the late 1940s by Merle Travis and in the early '50s by Jimmy Bryant. In May, 1951, Buck, amicably separated from Bonnie, relocated to Bakersfield. He'd been there before, when he drove a produce truck and did migrant farm work in the area.
He came to town toting a Gibson L-7 archtop with an attached pickup and joined a band with steel guitarist Dusty Rhodes. A few months later he moved to the Orange Blossom Playboys at the Blackboard. With a business card declaring they played "Country music, rhythm and blues, rhumbas, pop and polkas" – in other words, dance music. Buck had to work to broaden his repertoire, later explaining, "If you was gonna make a living out in the West you had to play dance music."
After trying a Telecaster belonging to singer Billy Mize, Buck bought one originally owned by Bakersfield musician and recording studio owner Lewis Talley. And after Woods' singer quit, he assigned vocals to Buck – more invaluable career training. He'd work with Woods for the next several years while also leading his own band, the Schoolhouse Playboys.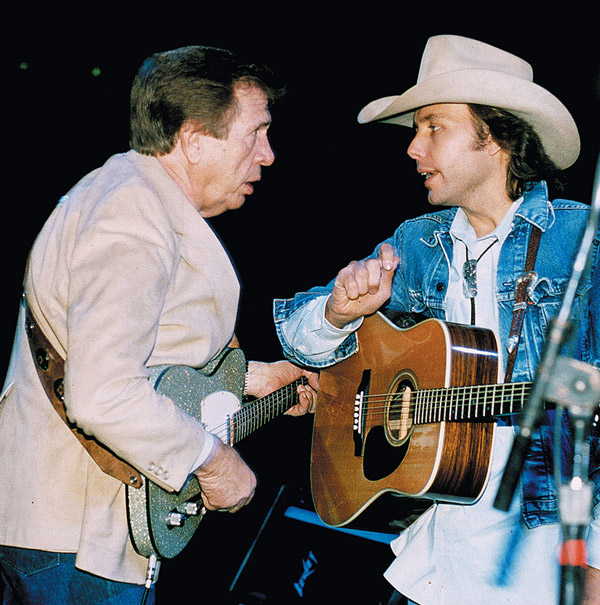 Collins wasn't the only one impressed by Buck's work on "You Better Not Do That." Ken Nelson, Capitol's legendary country and pop producer, typically used Jimmy Bryant (and usually Speedy West) as sidemen on Capitol's L.A. country sessions. He liked what he heard from this unknown picker, later declaring that "(Buck) had tremendous rhythm. And he had this little style that set Tommy off, (on) the introductions usually. He had these introductions (he'd play) on his guitar… Buck didn't quite play like Jimmy Bryant (who) was more of an ad-libber than Buck." Nelson pegged Buck's stinging, rhythmic technique and sharp, ringing tonality. Over time, he found Buck easier to work with than the brilliant but often obstreperous Bryant, who often tried Nelson's patience.
Buck still spent most of his time playing the Blackboard, but when Nelson called, he headed for Hollywood, aware he was actually learning the recording process from the ground up. It often went beyond merely picking his Tele. He'd fetch coffee, strum acoustic guitar, ukulele – even pound on a pillow if Nelson thought that sound would enhance a record. That versatility gave him the skills to play dead-string rhythm behind masterful honky-tonk vocalists like Faron Young, Jean Shepard or Wynn Stewart or to insert a sharp, rocking break as he did on Stewart's doo-wopish 1957 Capitol recording "I Wish I Could Say The Same." He recalled a dizzying array of sessions. "I played on a lot of Gene Vincent's stuff, and I played on, I guess, practically all of the Tommy Sands stuff."
Occasionally, something different materialized. Nelson also produced Stan Freberg for Capitol. Freberg's specialty was satirical, barbed spoofs of other 1950s hits. Openly scornful of teenage music, in 1956 he created mocking renditions of Lonnie Donegan's skiffle hit "Rock Island Line" and Elvis' "Heartbreak Hotel." Buck played acoustic on the former and on "Heartbreak," mimicked Scotty Moore's echo-drenched solo while Freberg mockingly imitated Elvis' vocal. "We worked at 6 o'clock at night until 4 o'clock the next morning on those two songs," Buck said. "I got $110. That's what I made all week workin' at the Blackboard."
Certainly, Buck didn't share Freberg's anti-rock bias. Along with Bob Wills and Hank Williams, Buck's heroes included Elvis, Little Richard, and Chuck Berry. While recording his first solo country material for the tiny L.A.-based Pep Records in 1956 (including "Sweethearts in Heaven" and "There Goes My Love"), he cut the rockabilly tunes "Hot Dog" and "Rhythm and Booze." He remembered that in Bakersfield's country scene, "If you even got caught smilin' over at the rockabilly folks, the Elvis folks or any of that, you was out," he said. To avoid detection, his lead guitarist was ex-Maddox Brothers/Rose sideman Roy Nichols, a future member of Merle Haggard's Strangers. The Pep single appeared under the name "Corky Jones."
Top country acts who played the Blackboard were also impressed by Buck. Joe and Rose Lee Maphis wrote "Dim Lights, Thick Smoke (And Loud, Loud Music)" after watching him onstage. Columbia recording artists Johnny Bond and Rose Maddox took up his cause. Buck repeatedly badgered Nelson to sign him as a vocalist, but the producer inexplicably blew off the idea until early 1957, when he heard that Columbia wanted Buck. His Capitol debut proved less than auspicious as Nelson, in a rare lapse of judgment, surrounded him with slick, almost surreal doo-wop accompaniment. Disgusted, and unsure he had any future in recording, in January, 1958, Owens relocated to Tacoma, Washington.
That two-year stay paid dividends, stimulating the business instincts that later took him beyond filthy rich. He bought part of tiny KAYE radio in Tacoma and worked various on- and off-air jobs to learn the ins and outs of broadcasting. He played clubs with his band, the Bar-K Gang, hosted the "Bar-K Ranch" TV show that occasionally featured local housewife and aspiring singer/songwriter Loretta Lynn. The band recorded under various names for tiny local labels but, due to his Capitol contract, Buck's name never appeared except as composer of some songs. His Tele twang, however, was undeniable.
His backup band included guitarist Nokie Edwards, who went from Buck sideman to what evolved into the Ventures. Buck's fiddler was 17-year-old Donald Eugene Ulrich. Born in 1941 in Olympia, Washington, he'd studied violin since grade school. "Don was a helluva guy," Nelson said. "His mother and father brought him down to the (Capitol) studio when he was pretty young," before Don ever met Buck.
Buck, like other late-'50s singers, embraced the honky tonk shuffle style Ray Price created on his 1956 hit "Crazy Arms." Behind Buck, Don emulated the "lonesome fiddle" style, another trademark of Price's sound. Nelson allowed Buck to record that style at the next session and it brought forth his first national hits with "Second Fiddle" and "Under Your Spell Again." The only guitar presence was legendary West Coast pedal steel innovator Ralph Mooney, whose keening, trebly style helped define what became the "Bakersfield Sound." Decades later, "Moon" became a lynchpin of Waylon Jennings' Waylors.
Those first hits rejuvenated Buck, who in 1960 sold his Tacoma interests and returned to Bakersfield. After a brief stab at college, Ulrich, now calling himself Don Rich, arrived in Bakersfield with his new wife, Marlene. He and Buck hit the road, but at the time, they weren't toting Teles. To cut costs, Buck had them touring in an old Ford with acoustic guitars and Don's fiddle, playing clubs with whatever musicians were available. Eventually, after moving to Telecasters and amps, Buck started teaching Don lead guitar, freeing him to focus on singing.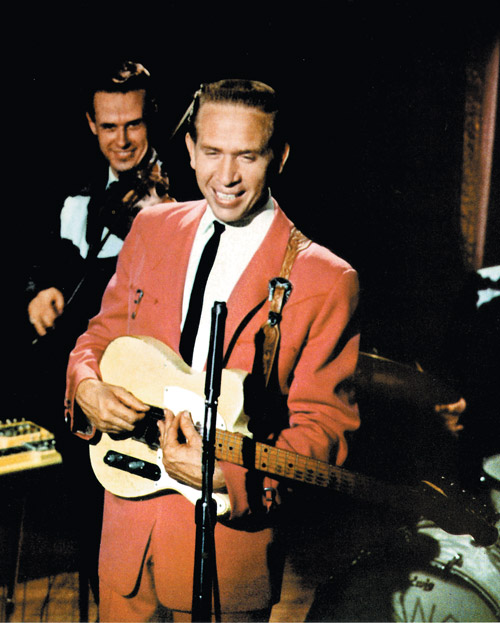 "When I first met Don, he played only fiddle," Buck explained in 1992. He played the guitar a little bit, but not a lot. And by the time we got far along, (he) had learned everything I knew and more, too. He wanted to more and more play the guitar. It just kind of happened that way. There wasn't a conscious effort to do away with the fiddle. It's just that Don couldn't play 'em both at once."
When in town to record, the pair occasionally helped Ken Nelson with other Capitol sessions. On one 1961 date they backed Bakersfield honky tonk singer Al Brumley, Jr., whose father was a renowned country-gospel songwriter and wrote the standards "Turn Your Radio On" and "I'll Fly Away." Al's brother, Tom, played pedal steel on the session.
Tired of potluck backup bands, Buck started forming his own in 1962. The early lineup was fluid; on rare occasions, Ralph Mooney augmented the Buckaroos onstage before Buck hired his own steel player, Jay McDonald. Merle Haggard, a local ex-con trying to kick-start his own musical career, played bass for two weeks, but before leaving suggested that Buck call the band the Buckaroos. After bassist Kenny Pierce abruptly left in '63, Rich quickly recommended a replacement – Doyle Holly, a former oil field worker who sang and played with Bakersfield bands and toured with Joe and Rose Lee Maphis. Don took over lead guitar on shows and sessions, while Buck began looking for his own sound, beyond the shuffles.
He first dabbled with a new style on his 1961 hit "You're For Me" and as 1963 approached, he refined the style, later dubbed the "freight train" sound. "I always loved music that had lots of beat and always wanted to sound like a locomotive comin' right through the front room." He knew where it came from. I saw Bob Wills so many times, he was really accessible here in California. I think my influences were the early rock with the driving beat and Bob Wills for the dance beat and the music."
Don had truly come into his own as a guitarist by 1963, when he played lead on "Act Naturally," the hit that established Buck and the freight-train style. A perfect performance vocally and instrumentally, it launched Buck's seven-year string of 20 #1 singles. More importantly, while it showcased Buck's vocal, Don's simple, twangy breaks were the perfect foil, demonstrating how well "The Chief" had taught him. When the Beatles recorded their 1965 cover version, George Harrison simply copied Don.
The aggressively twang-heavy, string-bending Buckaroo sound was unlike anything coming out of Nashville. Incorporating the most elemental aspects rock and western swing, it was a minimalist, cutting-edge contrast with the slick "Nashville Sound" designed to attract adult pop music fans to country. When all that twanging started to play havoc with everyone's strings, Buck devised a simple solution, one that gave the new sound a robust texture.
"You gotta remember, the reason those guitars sounded like that in those days is because we had (steel guitar player) Jay McDonald, and he had this old Fender (model 1000) and was always breakin' the high strings. In those days, there weren't all those (light-gauge strings). So I came up with the idea (to tune) down a half a tone. And that added to the fat sound of the bass strings. It worked, so we didn't keep breakin' the strings. But in later years we tuned it back up."
As "Act Naturally" raced up the charts toward #1 in November, 1963, McDonald quit. At the time, Tom Brumley co-owned a homebuilding business in Austin, Texas. "I hadn't played for a year. I'd been buildin' houses and more or less thought I was out of the music business. I never thought I would have a career there. Lo and behold, the phone rang one day, and it was Buck." He wanted Brumley to replace McDonald. Ecstatic at the chance to return to professional music, he packed his car but left his steel behind.
"The only thing I brought out to Bakersfield was my '59 Bassman amp which I still have. I used that until (Fender) gave us Twins in late '64 with JBLs, but I used a Fender 1000, and Buck said, 'Don't worry about it. Fender will give you a new one, so just leave it.' I had a load going out anyway. I thought I'd have a brand new Fender 1000 when I got there." He also assumed there'd be extensive rehearsals.
Not quite. "The first time I played with Buck was live onstage in a big club in L.A. when I had to back up Rose Maddox first. And that was an exciting deal because I didn't get to see my guitar until an hour before gig time." The steel was not only not factory fresh; it was McDonald's old one – now considerably worse for wear. Brumley opened the case to find the Fender 1000 with its strings torn off, adding, "All the cables were loose underneath and one pedal had busted off. So me and Don got on it, got strings on it and I got two pedals workin' and away we went."
On January 28, 1964, Brumley – still using the trashed Fender – did his first recording with Buck at the Capitol Tower. "I cut 'Together Again' with that same (guitar), two pedals and that was it." Though he hadn't touched his steel in a year, Brumley had no trouble acclimating himself. "The first I did with Buck was the 'Together Again' session, and I did 'Bud's Bounce.' He asked me to do an instrumental… Some of the things we never heard until we got in the studio – in fact, most of 'em. We never had one rehearsal with Buck.
"Buck never hardly played any lead guitar," he adds. "He just played rhythm and he might twin (harmony) with Don on some things, but Don usually carried all the lead. Buck might play a polka he wrote or something, but about all I remember Buck playin' was just rhythm." Buck recalled them playing twin leads on "Love's Gonna Live Here," "My Heart Skips A Beat" and "Hello Trouble," adding, "We used to play twin guitars on things because we didn't have the facilities for the big overdub, in those days."
Buck always emphasized simplicity to the band, Brumley says. "Buck always said, 'Just play something simple, something you can play the first time.' And that was his theory and sometimes the first take or two's got a little magic to it. You keep messin' around with it you might lose it, you know?" In the studio, he added, "He never once told me or Don what to play. We just played what we felt."
Lower tunings and the corresponding looser feel were, Brumley adds, "a good idea. The same gauge strings in E and (lower tuning) made the pedals easier to push (with) less string breakage. I still use the same gauge strings when I tune to E. When I quit Buck (and) went back to E it took me a long time to get (used to) that feel."
Those tuning changes remained part of Buck's mystique long after he abandoned them. In the late '80s, touring with Dwight Yoakam in the wake of their hit duet "Streets of Bakersfield," Buck explained, "Pete Anderson was askin' me who came up with that idea. And I said, 'I came up with the idea,' and he said it was really a brilliant move."
Today, Anderson remains impressed by the synergy of Buck and Don. "They loved the treble," he explained. "You've got to acquiesce; those two guys… you listen to those records, you can barely hear the bass. The harmonies are crystalline and bright, the guitars are ringin', and even Brumley's steel is very bright, (They were) making records for AM radio."
In today's world of FM and satellite radio, it's hard to realize that 40 years ago, most music radio, particularly country radio, was AM. In '92, Buck described how he carefully tailored his records to stand out. "When you played (me) on AM it sounds fine. And it doesn't sound so bassy (with) all the sounds rumbling around in there. We took advantage of the AM situation. I had less bass and more high-end. That made (my singles) sound cleaner than the others." Ken Nelson agreed. "We had some little speakers, and all the years I recorded, from about '65 on, we always had (car) speakers that sat on top of the console and (we'd) punch it up in mono so you got some idea of what it sounded like."
"The mix was nothing like the tone we (recorded) with," Brumly adds. "(Buck) went in and put that midrange in there and took the bottom-end out where it cut through the radio at any volume. You could turn (the radio) down and still it would cut through." All this brought curiosity from within the radio industry. And Buck remembered one inquiry with amusement. "People always want to think there's something mysterious. I remember some disc jockey from Ohio wrote me a letter, asking did we have some kind of little black box out here that made the songs and the record sound so clean and clear."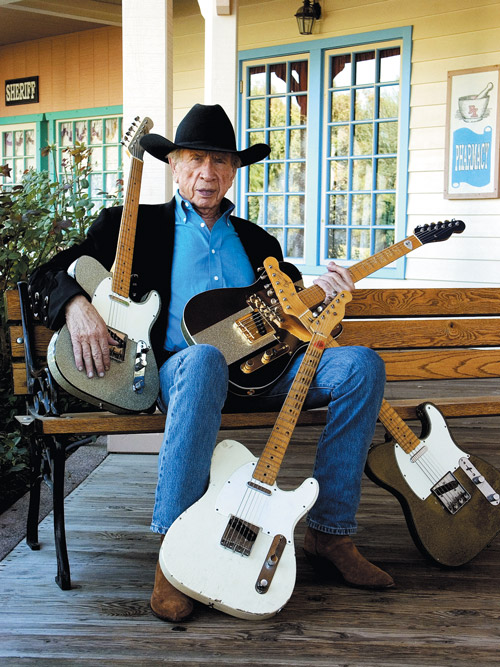 1964 was also the year that drummer Willie Cantu joined, and Buck and the band officially endorsed Fender. The company featured them in print ads and gave them their pick of product, including the Twin Reverbs with JBLs they favored. But when it came to guitars, Buck said things occasionally got awkward. "Every time they'd come out with a new guitar, the Jaguar and all those, they'd want us to take 'em out and play 'em. And we'd try. But we always wound up goin' back to the same old Teles. And so that used to dismay 'em some, because (they were) havin' their product shown off everywhere we was gonna play. They made some beautiful looking guitars, it's just – they didn't have it like the old Teles had it."
Brumley agreed. "You couldn't beat a Telecaster. Buck and Don both, they couldn't afford not to use Telecasters. It was their sound." He also remembered their onstage setup. "Actually, they plugged into the same amplifier all the time, that Twin. Don's fiddle and guitar was in one channel and Buck was in the other channel. Don had an amp by himself in the studio 'cause Buck usually didn't play on sessions."
Buck may have limited his picking, but he recorded enough guitar instrumentals over the next few albums to later fill a 1968 anthology, The Guitar Player. He considered his playing style a major component in the melodies of his original numbers. "I've just got these twisted, warped notes in my head that came along with 'Love's Gonna Live Here' and 'Tiger By The Tail' and all of those things that are different than I think anyone else had ever presented. The notes, I don't know if they've ever been played, and these funny little things I found on the guitar years and years ago. And all the rest of the stuff is just kinda spinoffs… I wrote songs that sometimes fit the guitar parts and vice versa."
So far as string preferences, Buck declared he "used a regular gauge." Terry Christofferson, Buckaroo lead and pedal steel guitarist from 1975 to the present, confirms that, explaining that in later years, Buck used sets with his high E at .012, heavy for his playing style. In 1988, Buck declared that he favored "a medium-gauge pick. I always went more toward a limber pick because I felt it gave a cleaner sound and it had more brilliance to it. The thick pick used to kinda give off a kind of a thick sound, and I wanted to get away from that."
Pete Anderson marvels at the virtuosity displayed by Buck and Don. "What was really cool about them (was) they weren't classic country pickers. They were kind of makin' up their own s***. It was new and it was a little more blues-based, a little more pentatonic, a little more open-string ringing on the low-end and really interesting fingerings like on 'Buckaroo' or 'Tiger By The Tail,' which is a major rocking of the third to the second, which is very unique and it's not easy to do. And then they turn around and play that dominant in-your-face V chord, rock it, and then come back. Some of the low-string stuff plus they were tuned a half step down so they were doing E flat or A flat. To me, there was nobody really doing exactly that and partially that combined with the Telecaster combined with the Twin (Reverb), combined with Buck and Don singing together, that was the whole package. It wasn't Jimmy Bryant – they all loved him. It wasn't Merle Travis, but there was more an element of Chuck Berry in that it was minor pentatonics and playing off of rock chords."
As Owens' popularity surged, he made a point of avoiding Nashville. Vast differences existed between his guitar-driven, austere Bakersfield sound, emulated by Merle Haggard and Wynn Stewart, and the politics of Nashville's music industry. In the '60s, Owens was outspoken in his disdain for Nashville, and wasn't afraid to make it public. "I didn't like the music in Nashville… syrupy and so contrived. And I disliked the fact that most of the musicians that had their own bands could not (record with) their own bands. They wouldn't let 'em."
The Buckaroos hit the stage with a well-rounded show. For a time, their comedy moments included an affectionate Beatles spoof (Owens and Rich were fans). At other times, the gear itself provided laughs, like when their amps picked up police calls mid-show. Brumley never forgot it. "Back in those days you didn't have the filters we have now. We stopped sometimes to listen to what they're sayin'. Onstage we had a lot of fun, and the people knew that. We had a blast!"
March 25, 1966, brought their now-legendary Carnegie Hall concert, recorded and released on Capitol, still in print today. Forty years later, Brumley still marvels at the outcome. "There was no fixin' on that whole album, and I don't think there's a mistake on it. We were used to that, which was good for us and made us really get on the stick. It was a habit – go in the studio, play something, and get it nailed."
Sometimes, Buck wanted different sounds. Before recording "Open Up Your Heart" in 1966, he had Brumley call in James Burton. "I asked him what he thought Don would think. And he said 'Oh, Don's okay.' James came and played. He got up in a chair and was just blowin' and playin' such a great thing. And Buck started laughin' right in the middle of the take. James could never do that (solo) again. It was one of those things you gotta leave alone when you got somethin' going."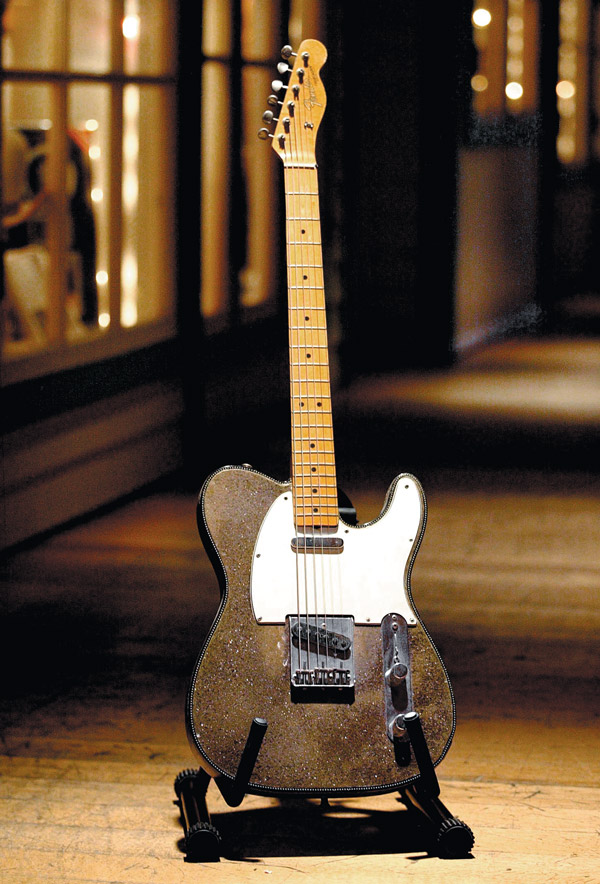 1966 was also the year Buck and the band began taping "The Buck Owens Ranch," a nationally syndicated half-hour TV show in Oklahoma City, with guest stars. His albums always featured instrumentals and vocals from the Buckaroos, but starting in '66, Capitol began releasing Buckaroos solo LPs. They'd eventually issue a total of 11 between 1966 and '71. Rich was the constant on these albums, which showcased his vocals, guitar, and fiddle, Brumley's instrumentals, Holly's vocals, and an occasional drum solo. Later albums reflected the band's changing lineup.
The freight-train rhythm had driven Owens' hits for five years as 1968 rolled around, and he was chafing to broaden his style, which he did with such un-Buck-like hits as the Ray Charles-inspired ballad "I've Got You On My Mind Again" and "Who's Gonna Mow Your Grass," the latter featuring Rich fuzztone guitar. Neither Rich nor Buck's fans had any problems with the stylistic changes, they continued buying records and concert tickets. But Brumley, who loved the classic sound, had reservations.
"I thought Buck had a great style, and it would have endured if we'd just kept it within the band. I didn't like to see him change like that." Ken Nelson later expressed similar doubts to Buck as he became more enamored with progressive rock ideas, explaining, "He was trying to bring his music up to date, to what he thought was 'the thing.' But if you're not yourself, it's no good." Naturally, Buck saw it differently.
"I got to realizing that I wanted to record, wanted to experiment, wanted to have fun. Doing those same old songs the same old way – it was just a time in my life and I said 'I think it's time for me to have some fun.'''
Road-weary after five years, Brumley was ready to settle in Bakersfield, where he'd started a steel-guitar business. So he gave notice in December of '68 and recommended L.A.-based Jay Dee Maness as his replacement. Maness joined in early '69, but Brumley was far from finished. He went on to join longtime Buck fan Rick Nelson's pioneering country rock unit the Stone Canyon Band, but sums up his Buckaroo days with pride and gratitude.
"I owe Buck a lot for getting me back in this business, and I know I probably would never have had another chance if I hadn't taken that (job) with Buck. I was building houses, but all I could think about was playin'. That was a blessing to me, for him to think of me and call me."
Maness was a Buckaroo when they played the London Palladium on March 9, 1969, recorded by Capitol. From the live album, Chuck Berry's "Johnny B. Goode" became another #1 single, with a Don Rich guitar interlude Owens called "the greatest live chorus on guitar I ever heard played on anything like that. It's totally untouched, and Don absolutely captured it. He really could never duplicate that. He didn't like to duplicate things. It's got the tone – a terrific ride – I just loved it to death."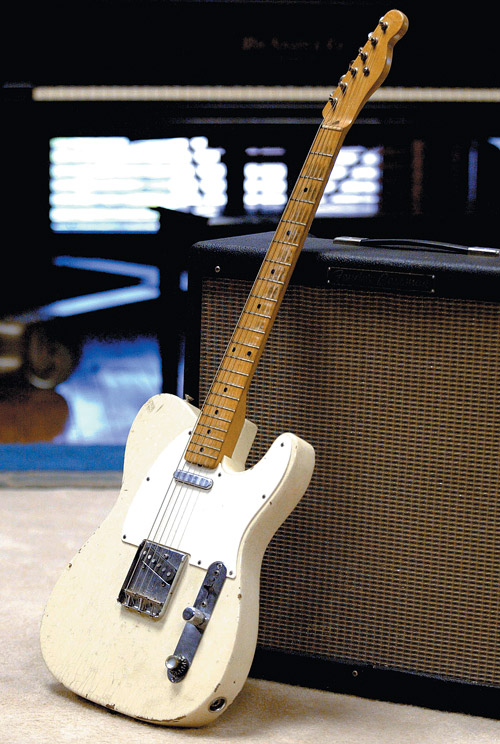 The fall of 1969 launched Owens on a journey that eventually made him a household name when he and Roy Clark started co-hosting "Hee-Haw," a Nashville-based variety show CBS selected to replace the politically controversial "Smothers Brothers Comedy Hour," which reflected America's volatile divisions over Vietnam and the counterculture. Soon after the debut of "Hee-Haw," Buck started playing a red, white, and blue acoustic guitar.
He had a reason. In that era, not unlike today, country singers recorded fist-shaking, flag-waving songs attacking liberal-minded hippies and the anti-war movement. Owens, a self-described superpatriot, knew his fans and realized a growing number came from the counterculture, partly due to his influence on the emerging country-rock movement. By letting his instrument speak for him, he could articulate his patriotism without attacking or offending anyone, regardless of their politics.
As for that first guitar, he remembered that "Semie Moseley… actually put the first one together, then later on, we painted the fiddle and the bass and everything else – even the electric. People used to make 'em in red, white and blue, send 'em to me and hope I was gonna play 'em." The popularity of "Hee-Haw" gave the instrument such exposure that Buck had instrument makers bidding to license the design for mass sales. By then he was a highly successful businessman who owned a booking agency, music publishing company, and four radio stations (two in Bakersfield, two in Phoenix), and he loved the "art of the deal." He chose Chicago-based Harmony.
"We had a lot of arguments because they told me they was gonna sell the guitar – if I wanted 'em to – for $99, and they'd send me a $2.50 (royalty). I said, 'Whoa, hold it! Hold it! What's this?' So we finally made a deal that I'd try it for six months and if I didn't like it, I'd be out of it. Well, the very first month, they sent me $15,000. They forgot to tell me that Sears was gonna distribute 'em. So I said 'Oh, ho! Oh, yes! Well, I am very happy, let's go forward!'"
Maness was gone before the end of  '69, but the Buckaroos continued evolving. They doubled for a time as the "Hee-Haw" house band and Doyle Holly moved to rhythm guitar when Owens added bassist Doyle Curtsinger. Instead of a new steel guitarist, he hired keyboard player/songwriter Jim Shaw. By then, the expanded touring show included both the Hagers and singer Susan Raye, also "Hee Haw" regulars.
Holly left in 1971 and went on to enjoy several solo hit singles including "Lila" and "Queen of the Silver Dollar" in 1973. The steel sound returned when Jerry Brightman joined in '72, the year of Buck's last #1 solo single, the ballad "Made In Japan." Several more Top 10 hits followed, mostly novelties like "Big Game Hunter" and "On the Cover of the Music City News," a 1974 play on Dr. Hook's "Cover Of the Rolling Stone," the lyrics adjusted by Buck and Shaw.
But none of that mattered on the morning of July 17, 1974, as unspeakable tragedy hit Buck Owens square in the face. Don Rich, riding his motorcycle after dark to meet his family for a morning fishing date, died when the bike hit a center highway divider. His family was devastated, but the loss of his friend and collaborator shattered Buck, sending him into an emotional freefall that led to previously unimaginable moves. When his Capitol contract expired in '75, he signed with Warner Brothers and amazed everyone by recording the soft country/pop material he'd mocked – in Nashville, nonetheless. Ironically, his sole big hit on Warner Brothers, a 1979 duet with Emmylou Harris on "Play 'Together Again' Again," revisited Buck's classic sound.
The Buckaroo guitar lineup changed again in early '75. Jerry Brightman was still playing steel and the personable Don Lee played lead guitar. When Brightman departed that April, Terry Christofferson, who doubled on guitar and steel, replaced him. "When I first started with Buck, he wasn't playing much guitar because there were two of us playing guitar at the time, (me and) Don Lee," he said.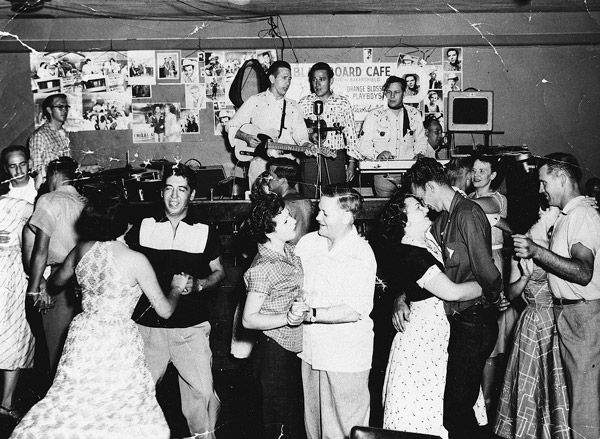 After Lee departed, Christofferson began doubling steel and lead, adding that "Buck found out I was more of a guitar player than I was a steel player." In 1984, he switched to a Steinberger. Sitting the tiny body on his lap as he sat behind the steel onstage, he could easily and quickly switch instruments. "And I found that it stays in tune a lot better than any other guitar I've ever had. Outside of havin' it refretted once, I still play it, and it's the only thing I'd ever play."
By 1980, Buck's equilibrium had returned. In '92, he reflected that "Don and I made a sort of synergy where one and one don't make two, the two of us together made three. He was half a generation younger than I was. There was never anything like that happened to me before or since. That's the way I'll always remember him. I finally got at peace with that."
Devoting more time to his radio stations and other businesses, as well as local charities and "Hee-Haw," he played fewer shows but retained the Buckaroos in other major roles in his Bakersfield organization, available to pick whenever needed. And over time, he concluded his pickin' and grinnin' comedic fame on "Hee-Haw" was eclipsing his monumental musical legacy, which led to his leaving the show in 1986. By then, he was resigning himself to the belief his recording days and stardom were past. Would the real pickin' and grinnin' he and Don did be remembered? That, too, was up in the air.
And then, everything changed.
The bland, syrupy Urban Cowboy-style country of the early '80s gave way to a new breed of singers raised on rock and classic country singers including Buck. These "new traditionalists" included Vince Gill, Keith Whitley, Ricky Van Shelton, as well as Randy Travis and Buck disciple Dwight Yoakam, who sang his praises onstage. They two met in Bakersfield in 1987. Yoakam got him performing again, and in '88, their revival of Buck's 1971 single "Streets of Bakersfield" returned Buck to #1 one last time.
Before hitting the road with Dwight and his band, including Pete Anderson, Buck reached out to his past. "I called Don's wife Marlene up in Reno and asked her to send me his old guitar that he played with me all those years and in memory of Don." That old silver-sparkle Tele became a talisman, one symbolic way of maintaining Don's presence amid a revival he never expected. Three solo albums for Capitol followed, then in the early '90s he again slowed down, doing limited dates with the Buckaroos.
Occasionally, Buck soloed onstage and when he did, Christofferson was amazed. "He played like he meant it. He was aggressive and every note was thrown out there whether you liked it or not. That's the way he played. He didn't hold back. He wasn't afraid to just get down on the lower strings and open strings and make use of them. A lot of pickers, they get up higher on the neck or they're more into more melodic things. He just liked to get down and play the good open (strings). They'd ring more. They'd ring longer.Anytime, before we went on the road, we put new strings on the guitars," he adds. "We'd go out for four or five days at a time then fly back home. Each time we'd start out with new strings. Anytime we did a TV show or a recording session we'd always have new strings put on."
Buck enjoyed other triumphs in the '90s, having reconciled with Nashville during his "Hee-Haw" years. In '96, the year of his induction into the Country Music Hall of Fame, he opened Buck Owens' Crystal Palace, an elaborate Bakersfield restaurant, concert room and museum featuring top country acts, with he and the Buckaroos nearly every Saturday night. The onstage gear, said Christofferson, the Palace's manager, was no surprise. "We have a whole line of Fenders, mostly Twins, on the stage. Even the piano player (Jim Shaw) has some type of Fender keyboard amp. Buck was always tryin' some of the newer Fender amps that came out."
His youthful spirit remained even as age began to affect his health. He lucked out when doctors found a cancerous growth on his tongue early enough to save his voice in the early '90s. He battled back from pneumonia in 1997 and continued performing and overseeing his businesses. In August, 1999, the "classic" lineup of Holly, Cantu, and Brumley reunited for a show at the Palace to celebrate Buck's 70th birthday. Buck presented Holly with a custom red white and blue Tele at the Palace in November, 2002.
Playing became more difficult for Buck after a minor stroke in 2004. But, Christofferson remembered, his affliction didn't erode a powerful desire to regain his old playing form. "His fingers would get kind of stiff towards the end there. You could tell his brain was still tellin' him he wanted to play this or that (but) it just wasn't comin' out the same. I can remember right up to the end, Buck's office (at the Crystal Palace) was upstairs right next to mine, and for an hour or 45 minutes before the show he'd be up there just playin', tryin' to loosen his fingers up and get ready for the show. Couple a stroke with a little bit of arthritis, it's damaging to your abilities."
He wasn't up to performing the last year of his life, but was still able to get around and often greeted visitors at the Palace. A chance meeting on March 24, 2006, with some fans from Oregon hoping to see him onstage led to his final show that evening with the Buckaroos. The musical results were rough, but he and the band stayed onstage an hour and a half. When the show ended, the fans satisfied, Buck went home to his ranch just 20 minutes outside town and, early next morning, died in his sleep. After a five-year battle with prostate cancer, Doyle Holly died in Nashville on January 13, 2007.
Twenty years earlier, Buck Owens had feared "Hee-Haw" would eclipse his musical achievements. It would have gratified him that when he passed, while most major obituaries mentioned the show, the main focus was on his timeless musical legacy, what he once called a "plain old drivin' country sound with a hell of a beat and a bunch of twangy guitars and a couple of old boys like Don Rich and me singin' – no pretenses, no bull****, just plain music."
If you had to select one symbol of his and the band's essence, a Tele and a Twin – and all they represent – might just be the best choice of all.
---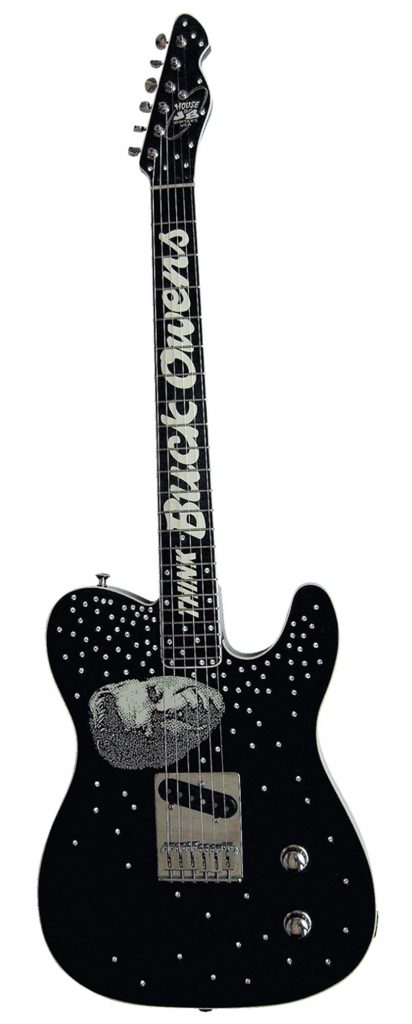 Big Players on Buck's Huge Influence
There's certainly no denying the influence Buck Owens has had on every generation of country picker/singer/songwriter (and gobs in other genres, as well) to have come down Music Row or the streets of Bakersfield.
In Dan Forte's July '06 VG feature marking Owens' then-recent passing, country superstar Brad Paisley said, "Without Buck Owens, country music would have likely remained swimming in huge string sections, choral-style background vocals, 'lounge' singing, and people in three-piece suits. Instead, he dominated the '60s with Telecasters blazing, steel guitar, and fiddle. The effect he had on country is the same effect he had on me: he made it seem cool to be twangy, cool to wear rhinestones, and to chicken-pick – unlike anyone before him."
And John Fogerty added, "If the Buckaroos and Buck Owens were touring right now, that's the band I'd want to be in. You can name all the other artists through all other eras, including Hank Williams even, but getting to play those songs with that attitude and that sound night after night – that's what I'd want to do."
"Buckaroo music was just something that was so friendly – it sparkled, and was so accessible," said Marty Stuart. "Scholars can study it, but a nine-year-old kid could start a band with it, too. Buckaroo music, to me, is just kind of an essential form of American music, especially essential country music."
ZZ Top founder/guitarist Billy F Gibbons, a longtime admirer of the Buck Owens Bakersfield sound, told VG, "Buck's upbeat playing style, without a doubt, brought a new twist into country music. With his interesting band of renegade musicians, the sound emanating from his trusty Telecaster, twanked and tonked its way to the top of the charts, inspiring all of us who love his six-string thing."
Gibbons' presentation piece to Buck, a black, rhinestone-encrusted, souped-up Esquire-styled solidbody, was one of the final additions the interesting array of custom guitars so well known to Owens' showbiz-savvy personality. Built by John Bolin's "House Of JB," Gibbons says, "The instrument features the latest in frontline hardware and electronics. A genuine showpiece!"
In the liner notes of Rhino 2006 compilation Buck Owens…21 #1 Hits, Gibbons noted, "Buck stands as one of the most revered mavericks of country music. Enigmatic, innovative, genuine… An unassuming genius of the genre.
"I stand alongside a host of real Buck Owens enthusiasts. And why not? From his roots in Texas out to Bakersfield, Buck and The Buckaroos forged their hot-rodded version of C&W into a personalized, punked-up, funked-out, rock-solid expression of ingenuity."
---
This article originally appeared in VG May 2007 issue. All copyrights are by the author and Vintage Guitar magazine. Unauthorized replication or use is strictly prohibited.