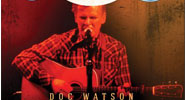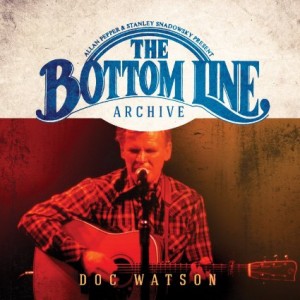 Doc Watson appeared twice at Manhattan's Bottom Line in 2002, in March and August. With him were guitarists Jack Lawrence, who replaced Watson's son Merle when he retired from the road in 1983 (he died in a '85 accident) and Merle's son Richard. As usual, Doc had his rich repertoire of traditional numbers, early country favorites, originals, pop tunes, blues, and his interpretation of the Moody Blues' "Nights In White Satin."
These two CDs, part of the Bottom Line Archive Series of live recordings, offer these performances for the first time. The 42 songs provide a rich overview of Doc's repertoire, with one track of storytelling. Instrumentally, he delivers the relaxed virtuosity that marked his work from the start, his vocals strong, his picking flawless and clean, including his frequent ventures into the Merle Travis-style Kentucky thumbpicking he's also known for.
A skilled, relaxed raconteur, Doc moved the proceedings along with engaging and at times amusing finesse, putting most songs in context. His generosity to his accompanists was just as notable. He showcased Richard's sharp, bluesy, flatpicked solos and Lawrence's formidable vocal-instrumental prowess. He offered "C.C. Rider" in the fingerpicked style of Mississippi John Hurt. On the Jimmie Rodgers numbers – "Blue Yodel #12 (Daybreak Blues)," "T For Texas," "Train Whistle Blues," and "Jimmie's Mean Mama Blues" – he adds his version of Rodgers' famous guitar riffs.
Doc's fiery flatpicking dominates "Black Mountain Rag," "Nothing To It," "Corrina, Corrina," "Bye, Bye Blues," "Florida Blues," and "Alabama Jubilee." He reprises a longtime staple of his, George Gershwin's "Summertime," a tune he first recorded in '72, and the Moody Blues classic, recorded in '02 with members of Merle's old band Frosty Morn. He reaches back over eight decades for an eerie version of "In The Pines."
Finger- and thumbpicking pushes along "Telephone Blues," Elizabeth Cotten's "Freight Train," Merle Haggard's "Workin' Man Blues," and the Travis favorites "I Am A Pilgrim" and "Kinfolks In Carolina." The blues numbers are breathtaking, particularly "I'm A Stranger Here" and "Trouble In Mind." Among the older chestnuts are "I'm Movin' On #2," Homer and Jethro's 1951 parody of Hank Snow's 1950 hit (Doc briefly imitating Snow's distinctive flatpicking).
Forty-five years ago the double LP Doc Watson On Stage definitively captured Doc and Merle. These exhilarating early 21st Century performances reveal him at 79, his virtuosity and love of performing fully intact.
This article originally appeared in VG's April '16 issue. All copyrights are by the author and Vintage Guitar magazine. Unauthorized replication or use is strictly prohibited.