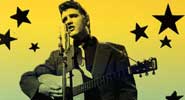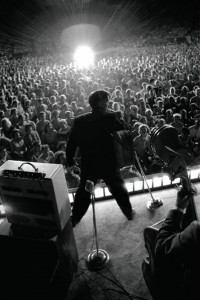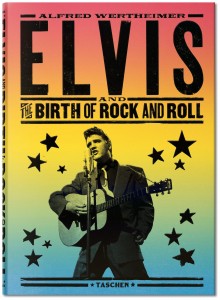 In early 1956, soon after RCA Victor purchased the contract for a fledgling singer named Elvis Presley, a publicist hired photographer Alfred Wertheimer to follow the Mississippi boy on the road for a couple weeks. The kid had potential, the label believed, and some snaps of him might be handy.
At the time, no one had a clue how brilliant a star could shine – or the potential of the music Elvis played. The label simply hoped he'd sell some records to repay when they invested in him.
Wertheimer took some 3,000 images of Elvis and his band as they toured school auditoriums through the South, practiced, recorded, drank milkshakes, made out with girls met on the road, and eventually played "The Ed Sullivan Show." The pictures have become iconic, chronicling "the birth of rock and roll" – to quote this volume's title, which is guilty of grave oversimplification and forgetting many another pioneering rocker. But better yet, they capture a more innocent time now gone by.
Selections of these photos have been published before in book form, on t-shirts, posters, coffee mugs – you name it. That doesn't take away from their startling brilliance, though. And this mammoth collection – with hundreds of black-and-white and rarely seen color photos artfully arranged in a 359-page oversize coffeetable book of gorgeous Hatch-print-styled design – is a must-have for fans.
Wertheimer's images show Elvis as a pimple-faced country boy swept along on the way to stardom, of course. But they also capture solitary moments of him composing songs at the piano, and in a touching sequence, getting off the train on the dusty outskirts of Memphis after a grueling tour so he can walk home to see his ma and pa quicker.
Best yet, there are numerous photos of the band hard at work: Elvis and his hard-won Martin, Scotty Moore and his Gibson L5-CN and EchoSonic, and more.
This could be the most famous series of rock and roll photos ever. And in this glorious book, they're given just due.
---
This article originally appeared in VG's December '15 issue. All copyrights are by the author and Vintage Guitar magazine. Unauthorized replication or use is strictly prohibited.
---