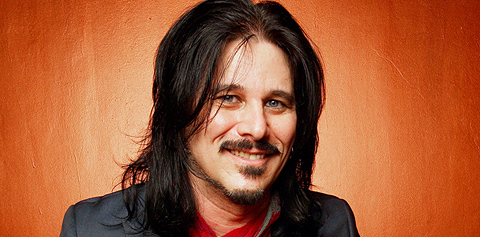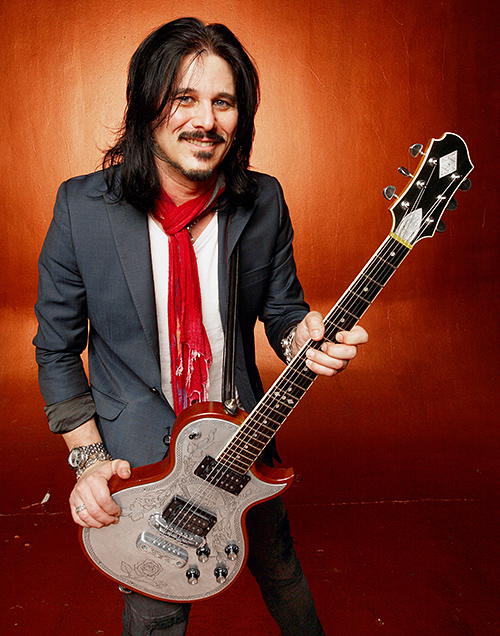 The drive to succeed – along with certain workaholic tendencies – revealed themselves early in rock guitarist Gilby Clarke. On the brink of becoming a "problem child," he turned the tide on misfortune after his parents' marriage fell apart.
Wanting to be closer to family, Clarke's mother took her children from Cleveland to California, and there, the 16-year-old Gilby turned wholeheartedly to music as a personal comfort and – more vitally – social ice-breaker. Before long, he was bangin' away with friends in a true garage band, cranking out songs by Kiss, Aerosmith, and other '70s teen-rocker staples.
In the early 1980s, he landed the guitarist slot in a power-pop band called Candy, which in '85 recorded Whatever Happened to Fun, then toured with hitmakers Rick Springfield and Corey Hart before Clarke, wanting to play edgier material, departed to form Kill For Thrills, a hard-rock band that recorded an EP and LP of era-flavored tunes.
In '91, Clarke stepped foot in the big-time when he replaced Izzy Stradlin in Guns 'N Roses, whose 1987 album, Appetite For Destruction, is oft-cited for pushing rock and roll back to its roots. Clarke joined the band a week after it had released the twin-album Use Your Illusion effort and toured the world with the band for two years. When the original members decided to reunite, Clarke moved on to focus on a solo career and enjoyed stints with Heart, Nancy Sinatra, and the MC5.
Today, Clarke keeps busy with his solo band and gigging with an all-star/greatest-hits package called Kings of Chaos. He's also a dedicated family man, having been married to his wife, Daniella, for 22 years; his cred was recently proven when he sold a squeaky-clean '59 Fender Stratocaster to bolster his daughter's college fund.
We caught up with Clarke as he put the finishing touches on his eighth solo album, due for release late this year.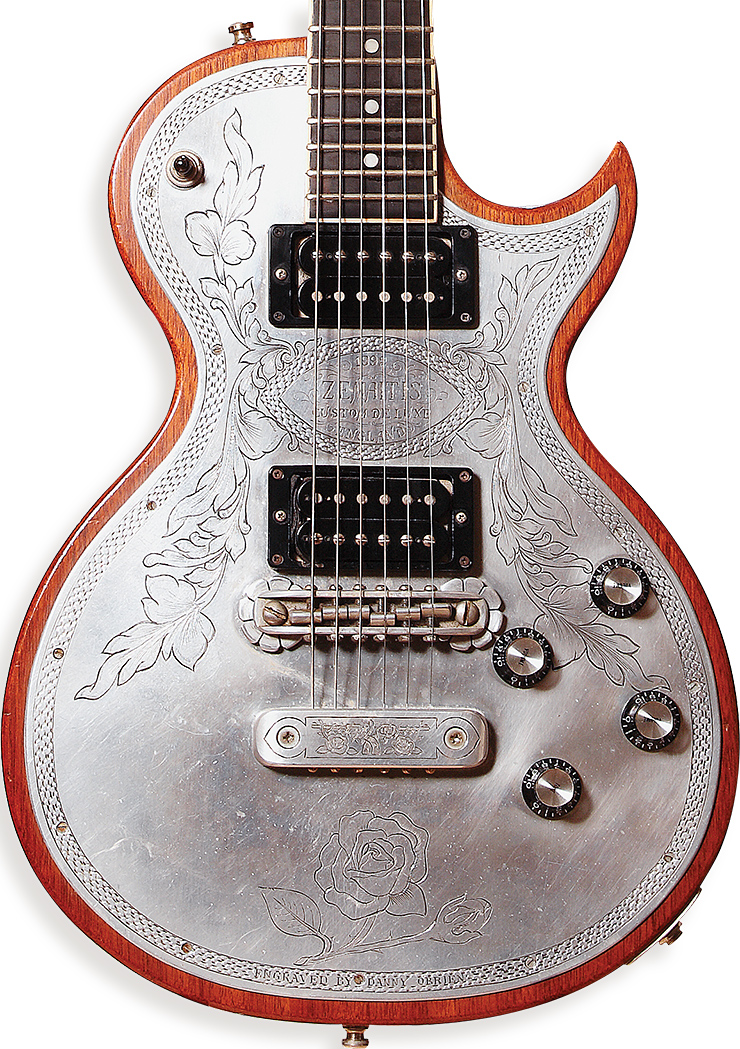 How did you "discover" music?
I grew up in Cleveland, and one day, when I was 12 or 13 years old, I walked into a head shop and saw a poster of Jimi Hendrix, and he was just the coolest-looking human I'd ever seen (laughs). At first, my fascination had nothing to do with music – the visual caught me off-guard – but I asked who he was, and then, of course, I started listening to his music. My first record was Kiss' Alive and I was also listening to Led Zeppelin, Alice Cooper, and Aerosmith. Music was a big influence for everybody I knew in Cleveland. It was all we really had.
Were you more drawn to music by the guitar element, or was there anything else, in particular?
Absolutely – 100 percent guitar. At the time, a bowling alley near my house would do all-age shows on Sundays, where cover bands would play. I remember the guitar player in one of them had a white Strat, just like Hendrix. It really drew me in and I realized that I was a "guitar guy." With Kiss, I listened to Ace Frehley very closely. With Zeppelin, it was Page, and Peter Frampton was big at the time – that triple-pickup Les Paul was badass. I was definitely drawn to guitar.
As the years went, I experienced different things, and my tastes changed. I had an English girlfriend who listened to the bands that were happening at the time – The Clash, Sex Pistols, David Bowie, T-Rex, and I started listening to all of it, which brought me around to the Rolling Stones and the Beatles, though I never really understood the Beatles thing when I was growing up. They were just a pop band, to me – I only knew the hits. I didn't know they actually played guitars and drums. But, my first experience taking acid was while listening to the "white album" when I was 15. It blew my mind, hearing things I'd never heard before. From then on, I was a Beatles fan!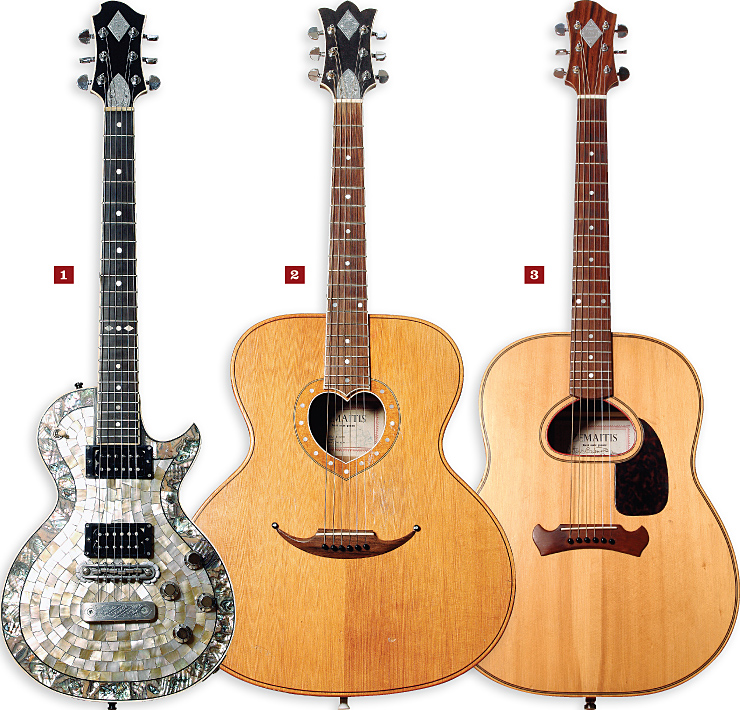 When did you get a guitar?
I was 13 or 14 when I told my parents, "I want to play guitar." So I went into the music store and there was a clear Dan Armstrong on the wall. I was like, "That's what I want!" My guitar teacher said, "No, you must start on an acoustic, and we'll work our way up to that." So, I started taking lessons and it bored the s**t out of me; chords and Cat Stevens songs. I was, like, "I wanna play Hendrix! I wanna play Aerosmith!"
I didn't last long with lessons, but I had a few friends in the neighborhood who were playing guitar and we'd show each other things. Then, my parents got divorced and my mother took my brother and sister and I to California, where she had family. Coming from Ohio, I felt lucky to have music, and it kept me busy learning to play guitar because it was a great diversion. Most of my friends back home were becoming professional criminals. So, in a way, music saved me from a life of crime. It gave me something else to concentrate on.
Given the rich music environment of Southern California, did you mix with a crowd that cared more about music than getting in trouble?
Yeah, music made it easy to get along with new people. I was getting into crazy s**t in Ohio – drugs and all that. But, in California, people were happier. I'd walk down the street and people would say, "Hey, how you doin'?" I was like, "How you do…? I don't know you…" (laughs) So, it was infectious and made it a little easier on me. It was like people were nicer… and, the girls were prettier.
I was in high school at that time, and the first thing I did was start a band, and we'd play school dances and weekend parties. I got a job in a local music store, and I was hooked – a lifer, pretty much, by the age of 16.
What was your first guitar?
My very first guitar was a black Les Paul copy that basically looked like Frampton's. My second was a Les Paul Standard. I had become a big Rick Derringer fan – he was my guitar idol. I loved blues-based rock and roll, you know? "Rock and Roll Hoochie Koo" and all that stuff really connected with me at that time. After that, I bought a B.C. Rich Mockingbird Supreme that made my sound and look a bit different from everybody else.
What was your first amp?
I had a 50-watt JMP, and it's exactly what I play today. I was pretty much a Les Paul-and-Marshall guy from day one.
What else shaped you, musically, early on?
Working at Hogan's House of Music – I was just a schlepp – not old enough to be a salesman, so I cleaned guitars, changed strings, whatever they told me to do. But, I met guys like [Ratt drummer] Bobby Blotzer, [vocalist/front man] Don Dokken, [Motley Crue guitarist] Mick Mars – a bunch of local musicians who were doing well. I started going to concerts – I saw Derringer at The Whiskey, and Van Halen was starting to happen, but was still a local band. I'd argue with my guitar-player friends who'd say, "Man, he's the greatest player ever!" All I'd say is, "He's no Rick Derringer."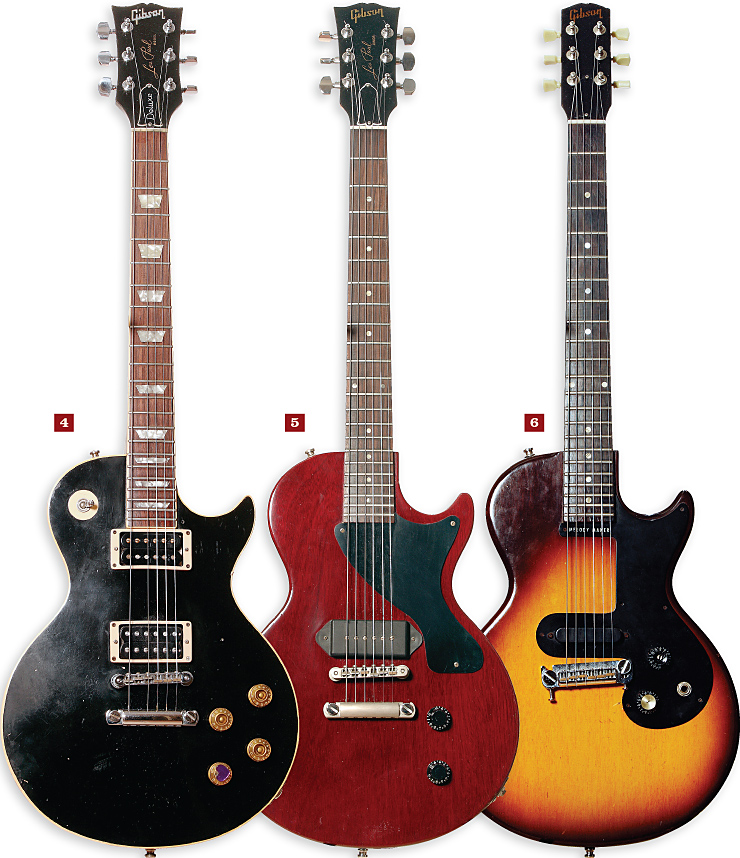 So, who ended up being right?
Whatever (laughs)! I'll stick to my guns. But, the point is, I wasn't quick to change, and that's been true my whole life. We like what we like, and I wasn't wishy-washy. I never got to see Eddie Van Halen or Randy Rhoads. I was going to clubs those days, but somehow missed them. One of my friends from back East had moved out here to be a musician at that time, and he went to see Van Halen at the Starwood on a Friday, then Randy Rhoads at the Whiskey the next day. He moved back home that Monday, saying, "These are the f***in' local guitar players?" (laughs) I thought it was hilarious. Obviously, my buddy needed a little more practice. Back then, a lot of players were very competitive. I never cared about that. I didn't feel that pressure. I just wanted to play and do my own thing.
As influential as they were, Rhoads and Van Halen also caused a lot of guys to give up.
There were a lot of frustrated players because of them. I get that. But, being in a band, working at a music store, and going to high school, I was pretty ambitious. My mother actually told me, "You're killing yourself, you're not sleeping, you have too much on your plate. You've got to fix this." So, I quit school. That's not what she had in mind (laughs), but it's what I did.
It was tough to make the move to Hollywood. A lot of my friends who were better players than me and had more going on, said "I'm going to stay in school and go to college." For me, though, college never entered my mind. I was set on, "I'm going to move to Hollywood and play at the Starwood."
What was the name of the band you had at the time?
That one was called Candy, and we never made it to the Starwood – it had closed by then. But, we did pretty well for a local band. People used to say we were a cross between the Raspberries and the Ramones, or the Bay City Rollers and Johnny Thunders.
Was being compared to the Bay City Rollers a compliment?
No! At that time, I was very influenced by English music, but the biggest bands in town were metal – mostly bad metal – and it just wasn't my thing. Van Halen and Rhoads influenced everyone around town, and I like Van Halen as a band, but that wasn't my thing. I was much more into like Mick Ronson, and Mick Jones from The Clash. I like melodic music, I like rock.; I was always the rock guy in the pop band. I had the nastiest look, my Les Paul hung down to my knees, and I played a Marshall. There really were no bands that I fit into at that time, and when I finally had Candy, we had a really good singer who wrote really good songs, it just happened to be a pop/rock band.
Candy had a very contemporary sound. What did you do, contextually, on guitar?
I was trying to bring a raw edge to the band, and the guys wanted that. We just needed a little more time to develop. I had the classic disagreements with the singer – he wanted it more pop, I wanted it more rock – and we never really got it together. Funny enough, we had signed a major-label deal, we had top management, we were touring, opening for Rick Springfield and Corey Hart – big shows at that time. And then bands like Guns 'N Roses and Poison started taking over L.A. We were before all that; the guys from Guns 'N Roses would come to our shows when we headlined at the Roxy, the Whiskey, or the Palace.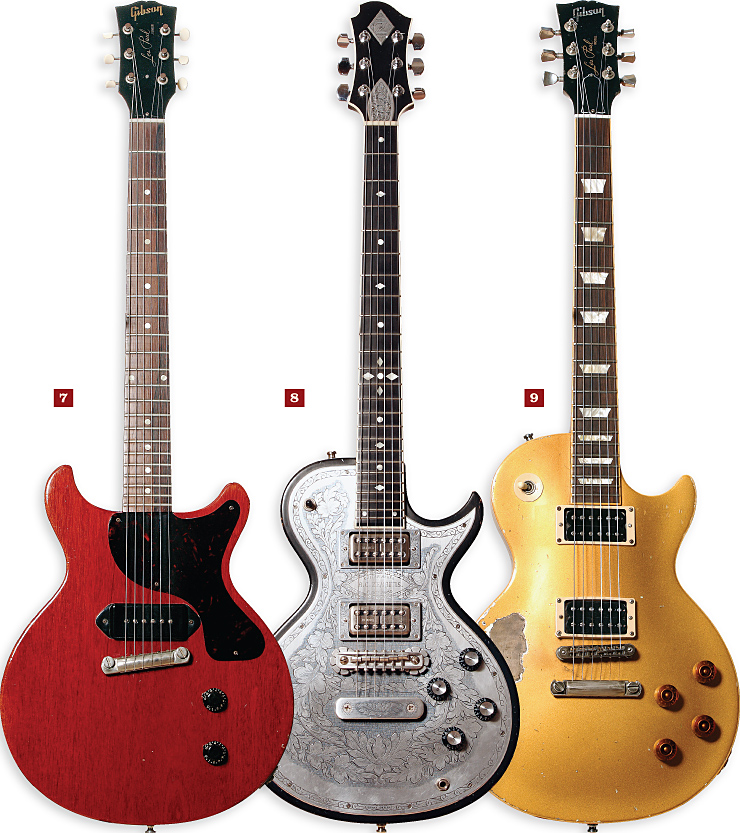 What happened with the band that it ultimately didn't work?
When we saw what L.A. had become, we felt overmatched. Still, the band wanted to focus on pop, so I left and started my own band, Kill For Thrills. At that time, I was heavy into songwriting, and though I had no intention of being a singer, when we started rehearsing, I was a better singer than anybody we auditioned. So, we added a guitar player, which was strange for me because I had never played with another guitarist. Most guitar players, especially back then, weren't very good at listening – they just played. If anything, they compromised with the singer! But I started concentrating on listening to what the other guitar player was doing, where the vocals were, and trying to fit in. It really helped me become the musician I am now. When I go to jams or sit in with other bands, I listen to the surroundings and find my spot. I don't have a need to show off.
So, you became more conscientious. But, how have your actual playing skills evolved?
I became conscious of my playing when I got the Guns 'N Roses gig. I never really measured my ability compared to anybody else; when I had my guitar on, I was writing a song. We all work on our playing, but I was much more into writing songs and developing a sense of good tone.
Were you comfortable, right away, with Guns 'N Roses?
Yeah, I knew all the guys – Slash, Axl [Rose, vocalist/ front man], and funny enough, I probably knew Izzy [Stradlin, the guitarist whom Clarke replaced] the best. But, it was very cool, playing next to Slash, who was clearly the lead player. I was okay playing rhythm at that time, because I had just come from a gig where I was singing and playing rhythm. My confidence was high, plus, Slash had seen me play plenty of times and was comfortable with my ability to hold it down. They wanted to take the band's musicianship up a notch or two.
Back in the day, did you ever grab anything other than a Les Paul?
In Kill For Thrills, when there was another guitar player, I started playing Telecasters more. I have a '68 that I've had from way back, which I routed to put a humbucking pickup in (laughs). I'm terrible about things like that. I've always loved the Tele sound, but needed a little extra oomph. With GnR, the Tele worked better, especially for songs like "Sweet Child of Mine," where I'd have to lay back during the verses then kick it in for choruses. That humbucking pickup worked perfectly.
And did you use any amps that weren't Marshalls?
In GnR, with Slash being a Les-Paul-and-Marshall guy, too, our parts would blend in the mix. So, I played a Vox AC30 for a while. I had seen Steve Jones playing one, and he had a great sound. The first time I tried one was before a show at Wembley Arena, where Brian May appeared as a guest with us. I got my Voxes together and we did a little rehearsing, and at first I was discouraged because they just weren't happening – too clean, too much bottom, I couldn't get the edge I needed. Usually, with a new amp, I'd turn the Volume all the way up, put everything else on five, and go from there. With an AC30, though, I learned to turn the Bass down to two or three. Before I figured that out, though, Brian handed me this little effects box he called a "tone boost." I plugged it in, and it was magic. I told him, "This is exactly what I want!" It was more a bass-cut than anything. I was in heaven, then Brian said, "Give me my box back." (laughs).
Do you remember what brand it was?
It was basically a home-made box. When I asked him, he just said, "It's a tone boost." (laughs).
From that point on, that's all I used onstage in GnR – two AC30s, both turned up to 10. I had to have 15 of them on the road to keep two working (laughs), but they gave me basically a Marshall-like sound with more midrange, which help cut through.
What was your biggest takeaway from the Guns 'N Roses experience?
The fame and stuff was nice – the shows were huge. But, GnR really was a band situation. We hung out a lot, and talked about music a lot. For me, a musician who had been playing for a long time, it gave me confidence. I thought to myself, "This is my shot, after all these years of making records. It's my time." And musically, they taught me to relax. Guns songs have a swagger, but playing them is really just laying behind the beat and finding the pocket. I was concentrating on finding my place and having a voice, musically, in the band.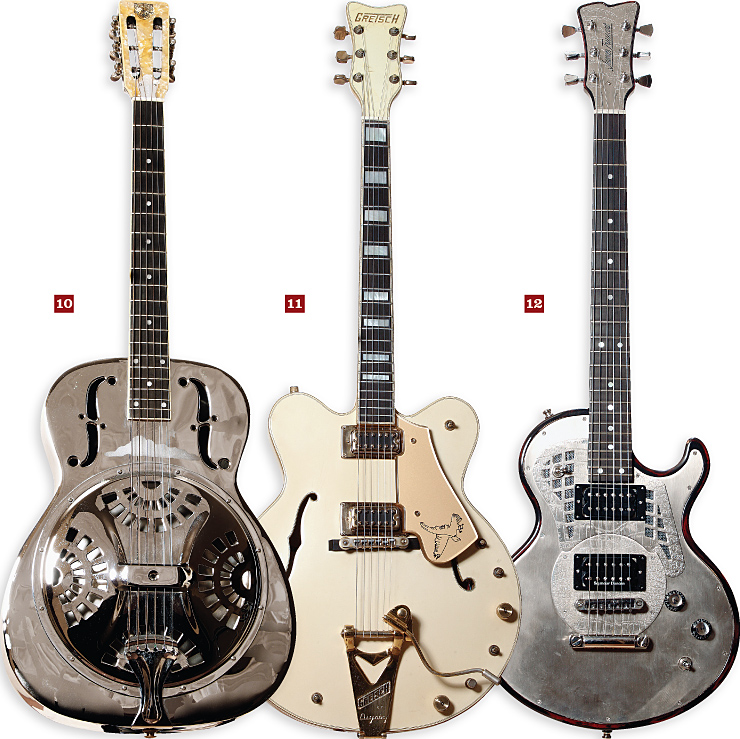 How did you get into Zemaitis guitars?
When I first saw Ron Wood playing one, it was like seeing that Jimi Hendrix poster; I thought it was the coolest-looking guitar I'd ever seen. I wasn't into whammy bars or any of that, and that Zemaitis just spoke to me. And it took me years to find out what the f**k that guitar was! I asked everybody I knew, and nobody could tell me until finally Jim Foote, at Music Works, told me. So, I started doing the research, and by the time I got the GnR gig and we were playing in London, I made a call to Tony [Zemaitis]. When you worked with Tony, you went to his house, saw his work shop, met his wife, Ann, enjoyed some tea and scones, and listened to music. I told him about my influences – Ronson, Mark Bolin, George Harrison – all these English players (laughs)! Then, we started talking about what I like in a guitar – small neck, light body. He measured my hand, then we started putting together my first metal-top. He told me it'd cost about 7,500 and I said, "Oh, $7,500… that's not bad." And he said, no, "7,500 pounds." I did some quick math in my head and thought, "Thaaaaat's, like, $15,000!" (laughs). I said, "I haven't been in Guns 'N Roses that long…" And he said, "Tell you what, I'll give you the Ron Wood discount." Apparently, when he built the first guitar for Ron, he hadn't been in the Stones for very long. I told him I'd never disclose the deal, but he gave me a nice discount and we made a guitar that, to this day, is the best guitar I've ever owned. It's my absolute favorite. At the end of my life, if I'm identified with any guitar, it's that one. It's my baby.
Which pickups did you put in it?
I put in Seymour Duncan '59s. I've always been a big supporter of Seymour's.
How did your pearl-top Zemaitis come about?
Well, at the time, Tony's popularity was kind of down. He was huge in the '70s, with Clapton, Harrison, and all the guys he built for back then, but I was the first guy who had contacted him in quite a few years. When we finished the first one, I told him, "My next guitar is going to be a pearl-top, but I need a little time to recover, financially, from this one!" (laughs). But, about six months later, he called and said someone had commissioned a pearl-top and wasn't going to take it. He offered to alter it to my specs and give me a deal on it. How could I refuse?
There's also a heart-hole acoustic made by Tony…
Yeah, that was a birthday present from my wife. I had been getting the newsletter from the Zemaitis Owners' Club, and in one issue was a picture of a heart-hole acoustic, and I fell in love with it. Well, my wife contacted the club and said, "Gilby has been drooling over this picture, so if you ever hear of one for sale, let me know."
So, how did she present it to you?
It was in a normal acoustic-guitar case… When I saw it, I thought, "Cool, she bought me a guitar." But, when I opened it, I was speechless. The digging she had to do blew me away almost more than the guitar itself. She had to go to some lengths. There are a couple things you dream of – the metal-top was it for me. But, when I got my hands on the heart-hole, I was in love!
How about the D-hole model?
That came a couple years later. Like with the electrics, once I had an acoustic Zemaitis, I was hooked. Before, my acoustics had always been Martins; I have a '69 D-35 and a '46 D-28. But, when I got the heart-hole… there's just something Tony knew about making guitars. He'd talk your ear off about tone, sustain, and which woods resonate a certain way. But I'm a player – I gotta play it, I gotta hear it, I gotta feel it. All that talk doesn't mean anything until I can touch it and play it. And, just like the metal-top – which has perfect tone and the most sustain – anything you plug it into, it works. Same with the heart-hole; the neck is little wide for me, but the tone just rings. It sounds good if you're doing a slow-picking song, or strumming. The D-hole, on the other hand, tonally, is thinner. It's not the guitar you'll use to play a slow vocal/acoustic song on. But it has presence. It's better with a couple other guitars. I do a lot of stuff where I'll use the D-hole on one [track] and maybe a Nashville-tuned acoustic on another, and together, they'll sound like one huge guitar.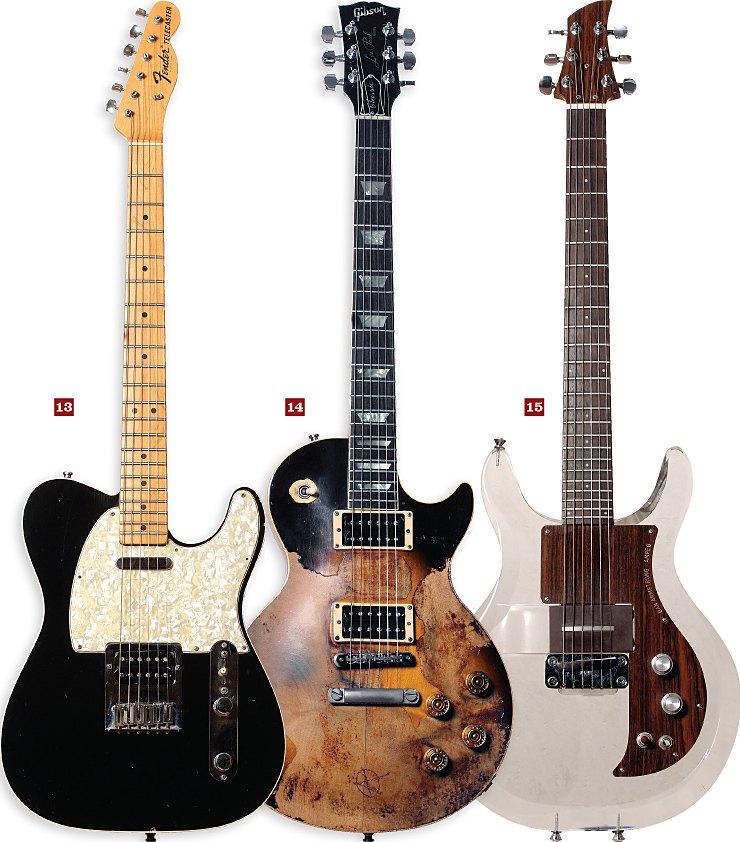 How do they compare and contrast, tone-wise, to the Martins?
The heart-hole is all body – a lot of lows, lot of highs, not a lot of mids or high-mids. The Martin I play most is the D-35, and it's all mids and high-mids, not a lot of bottom, not a lot of top, just great midrange, which is what a good acoustic should have. My '46 [D-28] is the perfect acoustic (laughs). It does everything; I can play it quietly, I can play it loud, I can play it live. It has that Brazilian rosewood [back and sides], and just sings for days.
The heart-hole is very deep, very full, and warm-sounding, while the D-hole is brighter, with a lot of high-mids – it has no body to it, really. The D-hole has a small, almost-electric-guitar neck. It's very, very easy to play. A lot of time, if I'm doing a live gig around town, I'll use it because I don't need that fullness when running through a sound system. The heart-hole, on the other hand isn't a good live acoustic, but it's great for recording.
Talk about the '71 Dan Armstrong guitar in your collection…
I got that a week before GnR went to England to do a Freddie Mercury tribute show. Once again, I had never played a Dan Armstrong – I just remembered seeing a lot of guys playing them in the '70s – Mark Bolin, Joe Perry. It was the guitar that, as a young teenager, I saw in the shop and thought, "I want that guitar!" So, I finally bought one, and when I got it, I was struck by how it's very different from my Les Pauls, very different from my Teles. And strangely enough, it had a lot of gain; it has the pickup modules – Country Bass and Rock Treble. I use Rock Treble, and the guitar doesn't have a lot of sustain. But, its tone is nice. I was using the Voxes at the time and it sounded great playing those GnR riffs.
What's the story with your current band, Kings of Chaos?
It was [drummer] Matt Sorum's idea. It's myself, Matt, Duff McKagan [on bass], and [guitarist] Steve Stevens as the core of the band, and we have guest singers. It's sort of a "greatest hits" gig; Joe Elliot was been with us, Glenn Hughes, Ed Roland, Cory Taylor; Slash and Myles Kennedy have played quite a few shows. It's been really fun, and strangely enough, extremely easy (laughs)! Everyone plays so well together, and it seems like such a natural fit, especially on the GnR tunes. But it's also fun for Joe to have us playing Def Leppard songs.
Where does the band perform?
We've been doing short tours – Australia, a few runs in South America and South Africa. Everybody's working all the time, so we really only get to do it in the off-season. Duff, Matt, and I don't get to play Guns 'N Roses songs outside of this band, so it's just fun. I actually saw Slash jumping around while we were playing 'Nightrain' (laughs)!
When can fans expect to see the new solo album?
I'm doing it right now. I have a studio in my house with a tracking room and a separate control room with an old Neve board, and all my vintage amps. I'm trying to get something together for this year; I didn't realize how long it'd been since I put out a solo record.
Who's helping you?
I'm using the guys in my solo touring band, which gigs pretty much all the time; it's E.J. Cursh playing bass and Troy Patrick Farrell on drums. When we get together to rehearse for tours, I'll show them some new tunes and we'll start knocking them out.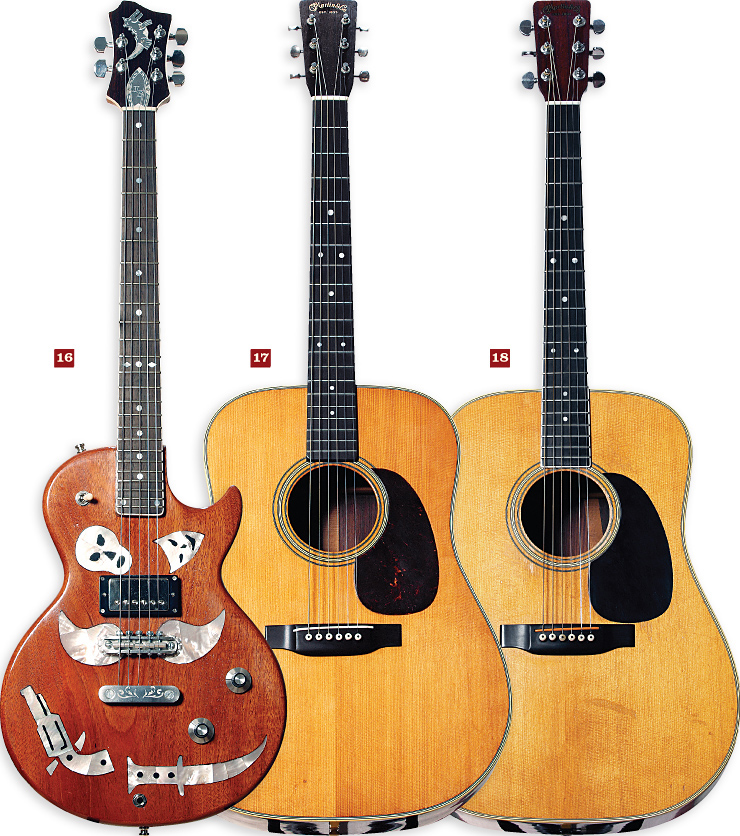 ---
This article originally appeared in VG's December 2014 issue. All copyrights are by the author and Vintage Guitar magazine. Unauthorized replication or use is strictly prohibited.
---