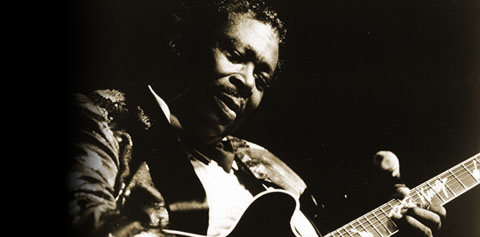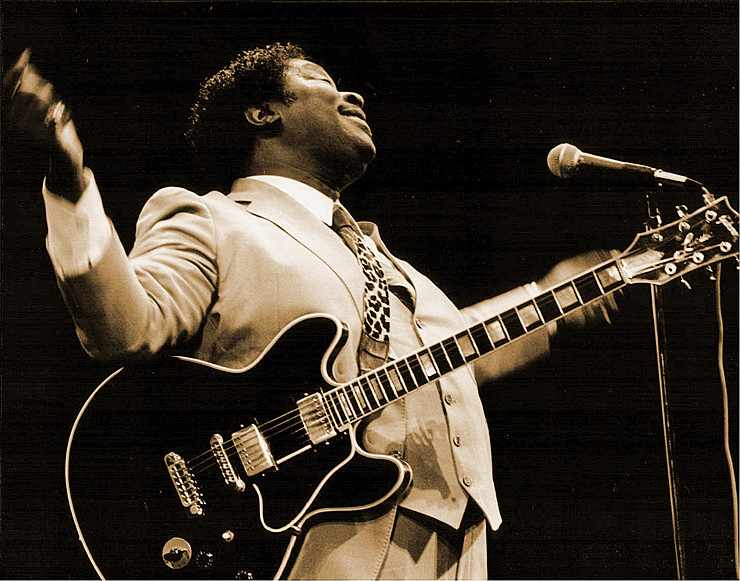 Ed. Note: Everyone associated with Vintage Guitar magazine is saddened to learn of the passing of B.B. King. In 1995, Mr. King sat for an interview with VG's Willie G. Moseley, and we offer it here as part of our remembrance of the King of the Blues.
Riley B. King was born on a cotton plantation in Indianola, Mississippi, on September 16, 1925. Following a childhood spent in poverty, he made his way to Memphis in 1946, where he forged a career in the music business, under the stage name of B.B. King (B.B. is short for "Blues Boy"), and he's been playing, touring, and recording almost non-stop ever since; he'll be 70 this year.
VG arranged an interview with King prior to a recent concert (he still performs about 250 times a year!), to inquire about facets of Mr. King's fabled career. We were escorted into a dressing area, where a relaxed and eloquent Mr. King patiently answered our questions in a courteous and efficient manner. Some of his responses were somewhat surprising:
The story of your dash back into a burning nightclub in Twist, Arkansas, to rescue your guitar is well-known, but do you remember the make and model of that guitar?
I remember the make but not the model; it was a little black Gibson. You can see it in some old pictures that we've had made up; my name was put on it with a paint brush. It was an acoustic, believe it or not, with a DeArmond pickup on it to make it into an electric.
Let me ask about some of the other instruments that I've seen you playing in some older photographs. There's that famous picture of you performing onstage in shorts; you're playing a big three-pickup Gibson ES-5.
(laughs) That picture still haunts me! One of the reasons I liked that one was because my idol T-Bone Walker had one; he was so flashy with his. I liked it, but it just never seemed to "fit" me right. It was big; I had one that I gave to my father, and when he died I got it back. I still play it sometimes. When the guitar that became the "Lucille" model came out, that was the one for me; that did it.
Do you remember which pickups you used the most on the ES-5?
No; I don't know much about the electronic parts of a guitar. If something went wrong with my guitar tomorrow, and I couldn't find any-body to fix it, I'd be in big trouble! I like guitars where the neck feels right in my hands; that's what's important to me. Since '49 I've played all kind of guitars, Epiphone, Fender, you name it.
There's another historical photo of you playing a single-pickup Fender Esquire.
That was one of the first ones that came out.
When the Gibson came out with their thinline semi-hollow series, which model did you start out with?
The 335; it was like somebody knew what kind of guitar I'd been wanting. The 355 "Lucille", with no f-holes, is what I play now.
Do you use the Vari-Tone on it all that much?
I never use it at all. I think of this guitar as sort of a big brother to the Les Paul; to me, the Les Paul guitar is one of the best guitars that's ever been built, and the neck of the 355 is similar to the neck of the Les Paul. I like the larger, "butt" part of the 355 body, because it fits under my arm real well (pats right side of rib cage).
Did you make your first recording in l949?
It was the latter part of '48; I made my first record for Bullet. The first four sides were "Take A Swing With Me", "Miss Martha King", "How Do You Feel When Your Baby Packs Up To Go", and "I Got The Blues".
What about the amplifiers you've used over the years? That photo of you in shorts with the ES-5 showed you playing through a Fender tweed amplifier.
Yes; the old Fender amplifiers were the best that were ever made, in my opinion. They had a good sound and they were durable; guys would throw them in the truck and they'd hold up. They had tubes, and they'd get real hot, but they just had a sound that is hard to put into words. The Fender Twin was great, but I have an old Lab Series amp that isn't being made anymore. I fell in love with it, because its sound is right between the old Fender amps that we used to have and the Fender Twin. It's what I'm using tonight.
You mentioned T-Bone Walker being an idol of yours; he was from Texas instead of Mississippi, and he played unique chords and did arrangements, instead of "three-chord-and-three-string" blues songs.
Well, he was just one of my idols. Lonnie Johnson was another; so was Django Rheinhardt; so was Charlie Christian. I also liked Chet Atkins; there was Blind Lemon Jefferson out of Texas.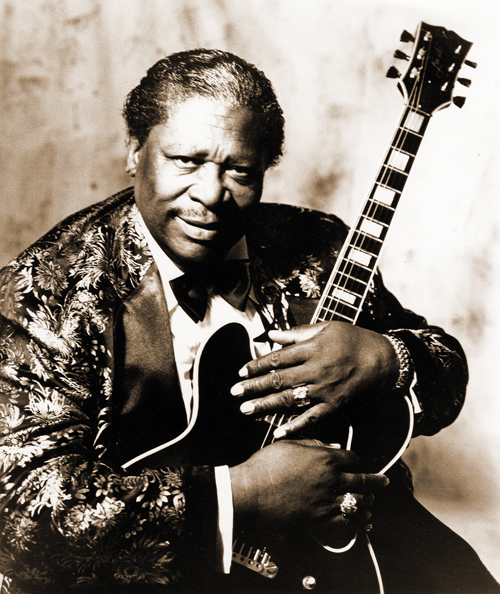 Some people differentiate between what they call "Texas blues" and "Delta blues".
(chuckles) Well, I don't agree with that; I think it's the person. There's a lot of us from Mississippi, and we all don't play alike. John Lee Hooker and I don't play alike; Muddy Waters and I didn't play alike. I knew about Robert Johnson, but I wasn't crazy about Robert Johnson like a lot of people are; I knew he was great, but my "Johnson" was Lonnie; he's the one I was crazy about.
I've always been wanting to play better; I was crazy about a guy named Johnny Moore, who had a group called the Three Blazers, which included Charles Brown. Johnny Moore was the brother of Oscar Moore, who was the guitar player for the Nat Cole Trio.
Oscar Moore was usually seen playing a big Gibson L-5, I think.
And Johnny Moore had one just like it! He taught his brother how to play.
There are many other guitar players I could talk about that never made a name for themselves, and I listened to a lot of them as well.
How did you get yourself into other performance venues other than what was known as the "chitlin circuit"?
I augmented my group; we started to be like a Big Band, kind of like Count Basie. I was still able to play places where we'd played before, but we got into some new places. For example, there was a club in Chicago called Mr. Kelly's; they'd never had blues in there; it was always jazzed-up. When I augmented my group, they brought me in. That was the first time that club went from strictly Jazz to a different sound. Elvis came on the scene around '54, and after that the British bands "re-imported the blues", as I call it. Then I started playing places like the Fillmores.
Back then, you made a comment that Peter Green was a player who could make you "sweat", so that's at least one white British player who was playing what you considered to be "authentic" blues.
The thing is, I didn't think about what color he was, and I don't think about such now. So when I said that, I didn't mean he should be thought of as a white player, but just as, excuse the word, a damn good player. He could really get me excited. He was a great player and a good friend. He hasn't been playing any lately; I saw him about two or three years ago, and he was working as something like a pallbearer in a graveyard.
How many albums have you recorded?
Seventy-four.
A lot of guitar players are partial to live albums, and at your press conference earlier this evening, you alluded to the possibility of another one coming up. I'd like to ask about a couple of them; for example, your bio refers to the Live at the Apollo album as a "Big Band" album.
Yes; that was done with an eighteen-piece all-star orchestra; every guy on that stage was a star in his own right.
The guitar tone on the San Quentin live album seems to have a bit more of an "edge" to it. Any reason why?
(chuckles) No; it was just the way I was feeling, the type of amp I had, and the facilities. Like I said earlier, the technical stuff is something I don't think about; it's just whatever's sounding good to me now. (laughs)
But there are a couple of sounds on albums that I made that stand out in my mind. I don't really talk about it, but when I did "The Thrill Is Gone," I thought I had a good sound. Then I did another tune called "Blues At Midnight," the sound of that amp was exactly like I like. There's been another song or two, but other than that it's just a case of me feeling good and the amp sounding good. Those songs just stand out to me as having a sound I wish I could get more often.
You were interviewed by Billy Gibbons for Guitar Player magazine, and when I interviewed him for this publication, he cited Ry Cooder's observations about the "musicness" of Memphis. Comment?
When I first got to Memphis in '46, I heard sounds that I thought were heavenly; sounds I'd never heard before. The musicians weren't putting on; they were just playing casually, like they were playing cards, and it sounded better than anything I'd ever heard. From time to time, you can still hear that. There are a lot of musicians that are in Memphis that have that sound that you wish you could have every day, but they don't want to travel; they just hang around Memphis.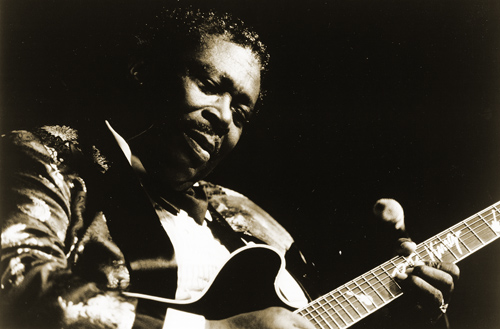 You've participated in some notable charity events, such as Live Aid and the first Farm Aid. There were a lot of different types of acts, but I thought the line in "How Blue Can You Get," "I gave you seven children and now you wanna give 'em back" was still the showstopper that it always seems to be.
(laughs) It is one of my favorites. A lot of people don't know that tune was written by a famous music critic, Leonard Feather, for Louis Jordan, who used to do funny things like that. But I heard it and liked it so well I decided I'd record it; I think many of the best recordings that I've done through the years have been tunes that were written by somebody else, for somebody else, and I happened to hear it, but it seemed like the songwriter was asking me: "B., is this the way you want it?" (chuckles)
Another musician I once interviewed offered the opinion that "the blues always seems to come around and shake things up a bit whenever it's needed." (Mr. King laughs) It does seems like the interest in blues music has been somewhat "cyclical", for lack of a better term.
I don't quite agree with all of his comment, but part of it I do agree with; it does seem to shake up things from time to time. I think what happened is there have been times like when the British bands came over in the early Sixties, and they made the U.S. as a whole aware of blues, when the blues had been there all the time.
I've interviewed American players who acknowledged that the British bands made them aware of the blues; one of them told me that he was made aware of the original blues musicians, right here in his own back yard, so to speak.
Right; that's exactly what we're talking about. So when a lot of them stopped playing it, then a lot of Americans thought that the blues had gone away, but the rest of us that had been here all along were still playing it, and we never stopped. Sometimes they use the word "re-surgence" when they talk about the blues, and I have a bit of a problem with that, because today the blues is more popular than it's ever been since I've been trying to play it. And a lot of it has to do with the young people who are playing it and supporting it.
You're coming up on your Seventieth birthday; you're not ever going to retire, are you?
I don't see any reason to, as long as people still want to hear me. What else would I do? I was a disc jockey once; that's the only other job I'd like. I was born on a plantation; worked on a plantation. It was hard work, but it prepared me for what I do today, and I don't regret any of it.
There are so many young players that are great; they'll keep the interest in the blues going. Stevie Ray Vaughan was one of the best blues players ever. Then there's another young man named Robert Cray, and a young man out of Canada named Jeff Healy. (appreciative whistle) He's mean! These players are superstars with the youth; in my case, I'm not a superstar, I'm just a guy that's been out there for a long time; I've been doing this for forty-five years, so I might as well keep on.
With all due respect, most blues lovers would debate you con-cerning your statement that you're not a superstar.
Well, thank you. (smiles)
Following our interview, King and his band put on a show that ran almost twice its scheduled length. He plans on staying active; his future plans include not only the aforementioned live album, but a CD-ROM as well, and a possible autobiography. He's a busy man, but is that any surprise? That he is able to look back at decades of accomplish-ments yet still look ahead to future projects is admirable, particularly since many blues lovers consider King the pre-eminent purveyor of the musical genre that he himself loves so much.
---
Vintage Guitar would like to thank Mr. Sherman Darby and New Era Promotions for their courtesy and help in arranging the interview with B.B. King.
(Further comments about the B.B. King interview and concert can be found in this month's "Executive Rock" column.)
This article originally appeared in VG September 1995 issue. All copyrights are by the author and Vintage Guitar magazine. Unauthorized replication or use is strictly prohibited.
---
To view our B.B. King playlist, Click Here.