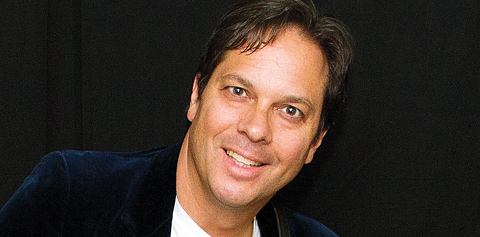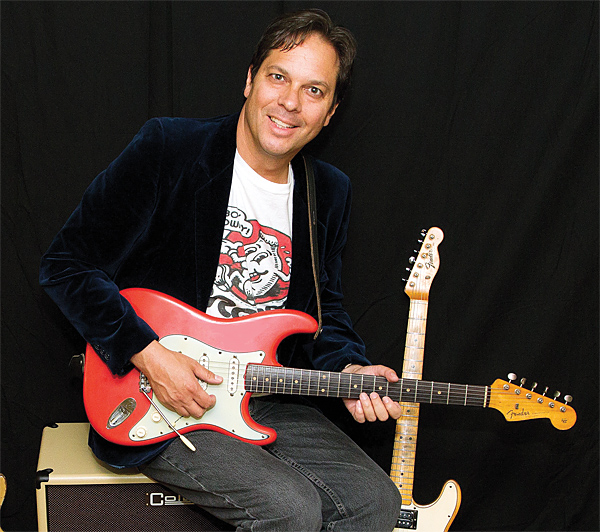 After 15 years and four albums with Connecticut trio Mambo Sons, Tom Guerra just released his first solo album, All of the Above. The CD is a collection of hook-laden rock and roll originals that pay homage to the Beatles, the Byrds, Led Zeppelin, Rick Derringer, Mott the Hoople, and many other guitar-driven acts. It's classic solidbody swagger recorded with piles of vintage Gibsons and Fenders, stompboxes, and tube amps.
You're an old-school rock-and-roller. Who are some of your influences – players and bands?
From a purely musical perspective, I've always enjoyed guitarists that play for the song, be it Harrison, Mike Campbell, or Keith Richards. Of course, as a kid growing up in the '70s, I had my guitar heroes like Hendrix, Page, Gallagher, Clapton, Beck, and Ariel Bender of Mott the Hoople. All these folks have common roots, leading back through Chuck Berry to the blues. I also loved Paul Kossoff's economy of notes, tone, and famous wrist vibrato.
One thing that helps the guitar stand out on the CD is the use of lighter overdrive tones. Most of these songs called for a more-natural crunch than high-gain overdrive. For my playing style, at least, a little overdrive goes a long way in retaining a guitar's natural character and dynamics. It's less forgiving from a playing perspective, but sounds better to my ears.
Did you use different vintage amps to get different tones?
Sure did, usually running the guitar straight into the amp and miking it up. Besides the '69 Marshall 50-watter and PA20, I used a '63 Gibson Discoverer, a '65 Vox AC30 TB, and a '66 Vibrolux Reverb. Also did some tracking with a great Colby dtb-50 head for both clean and dirty tones.
What were the go-to guitars on the record?
I have five old Strats dating between '58 and '70. I also used a Fender 12-string reissue, my beat '66 Tele, a '55 Les Paul TV Special, and an '80s Gibson dot-reissue ES-335. For pedals, I used my trusty old Ibanez TS-9 for many leads, with just enough hair dialed in to make notes bloom while retaining the dynamics. I also used a Fulltone OCD for some heavy guitar parts, an old Vox wah for "Down on the Turnpike" and an Analog Man ARDX20 delay slightly panned to widen the scope.
You're also a collector and have a pretty amazing horde. What are some interesting pieces you've acquired over the years.
I'm a big P-90 fan, and have a couple of '50s Les Paul TV Specials, a '63 ES-330 with a factory Bigsby, a '64 Epiphone Coronet, and a '64 SG Special that sounds huge. I've been lucky enough to have some old Teles, including the '66 with an old Gibson T-top humbucker in the neck position that appears a lot on this record. For more recent gear, I have a Gibson Les Paul R9 in tobacco sunburst that simply roars!
(Ed. Note: Mr. Guerra is a VG contributor.)
---
This article originally appeared in VG September 2014 issue. All copyrights are by the author and Vintage Guitar magazine. Unauthorized replication or use is strictly prohibited.
---