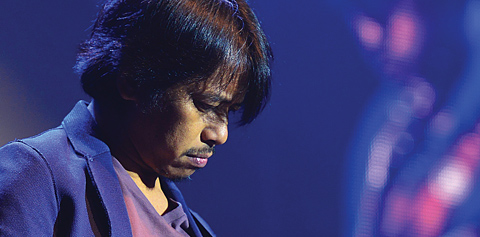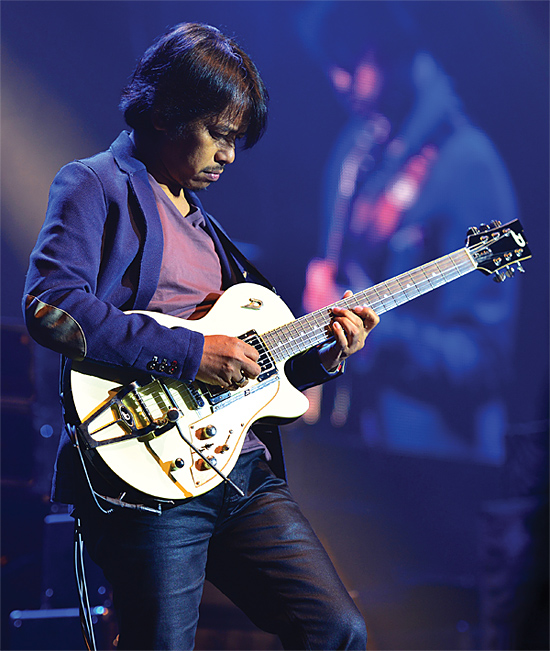 Back home in Bali, Indonesia, guitarist Dewa Budjana is noted for his work with the pop band Gigi, but recently, he has also been collaborating with noted Western drummers and bassists on a series of instrumental jazz and fusion albums.
A fan of John McLaughlin's work in Mahavishnu Orchestra, Budjana's first electric guitar was an Aria Pro II, which he played in his high-school band in the early '80s, and he has always shied away from traditional designs.
"Until 1996, I used a Steinberger," he said. "I played a Klein guitar in '97, and since '98, my main guitars have been Parker Flys and PRS models. I love the modern approach to guitars – a Parker Fly is my favorite, because it's very light and the tension is perfect for me. My favorite configuration is two humbuckers with a push/pull combination, piezo, and synth pickup. I recently used a Duesenberg for a session with Antonio Sanchez."
Budjana has recorded several fusion albums, collaborating with players including drummer Peter Erskine, bassist Reggie Hamilton, and Janis Siegel, who contributed vocals to "As You Leave My Nest" on the 2013 album, Joged Kahyangan.
His most recent effort is Surya Namaskar, a tour-de-force featuring bassist Jimmy Johnson and drummer Vinnie Colaiuta. Drummer Gary Husband and guitarist Michael Landau appear on one track.
"I always start my album concept by choosing a drummer. The rhythm section changes and different players contribute different moods on compositions. The compositions on Surya Namaskar were inspired by my imagining playing with Vinnie and Jimmy, who are the greatest rhythm section I'm aware of."
The new album employs unique time signatures and powerful riffs and licks.
"All my guitars have a synth pickup installed," he said. "I don't play synth guitars on the session – synths and clicks were prepared before the session and we played live in the studio with synth and sequencer in our headphones. On some parts, I did the overdub synth after the session." There's also Jerry Jones electric sitar on Surya Namaskar, and he played an old Taylor 712 for "Campuhan Hill."
Budjana collects guitars painted and carved by Indonesian artists like Nyoman Masriadi, Srihadi Soedarsono, Putu Sutawijaya, Handiwirman, Agus Suwage, and Yunizar. Referring to them as "…a one of a kind art form," his favorites include a Parker Nite Fly with the carved body representing Sarasvati.
"I am Balinese, and Balinese art is very important to me. Indonesia is a multicultural country of over 260 million people, of whom three million of us are Balinese, with our own culture and arts."
He's building the Museum Gitarku (Guitar Museum) in Bali, its purpose is to educate visitors about the history of the instrument in Indonesia. He has released a book highlighting his guitar collection, and is planning other fusion projects and tours. But, "This year, Gigi celebrates its 20th anniversary," he said. "We recorded an album last year at Abbey Road studios in London, so, for now, that band is my main focus."
---
This article originally appeared in VG September 2014 issue. All copyrights are by the author and Vintage Guitar magazine. Unauthorized replication or use is strictly prohibited.
---