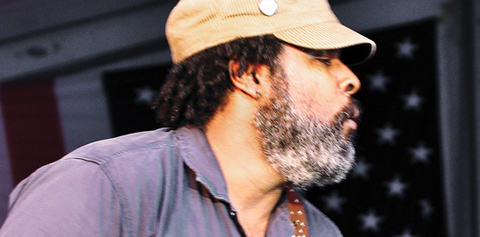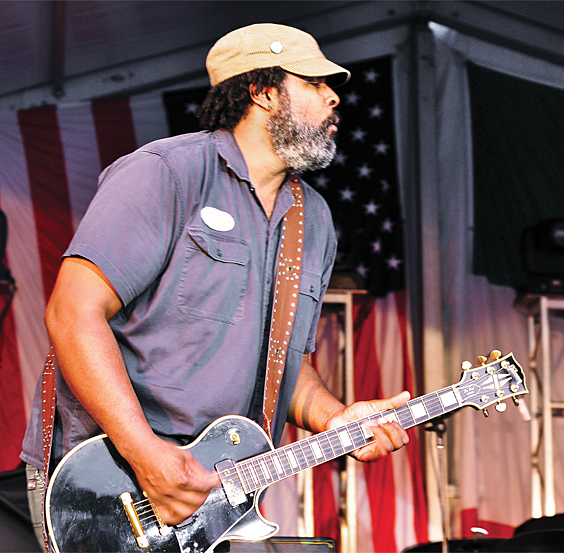 Alvin Youngblood Hart surfs the musical landscape of blues-based music to make his own great art. His influences range from Howlin' Wolf, Link Wray, Thin Lizzy, and Skip James, to Sly & The Family Stone. He has received five W.C. Handy Blues Award nominations and won Best New Artist. He's also the recipient of two Living Blues Awards and received Downbeat magazine's Critics' Poll Award for Best Blues Album for Territory. He's a multifaceted songwriter, master guitarist, and a nomadic road warrior always on the move. VG pulled him over to get an update.
You went electric on 2005's Motivational Speaker. What happened after its release?
It got great reviews and I was pretty happy with the record. Unfortunately, it was one of those things where you get involved with a label, the parent went bankrupt, and so went the project. By the time the record actually came out, there was no real label support behind it. For the next couple of years, I spent all my resources touring it around. Now, I've just been writing songs and thinking about the next project, which will go into action this year.
You're well-known for channeling older acoustic-blues styles, but you also like to rock the electric. You ever feel trapped by the genre that brought you acclaim?
Sometimes, I have a desire to play other things. I made my first record in 1995 and it was at the tail end of the "Unplugged" era. I was doing my version of "Unplugged" when, all of a sudden, the people out there running the show said this was going to be my musical identity, and I shouldn't stray from it.
Jimmy Page is one of my biggest influences. When I was a teenager, we all knew Led Zeppelin for the bombast, but Jimmy Page had all these subtle, cool acoustic moments, as well. I wanted to do both. That's what got me into it.
As far as all the bluesy things, my family comes from Mississippi, and my older brother turned me on to all that. I think I was around 13 when I first heard Charlie Patton and Robert Johnson. It's always been a thing where I more or less played both electric and acoustic guitar.
There was a point around 1983 where I just couldn't find people that I liked playing with in a rock-band context. At that time, almost everything was shred or sharkskin suits, pompadours, and fat hollowbody blues guitars. I wasn't into any one of those. It was at that point that I started playing acoustic guitar by myself. That's where it started.
You and Luther Dickinson worked together on the South Memphis String Band project, and you guys really nail that vintage southern authenticity. You're not exactly old guys.
It wasn't like the guys making records back in the old days were old when they were making those records. They were just old when everybody found out that they made the records. I had a friend in St. Louis named Henry Townsend who passed away back in 2006. He made his first record in 1929, when he was 19 years old.
How did Joe Louis Walker impact the early part of your career?
I was playing gigs in the Bay Area while I was still in the Coast Guard, when I met Joe Louis Walker. He's pretty much a library of all styles of blues guitar. On a dime, he can go from Otis Rush to Memphis Minnie. We both saw that in each other and he was instrumental in getting me some high-profile gigs. I ended up playing the San Francisco Blues Festival before I even had a record out.
What's on you pedalboard?
My favorite wah was built for me by Scotty Smith, at Pro Analog. He has built quite a few pedals for me, like the Pro Mk II Fuzz. I also use a Danelectro Chicken Salad Vibrato, and an old Boss delay. Most often than not, there's a DOD 250 Overdrive that's set clean to add juice on my solos. I bought my first one for 20 bucks at Guitar Center in Hollywood with my high-school graduation money in 1981. I've been using the DOD 250 ever since. It's like either you're either a Tube Screamer guy or a DOD 250 guy. I think there are more Tube Screamer guys out there. I didn't know the DOD 250 was the Yngwie Malmsteen pedal. Apparently it is, and we have that in common (laughs).
---
This article originally appeared in VG September 2014 issue. All copyrights are by the author and Vintage Guitar magazine. Unauthorized replication or use is strictly prohibited.
---