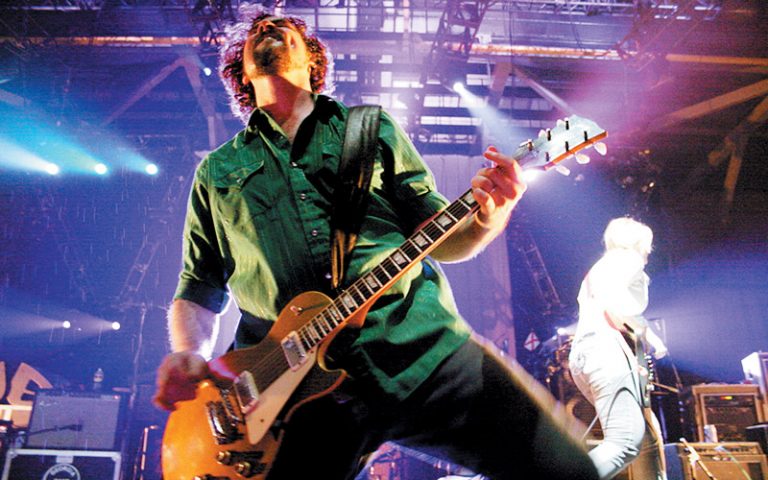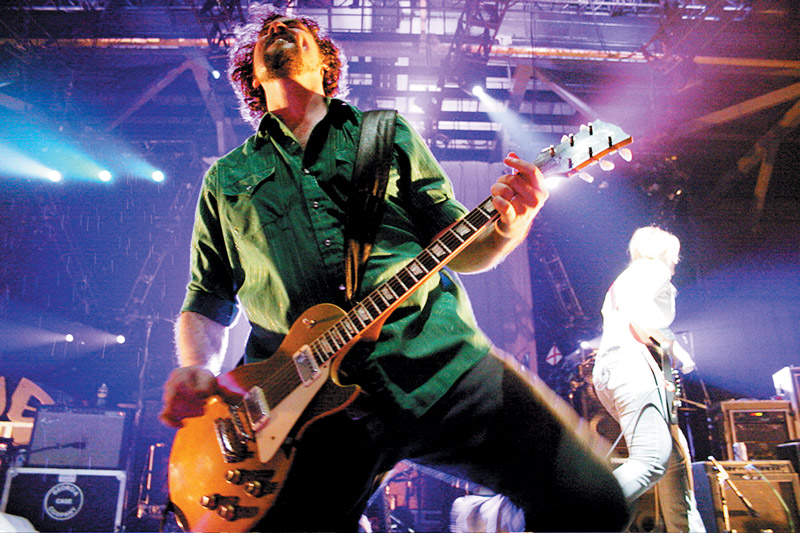 It's a brave new world for Drive-By Truckers and their latest album, Brighter Than Creation's Dark. Guitarist/songwriter Patterson Hood says the record flowed from the band. "Everybody finally got a little bit of time off last year," said Hood. "We'd been touring non-stop and it got to the point where we hit a wall. Jason (Isbell, guitarist/writer/singer), of course moved on to do his own thing. It was, I think, the right decision for everybody. He's doing wonderful work with his band and I think he's happier.
"Working with Bettye LaVette on her last record also affected our record a lot. It gave us a chance to work on something that wasn't a Drive-By Truckers record, but still got to work together. Plus we brought in Spooner Oldham, and that's when we decided we wanted him to work on our new record and acoustic tour."
The band starting working up new songs at soundchecks and would play them at that night's performance. "We worked up 12 songs during the tour. And then in the studio we cut 17 songs in 10 days and had a great time. It was very loose and fun."
Hood also points to the emergence of bassist Shonna Tucker as a writer and singer. "I'm so glad she's doing it. We knew she was good, but this was her first chance to do it for us. She joined the band in the middle of something and had to dive into learning songs, so it's great to hear her write like this."
While the record still has nasty rock and roll and loud guitars, there's a definite country tilt to some songs. "Our first two records kind of dabbled in that, but then we moved in other directions," Hood noted. "(guitarist/singer/writer Mike) Cooley was kind of leading the way on that."
Being guitar heavy has never presented a problem for DBT. "It's very natural," Hood says with a laugh. "Most things are best when we're not having to discuss them too much. Whoever brings the song in kind of shepherds it through the direction it's going to take. Our motto has always been 'Song is King,' so it all has to be based on what serves the song."
Hood's road to rock and roll success has been a long journey. His father is David Hood, bassist for the legendary Muscle Shoals rhythm section, and he knew early on that he wanted to be in music, even if his dad wasn't in favor. "He warned me – he was leading the charge. He wanted me to be a pharmacist. Feel free to insert your own joke there. But I always knew this was what I'd do. It just didn't occur to me it would take so long to carve out a living doing it. If someone told me I'd be in my 40s before I made a stable living at it, I just really wouldn't have believed it."
Patterson says it was his dad's record collection that really got him going. "I don't want this to sound wrong, but he was gone a lot, working. He kind of beats himself up about that now, but it's like 'You know what? It all worked out.' But he had this huge record collection and I'd go downstairs after school when I was supposed to be doing homework and if something had a cool cover, I'd pull it out and play it. That's why I'm so fanatical about the artwork on our covers. Because when I was young, that's how I decided what I wanted to listen to." He listened to lots of Beatles, Pink Floyd, Led Zeppelin, and surprisingly, Todd Rundgren. "I discovered him at about 12. He was really a big influence as a writer. It's funny, people don't see that or hear that in our music, but I could go through our records and point out something in every song I wrote that was somehow influenced by him, and especially the album Something/Anything.
One of Drive-By Truckers recordings has reached legendary status for fans. 2001's Southern Rock Opera is an amazing double-record that ties together Lynyrd Skynyrd, the South, misconceptions about both, civil rights, and much more. It was first conceived as a possible screenplay by Patterson and a friend, and after many years, the band started recording it. "I liked Skynyrd when they were happening, but then I became a snotty punk rock kid and for 15 years I hated them. But when I moved to super-hip Athens, Georgia, I kind of stumbled onto the records and then became interested in them. People misunderstood them for things they did, and I relate to that – more every year!"
Recording the sprawling epic almost broke up the band. "It was one of the worst experiences of my life. We didn't have any money. We recorded it in a warehouse with no air conditioning during a heat wave. Everyone in the band was having personal problems and we started taking it out on each other. By the time we started mixing the record, no one was speaking to each other. Maybe someday, I'll write a great book about it. Or maybe a rock opera… just kidding!"
Patterson's guitar of choice is his '69 Gibson Les Paul goldtop. "It's a sweetheart. Easily the best electric guitar I've ever played. I do have a newer goldtop for touring. I still take out the '69, but I don't want to fly with it." He and other members of the band have also become fans of Denver luthier Scott Baxendale. He calls the acoustic Baxendale made him "the best guitar I've ever played." On the road, Patterson uses a Fender Deluxe reissue amp and has a '72 Twin Reverb he restored but doesn't use much. "It's so big and loud that I don't play it much with the band. We're trying to bring our volume down to a more manageable level." – John Heidt
---
This article originally appeared in VG's May 2008 issue. All copyrights are by the author and Vintage Guitar magazine. Unauthorized replication or use is strictly prohibited.
---
Patterson Hood