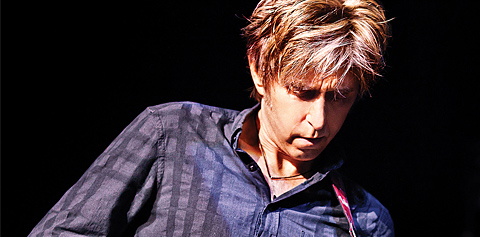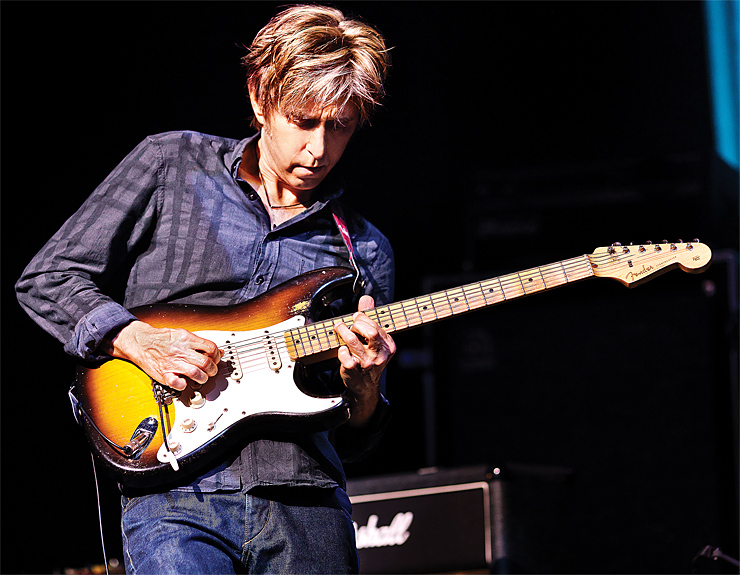 Eric Johnson's new release, Europe Liv, is an impressive offering, but you wouldn't know it from talking to the man himself. Recorded in Amsterdam, Germany, and Paris, it's a breathtaking album that chronicles the artistry of a guitar virtuoso in transition.
After performing and recording with fusion guitarist Mike Stern, Johnson's sense of jazz is intensified. Still the perfectionist, he takes stock and allows his humanity to embrace imperfection to create a mesmerizing live disc.
"Working in the studio with Mike was a lot of fun," he said.
What kind of material can we expect?
We did a few of Mike's old things and a couple of my old things. About 60 percent of the record is new stuff that's never been out on any record before. Its song-oriented, but there's a lot of playing on it – all instrumental except for one song with vocalist Malford Milligan.
The album has some of your best playing ever.
Thanks. We recorded three nights and some of the stuff was really good, and some of it was like, "Ughhh…" It was really a shocker. There was a couple of life-changing events that happened, and finally, the light bulb went on about just making a live record. When you're in the moment and letting go, the magic is happening and you're just like, "Wow!" That's what everybody wants to hear, whether it's from me or anybody. They want to hear that moment where somebody just gives it up and it's a performance.
I was listening to some of those tapes and went, "Wow!" When you're on, it doesn't get any better than that. Maybe technically, it gets better, but the enjoyment factor doesn't get any better. It was a great epiphany for me to realize that this is what I need to connect to – do more of this and let go of that other studio process. That's been my thing for years now, piecing records together. I've paid a high price for that as far as the spirit of the energy. Some of my records, I can hardly listen to now.
I was a little bit taken back on how erratic my playing was, live. Some of it was really not happening (laughs). I think when you go onstage, you're all hung up on, "Oh, I hope my sound's just right," and "I hope I play really great." You get all these head trips and it starts curtailing the flight. It's like holding somebody's chest while they're trying to breathe, but it's self-induced.
Some of the shows were not that great, but there would be other inspired moments. It was kind of an epiphany to realize, you gotta figure out a process by which you can let go and let that thing happen in the moment. The other realization was that it's the thing we should aspire to – Just perform your music.
While planning the album, did you create a set specifically for the European audience?
We try to keep the audience in mind, but we play whatever we want. There was never really an intent to do a live record. We just ended doing this really humble recording with some computer gear in the back room of the venues. We had no plan to do anything with it. When I got back home, I started listening to stuff. That's when we decided to try to make something of it.
How much post-production fixing was done?
Not too much. I did re-play a few things, but I made a rule with myself that anything I re-played, I'd have to perform it start to finish live in the studio, so it would still be live. A couple of those things had to be done because the mics were defective.
The disc has a stronger sense of jazz than any of your previous recordings.
I'm gradually learning more about changes and playing outside the alphabet of rock guitar. I love rock guitar; I don't want to become a certified jazz player – as if I ever could. But even if I could, it's not really my thing… but I want to learn how to play it. I want to be more free in harmony and melody. It's been a slow process, trying to learn more about music.
Playing with somebody like Mike Stern has been really good for me because it's first-hand, right in front of me. He knows all the Charlie Parker and Coltrane stuff. He's well-versed in that, so, for me, it's like going to music school in that department. His sense of harmony has been a big influence on me.
---
This article originally appeared in VG September 2014 issue. All copyrights are by the author and Vintage Guitar magazine. Unauthorized replication or use is strictly prohibited.
---