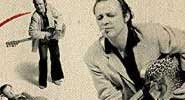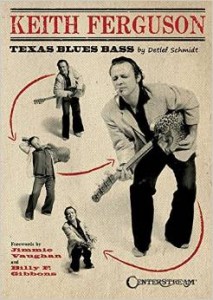 Some among the cognoscenti argue that there are two bassists in the blues world that define the genre – Chess mastermind Willie Dixon on the upright and Keith Ferguson on electric. This illustrated book, complete with a gallery of Ferguson's basses and musical notations of his playing, is a fitting tribute to the latter.
Ferguson was the bottom line for the early incarnation of the Fabulous Thunderbirds in the glory days with Jimmie Vaughan and Kim Wilson, including the band's landmark debut 1979 LP, Girls Go Wild, and through the early '80s. But his resumé also included stints with Johnny Winter, Angela Strehli, Stevie Ray Vaughan, Doug Sahm, Freddie Fender, the Tail Gators, and Teisco Del Rey.
The list of cohorts and sideman gigs doesn't get at the importance of Ferguson's playing, though. A southpaw, he flipped his '52 Precision Bass over and played "backwards," as Billy F. Gibbons terms it in his foreword. But he also played differently, as many fellow musician in these pages attest: His bass lines could be likened to the minimalistic – and eminently stylish – guitarwork of Jimmie Vaughan.
Vaughan too adds a foreword here. He talks of his first meeting with Ferguson (Austin, '69), his sartorial and playing styles ("smooth" and "unique"), his incredible blues-record collection (that inspired much of the Texas blues revival of the day), and good and bad times in the T-birds (plenty of both).
This 320-page, oversize, softcover book is ripe with recollections from fellow musicians, friends, and family members – and must include nearly every concert photo, promo shot, and snapshot of Ferguson extant. The material could have been whittled down some and might have made for a stronger book, but suffice it to say that a second volume will not be required.
Also included are 27 pages of bass pornography: the serial numbers, history, and numerous photos of Ferguson's main axes, including his famous '56 P-Bass with the cowhide pickguard, several other '50s Precisions, a Harmony H22-1, Telecaster Bass, National bass, and the Guero Caster, a Hondo bass that Ferguson customized.
Finally, there are eight pages of transcriptions working out his bass stylings on a mix of tunes: Slim Harpo's "Scratch My Back," "Extra Jimmies" and "The Crawl" by the T-birds, and more.
This article originally appeared in VG's April'15 issue. All copyrights are by the author and Vintage Guitar magazine. Unauthorized replication or use is strictly prohibited.