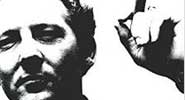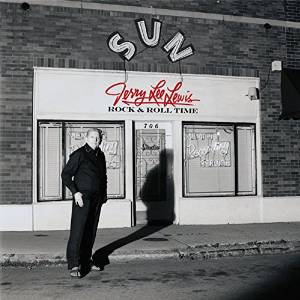 Jerry Lee Lewis is a piano player. Make that, the piano player. But as such, he was not only the sole rock and roller capable of almost stealing Elvis' crown, he also played with – and humbled – some of the greatest guitarists in the world.
On Rock & Roll Time, Jerry Lee swaps licks with an all-star lineup of guitarmen. It's a formula he previously worked to fine effect on '06's Last Man Standing. But even after celebrating his 79th birthday in 2014, he's rocking harder than he did a decade back. And he's never upstaged by the guitarslingers here, either.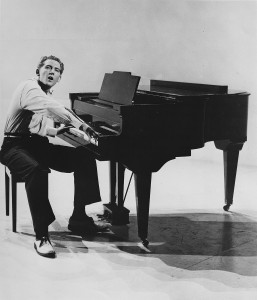 "Little Queenie" finds him rocking and rolling with Stones Keith Richards and Ron Wood, who despite seeming rather deferential here, still toss off some hot riffs to accentuate the main man at the 88s.
Robbie Robertson duets with Jerry Lee on "Folsom Prison Blues," Neil Young on "Bright Lights, Big City", as well as Derek Trucks, Nils Lofgren, Doyle Bramhall, Jon Brion, Waddy Wachtel, and Daniel Lanois. Along the way, they cover tunes by Chuck Berry, Johnny Cash, Bob Dylan, Kris Kristofferson, and more.
Throughout, Jerry Lee's backed by his longtime – make that 47 years and counting – sideman, guitarist Kenny Lovelace. And he plays tasteful, blues and country riffs that wow.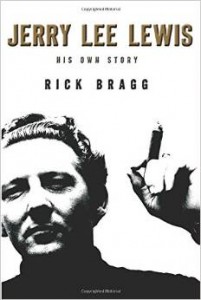 In his autobiography Jerry Lee Lewis: His Own Story, the Killer is asked who of all the greats he'd chose to play with if he had his wish – Elvis again, Hank Williams, anyone. And Jerry Lee points the finger at Lovelace. After hearing him on this new album, you can understand the sentiment.
The autobiography is quite simply one of the best books about rock and roll ever.
Jerry Lee's story is impossibly fascinating, of course. But co-author Rick Bragg has turned it into literature, fitting in somewhere between William Faulkner and Jim Thompson, perhaps. If you don't know Bragg's other books – not about music, precisely – they're also stellar. He's captured the era, the South, and the early days of the music and made them all sing.
Which brings us back to the guitarmen that played with Jerry Lee – though in the beginning at Sun Studio, it was usually Jerry Lee playing behind them. Lewis backed Sun stars like Billy Lee Riley, played alongside the great unsung guitarist Roland Janes, and did more Sun session work before "Whole Lotta Shakin' Going On" caused earthly tremors in '57.
Among the most fascinating anecdotes in the book are the several meetings between Jerry Lee and Chuck Berry. At Harlem's Apollo Theater on a package tour later in 1957, Lewis was told he'd have to go on before Chuck, implying Berry was the brighter star. To steal the show, the Killer not only rocked the theater as hard as he could, he set fire to his piano. Berry was reportedly sweating his entry.
Oh, and by the way, Lovelace reports that Jerry Lee's a pretty mean guitarist as well.
This article originally appeared in VG's March '15 issue. All copyrights are by the author and Vintage Guitar magazine. Unauthorized replication or use is strictly prohibited.