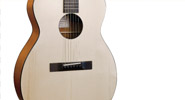 Worland Prairie
Price: $1,950
Info: www.worlandguitars.com.
It's been well-documented how car-crazy vets and teens in postwar America reimagined the American automobile. Some shaved, sprayed, and slammed contemporary two-door sedans, creating the custom car. Others invented the hot rod when they stripped prewar coupes and roadsters to their bare essentials, stroked and bored their Flathead mills, and headed out to the dry lakebeds to see how fast they could go. If Jim Worland were a car-crazy postwar teenager working out of his one-man shop in Rockford, Illinois, his Prairie model acoustic guitar would place him squarely in the hot rod camp.
Upon removing the Prairie from its included TKL arched hardtop case, the instrument's most noticeable quality is its simplicity – no fancy binding, no rosette, not even a headstock logo or fingerboard markers. Not unlike those dry lakes hot rods of yore, the OM Prairie places function ahead of form, and that function is to offer the serious player an affordable hand-built acoustic tuned for peak performance.
Which is not to say the Prairie isn't a beautiful guitar. The satiny lacquer finish on the test instrument was flawless, allowing the grain of the Honduran mahogany back, sides, and neck, as well as that of the cedar top, to do their thing. Said woods were nicely complemented by a fingerboard and bridge of ink-black mahogany. Like a channeled '32 Ford, the effect is subtle but pleasing – somehow more so on this small-bodied guitar.
Under the hood, Worland uses a traditional scalloped X-bracing. The Prairie's speed equipment, if you will, includes a bone saddle and a hand-cut bone nut, sealed Gotoh tuners, and medium frets dressed to perfection. The 24.9″-scale neck joins the body at the 14th fret . . . which is where the Prairie gets really interesting.
Rather than a set neck, Worland opts for a bolt-on design. The arched-brow set might view this as a cost-cutting measure, but as Worland explains, "The main reason [for the bolt neck] is to get a stronger, straighter neck. The neck is one piece all the way to the soundhole, like an electric neck. That way there is no hump at the body joint and the action can be lower than a standard acoustic. Also, the heel-less design gives the player a little more access without your hand bumping into the heel." 
The Prairie's neck design certainly does translate to a fast action, and one with no fret buzz. This ease of play is accentuated by the neck's low-profile C shape; the comparison to the action of an electric guitar is no exaggeration. But the aforementioned heel-less design is a real eye-opener, too. Frankly, it's a bit jarring at first to find no protuberance where you've been conditioned to expect one, but that surprise quickly transitions to pleasure. Some purists might have to come to terms with the two tiny holes on the back of the body through which the screws that attach the cedar top to the underside of the fingerboard are accessed. Otherwise, aesthetically and functionally, the neck joint is tighter than a miserly uncle during the holidays.
Sonically, Worland's stated mission with the Prairie was to create a handcrafted guitar with the same tonal characteristics as his higher-end instruments. In fact, if Worland's spendier units sound as good as this, he's doing alright because the Prairie is fantastic, exhibiting great note separation, with the mids in particular coming through remarkably clear. Neither was the tone as punchy as one might expect from a smaller-bodied acoustic, but rather resonant and more characteristic of larger guitars. The Prairie's ability to cut through when needed makes it well-suited for cowboy-chord front-porch hootenannies, coffee-shop gigs, and even recording situations. And if it's more volume that you need, Worland's got you covered: one of the few options he offers with the Prairie is a pickup (others are strap buttons, a Sitka spruce top, and a pickguard).
Clocking in at a shade under two-grand, the Worland Prairie is admittedly no impulse purchase. But when one considers that it's a luthier-built guitar amid a slew of factory-built acoustics priced much higher, the Prairie is a bargain – one which Worland happens to keep in inventory for speedy delivery. The Prairie is a no-nonsense affair, to be sure, but anyone who climbs behind the wheel is sure to be smitten by its functional design, enjoyable playability, and dialed-in tone.
---
This article originally appeared in VG March 2014 issue. All copyrights are by the author and Vintage Guitar magazine. Unauthorized replication or use is strictly prohibited.
---