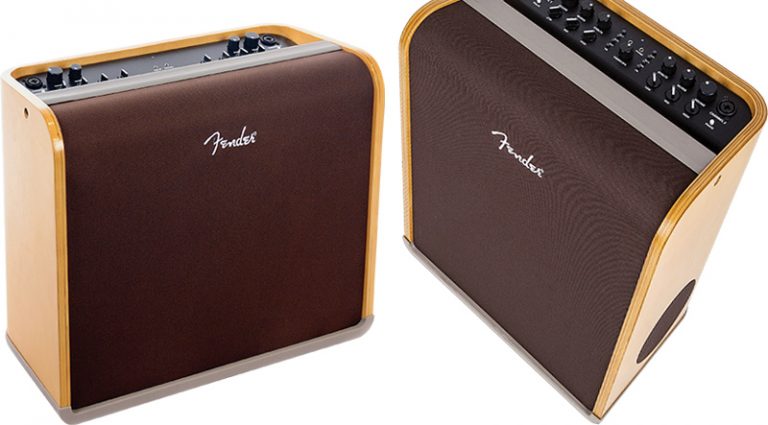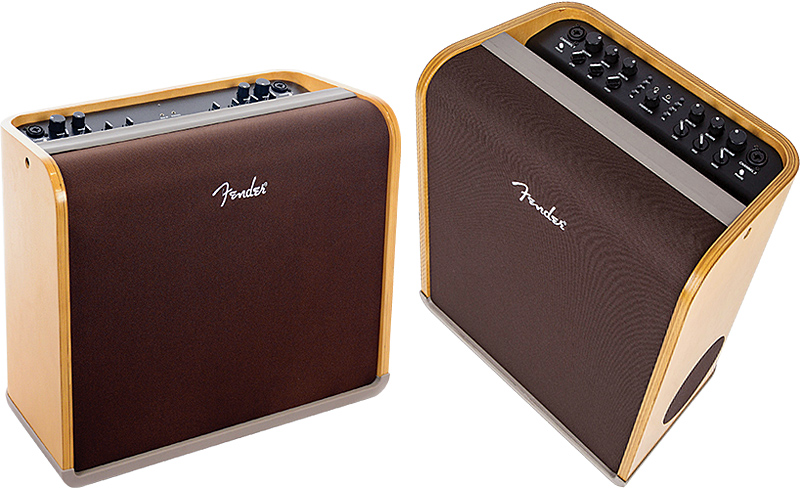 Fender has been making acoustic guitar amps for decades – now they're reinventing the genre, and their designers deserve a round of applause both for the visual makeover and the sound quality.
Unlike standard guitar amps, the Acoustic Pro and Acoustic SFX draw their appeal from mid-century Scandinavian design, featuring curving, blonde-laminate cabinets that cradle the amp and speaker. The controls are top- and rear-mounted, while brown grille cloth is emblazoned with the Fender logo and a cleverly recessed handle.
As its name implies, the Acoustic Pro is intended for working musicians with more targeted needs than home players. One of the most important pieces of the live-acoustic puzzle is the need for loud, clean stage volume – which requires wattage. The Pro delivers 200 watts of solid-state power into a single 12″ speaker. That's plenty loud for a coffeehouse gig (in a larger venue, simply put a mic to the PA in front).
The Pro also has two identical channels so you can use one for your guitar (or other stringed instrument) and the other for a vocal microphone, both of them with independent digital reverb circuits. Other goodies include an effects loop for external effects processors, footswitch jack, Line Out XLR for direct output, and a handy kickstand to angle the cabinet upward.
Working players crave serious EQ control and the Acoustic Pro offers High, Low, Mid Freq, and Mid Level filters to help carve out your tone. Acoustic gigs often are made more difficult by room dynamics and instruments with clashing frequencies. If you play in a band, you'll often want to reduce the bottom end (Low) so as not to be boomy and compete with the bass; nor do want your treble (High) to be shrill – you're looking for that "sweet" high end, which the Pro achieves nicely.
Mids can also be problematic, as acoustic guitars can be muddy onstage or generate howling feedback. The Pro's two Mid knobs can dial in a midrange that is sweet and full-voiced, but not honky. You can also use it to sweep the spectrum and kill unwanted feedback. Conversely, the solo acoustic player might want to bring up the Low and Mid to fill in the guitar's bass range, and use the Phase button to alter the overall tonal voicing and zap potential feedback potholes. With ample power and pleasing tones, the Acoustic Pro is well named and will deliver onstage.
Where the Pro is the big, powerful gigging amp, the two-channel/2×80-watt Acoustic SFX is for the player who may gig occasionally, but also wants to sound like Michael Hedges or Adrian Legg at home. SFX ("stereo field expansion") refers to the amp's 6.5″ side-firing speaker, which complements the front-firing 8″ speaker and high-frequency horn. This setup helps the amp fill any small to medium room. Its secret weapon, however, is the Stereo SFX control knob, which pans between the front and side speakers, enveloping the room in waves of exquisitely detailed tone and reflections. It's an extraordinary feature.
Another treat is a bank of four digital effects: slap echo, delay, chorus, and vibratone (a modulation effect). Only one can be deployed at a time, but all sound lush and each can combine with the digital reverb. The SFX Pro does not have the midrange sweep of the Pro, but it does offer the useful Phase button. And since the SFX has its own digital delights, there's no effects loop, but there is a footswitch jack to tempo-control the effects on each channel with two quick taps (footswitch not included).
After hours of testing with Yamaha and Takamine six- and 12-string acoustics, we ended up digging each amp for different reasons: the Pro for the gigging guitarist who may have their own external effects (or doesn't use them), yet needs both volume and feedback-zapping tools; the SFX for the picker who gigs on occasion but desires gorgeous audiophile sound wherever they are. We suggest testing each – both are top performers.
---
This article originally appeared in VG April 2016 issue. All copyrights are by the author and Vintage Guitar magazine. Unauthorized replication or use is strictly prohibited.
---