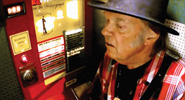 In more ways than one, Journey Through The Past – the title of Neil Young's 1972 directorial film debut – would have been a better title for A Letter Home, the latest from Winnipeg's favorite son. Recorded in the 1947 Voice-o-Graph booth at Jack White's Third Man Records in Nashville, this all-covers affair is, according to Young, a look back, comprising "songs that changed my life… songs by greater writers."
On paper, the possible pitfalls are apparent. In concept, this new album would seem to have the potential to be another confounding zig where others zag. (Trans or Everybody's Rockin', anyone?)
One listen to the opening title track, however, an off-the-cuff spoken-word piece that Young addresses to his deceased mother, Rassy, should allay the fears of on-the-fence fans. A device that would come off as corn-pone in the hands of another is poignant here. And it sets the tone for most of what follows.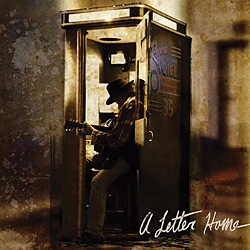 While this album at times makes the Anthology Of American Folk Music sound like it was recorded last week (and this from a guy who spent the previous months making PR hay by touting his Pono digital music system), most of the song selections work well, though there are a handful of clunkers. Springsteen's "My Hometown" falls flat, and a shambolic, piano-accompanied stab at "On The Road Again" (complete with blown lyrics) makes the Faces sound like the most tightly rehearsed post-hardcore band.
But when the album works, which is most of the time, it's fantastic. Gordon Lightfoot's "Early Morning Rain" and especially "If You Could Read My Mind" are devastating in Young's hands, while Bert Jansch's "Needle Of Death" reads like a bookend to Young's "Needle And The Damage Done" and "Tonight's The Night." And with "Girl From The North Country," Young evokes the halls of Kelvin High School, circa 1961, more than Dylan does Echo Helstrom back in Hibbing.
A Letter Home is the sound of someone who never rested on his laurels simultaneously reflecting on his past and staring down his foreshortening future. But the sense is that Young is reflecting solely for his own benefit. Whether this is due to the scratchy midcentury warble no doubt common to records of his youth (plus, who would record straight to disc for mass consumption, after all?), the nature of the heavier selections, or the intimacy of the spoken-word opener, the fan is often made to feel thrillingly voyeuristic as Young, with looseness in his playing and (even more) quaver in his voice, in some ways reveals more than he did in all 500-plus pages of his autobiography.
---
This article originally appeared in VG's September '14 issue. All copyrights are by the author and Vintage Guitar magazine. Unauthorized replication or use is strictly prohibited.
---