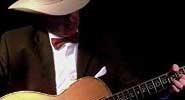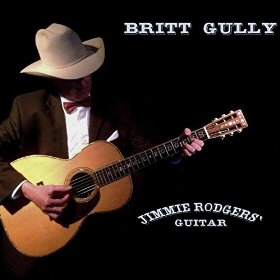 No less than the Smithsonian Institution has applauded Britt Gully for his interpretations of Jimmie Rodgers' pioneering country music. So when Gully gets a chance to borrow the Singing Brakeman's original Martin to record an album, it's time to lend an ear.
Rodger's custom-ordered the 1927 Martin 000-45. The guitar features his name inlaid in mother-of-pearl on the fretboard and "Blue Yodel" on the headstock after his famous cycle of 13 songs. "Thanks" was painted upside down on the guitar's back.
After his death, Rodgers' widow loaned the guitar to Ernest Tubb, who played it for 40 years. Nowadays, it spends most of its time safe and sound behind glass at the Jimmie Rodgers Museum in Meridian, Mississippi.
So, with permission granted, Gully rounded up a group of friends and special guests to record this tribute.
"This guitar is magical," Gully says about the Martin. "There was never a time when playing it that I did not realize what I was playing, and who played it before me."
Happily, the album is not a slavish recreation of Rodgers' music. Instead, it's a series of joyful jam sessions on 13 songs with a full band flushing out the sound of that vintage Martin.
Gully sings, picks the 000-45, and of course, yodels. His lineup of friends includes fiddle, harmonica, mandolin, piano, and accordion players.
The album kicks off with "Any Old Time," Gully's band swinging the song subtly with an easy jazz gait that fits perfectly. Their version – complete with clarinet and violin – echoes Rodgers' original, but has a life of its own.
On "California Blues" (a.k.a., "Blue Yodel #4"), the harmonica and background vocals accent Gully's lead. For "Nobody Knows But Me," Mac McAnally lends lovely mournful guitar leads, while Carl Jackson's guitar augments "Miss The Mississippi And You."
The finale, "Walking Up Jimmie's Guitar," is Gully's lovely instrumental blend of country, blues, and ragtime.
Gully proves himself throughout. His singing and yodeling echo back to the late 1920s. And that guitar sounds gorgeous – warm, clear, woody, and wonderful, a living testament to Martin.
This article originally appeared in VG's January '15 issue. All copyrights are by the author and Vintage Guitar magazine. Unauthorized replication or use is strictly prohibited.