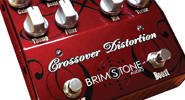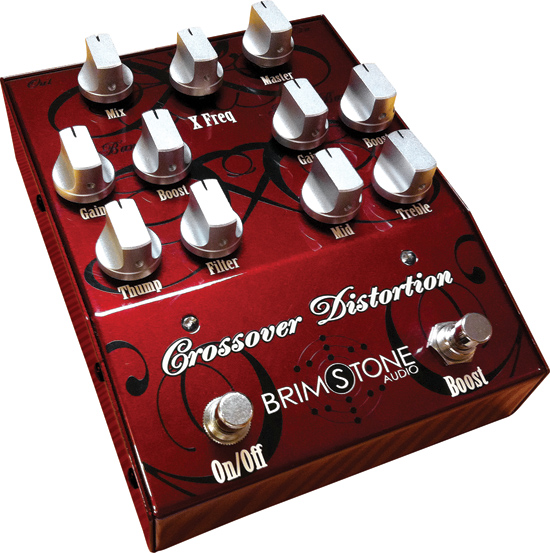 Brimstone Audio Crossover Distortion XD-1
Price: $299.95
Info: www.Brimstoneaudio.com.
Brimstone Audio is a relatively new company that hit the ground running, entering the stomp-box arena with some innovative ideas that offer tone geeks unparalleled aural flexibility. The XD-1, for example, is essentially two amps in a box. It allows the user to generate the kind of layered sounds one might hear on their favorite albums.
"All the guitar tones that we love on records are not just one guitar, but layers of guitars," explains David Beers of Brimstone Audio. "We're actually hearing dark and bright tones, mixed together with clean and dirty tones. By having a multi-band setup and having the high and low frequencies separately, you're getting increased clarity. The high and low notes don't fight or squelch each other out. They ring independently and the result is more clarity."
The XD-1 is light but sturdy, and requires a bit more space on the pedal board. The Mix knob sets the balance between High and Low Band volume. The X Freq knob sets the crossover frequency point, and the Master sets the final output volume. On the Low Band side of the unit there are Gain, Boost, Thump (sub low-frequency enhancement), and Filter (for lower mids below crossover point).
On the High Band side there are Gain, Boost, Mid, and Treble. The rear of the unit offers inputs and outputs as well as a Lo-Gain/Hi-Gain switch and a 9-volt adapter input. An On/Off and Boost switch is located at the bottom of the unit.
Combined with an old Strat and a Deluxe Reverb, the XD-1 was easy to decipher. The Low Band conjured up silky bottom end that could be tweaked with great detail. Having the Mix knob all the way to the left is the way to go when dialing in the Low Band, as it isolates that EQ spectrum. With the Mix knob turned to the right, the High Band nails the top end with as much bark or bite required.
Mixing the bands together with the Mix knob blends them to the environment. At a local gig, less high end was needed as the venue filled up. A light adjustment with the Mix knob remedied that. The Boost switch yielded smooth, raspy, and resonant, to full-out metal. The ability to manipulate the low-mids with the Filter knob really came in handy for handcrafted distortion.
Brimstone Audio's Crossover Distortion XD-1 is a great pedal for the discerning stomp-box geek with an ear for nuance. If you love layered guitar tones that smolder as well as sizzle, look no further.
---
This article originally appeared in VG December 2013 issue. All copyrights are by the author and Vintage Guitar magazine. Unauthorized replication or use is strictly prohibited.
---