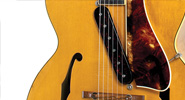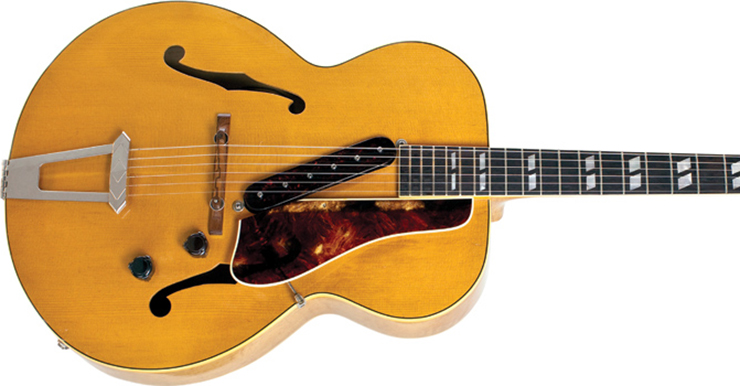 Among musicians and collectors, Gibson's pre-World-War-II ES-300 may be less popular today than the ES-250, but in terms of sheer numbers, it was Gibson's most popular 17″ pre-war electric, despite the adverse context of the early 1940s. Truth is, most of the more-prominent guitarists of the period continued to favor installing an old-style bar pickup on their 17″ archtop.
In 1940, Gibson was still using the bar pickup conceived in 1935 while its competitors (Rickenbacker excepted) had already upgraded their pickup offerings. The key ingredients to an improved design were smaller and stronger Alnico magnets, whose composition and manufacture had been perfected during the '30s, and the advent of adjustable pole pieces.
As recounted in the first installment of this series (May '13), Gibson devised adjustable poles for the bar pickup in early 1938, but the design was not put into production, possibly on cost grounds, but more plausibly because a radical change in pickup construction was already in the offing. Walter Fuller, head of Gibson's electronics department, knew he had to come up with a truly novel design to restore a competitive edge to the brand's electrics. Whether for reasons of supplies or because Gibson did not want too many new products in any one year, this much-awaited new pickup design (known today as the P-90) made its debut at the Chicago trade convention in late July, 1940.
In order to maximize its innovative features, Fuller elected to modify the pickup placement, and – in the case of what was initially called the "new ES-250" – its size. A contemporary flyer notes, "The pickup is set at an angle so as to give more brilliancy to the treble strings and a deeper voicing to the bass." On a 17″-wide archtop, this meant a 63/4″-long unit comprising four Alnico magnets, compared with only 41/16″ and two magnets for the (shorter) unit fitted to the EH-250 lap steel unveiled at the same time.
In both cases, the "offset adjustable pickup," as it was dubbed, was mounted diagonally under the strings, with the treble poles closer to the bridge to enhance highs and the bass poles closer to the fretboard to provide mellow bass tone. The underlying concept was to offer a broader tonal spectrum for backing or lead work. For the record, Les Paul was among the first players to use the new pickup after he asked Gibson to retrofit the unit on a '36 L-7 he'd sent back to the factory.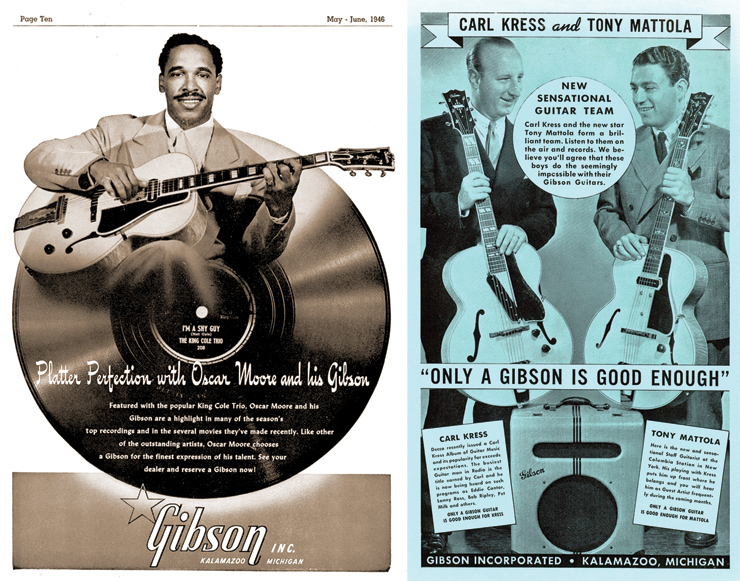 At first, Gibson thought it was possible to significantly alter a model without changing its designation, as automobile manufacturers do! The fact that both the redesigned ES-250 and EH-250 were packaged with a new natural-finish amplifier featuring a maple cabinet (the EH-275) pushed the list price of the ES outfit up to $300 – and brought about the ES-300 designation used from October, 1940. Meanwhile, for a couple of months, the last of the old-style ES-250s with bar pickup, and the earliest new-style ES-250s (i.e. the first-version ES-300) overlapped in factory records, thereby creating an element of confusion.
At least 22 instruments with the large diagonal pickup were entered in factory records as (new) ES-250s. These guitars typically carry an ES-250 designation on the paper label glued inside their body, but it cannot be ascertained if all actually do, or whether some received new labels in/after the fall of 1940. The examples with the lowest number (e.g. serial numbers 96190 or 96255 to 96263) do, but it is less clear for those released during the October, 1940, change-over period. For example, on October 25, 1940, serial number 96385 is entered as a 250 whilst 96384 is concurrently listed as a 300!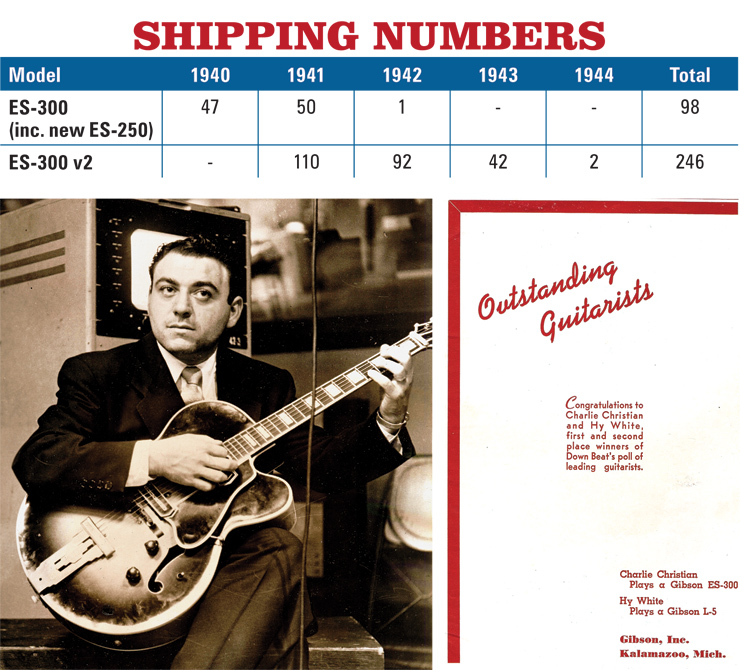 Compared to a standard ES-300, some of these new-style ES-250s may present slightly unusual peghead appointments such as an L-5 torch inlay, an L-7 "flying tea pot," or an L-12 Celtic cross, reflecting the experiments done with early samples. But they all feature double-parallelogram inlays on the fingerboard as opposed to open-book or picture-frame inlays on the old-style 250.

The ES-300 did not meet with the anticipated acclaim, and comments from players prompted Gibson to revamp the model in early 1941. The long pickup was cut to a more-normal size while remaining positioned at a slight angle in front of the bridge. The first ES-300 with shorter diagonal pickup shipped from late April, 1941, and introduced in a flyer dated May 20. Concurrently, the one-page bulletin included with each new electric instrument took care to mention, "the long pickup… has been replaced with a shorter one; we found a way to get better results by concentrating the energy."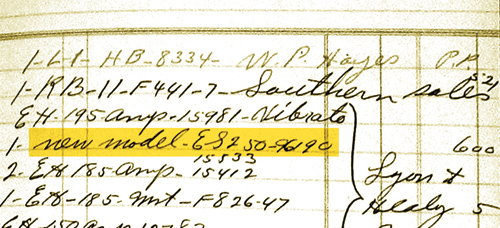 Like its predecessor the new ES-300 was at first available exclusively with a natural finish. A sunburst shading was offered from January of '42, and by '43 it was the only finish offered. This can be explained by Gibson's difficulties in procuring good-quality (figured) maple, and by the sizeable price increase of the ES-300N, which listed for $183.75 in January of '42 compared to $160 in October of '40 (an increase of some 15 percent in 15 months). In the name of rationalization, the factory also used L-7 bodies mounted with a pickup to deliver ES-300s as needed (even if some retained their L-7 label!). This explains why some ES-300s may have a one-piece laminated back when others have a two-piece carved back.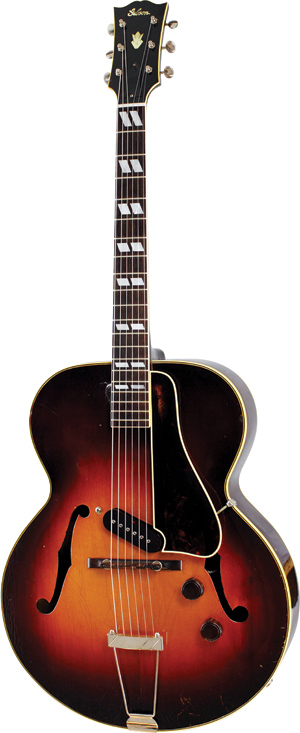 Despite the outbreak of war, the second-version ES-300 continued to be offered well into 1943 – as long as permitted by available supplies. The last pre-war ES-300 meant for a dealer was shipped to Jenkins Music on October 9, 1943, while the last two (97929 and 97930) were sent to Chicago Musical Instruments on July 10, 1944. According to factory ledgers, and after stripping out duplicate shipments, the total number of ES-300s delivered from 1940 to '44 amounts to 344 units, including 22 "new ES-250s." A (very) few examples may have bypassed the ledgers each year.
The arrival of the ES-300 with its newly-designed Alnico pickup did not prevent some preeminent players from requiring something different, more often than not fitted with the old-style bar pickup. The attraction to Gibson's first pickup design (which persists to this day in some circles) owes a lot to the impact of Charlie Christian on the jazz guitar scene during his short career, including his famous article published in the December 1, 1939, issue of Down Beat advocating guitarists to switch because "electrical amplification has given guitarists a new lease on life."
Factory records indicate Les Paul received at least three electric L-5s in addition to the two 17″ electrics (95423 and 95509) from 1938-'39 (discussed in the May installment). In September, 1940, Gibson sent him an L-5P carrying serial number 96276 along with an EH-160 amp via its New York representative, Lanky Neal. In March of '41, another electric L-5N carrying serial number FA-5165 was delivered to Les, then returned less than a month later to be replaced by a third ES L-5N with serial number 96881, in May.
Also in May of '41, Gibson endorser Allan Reuss was shipped an electric L-5P in natural finish (96978) fitted with a diagonal pickup. Apparently, the instrument did not impress Reuss, because it was returned to the factory a few months later. Alvino Rey similarly returned various ES-300s with diagonal pickup and chose to stick with his 1940 ES-250.
A few other 17″ electric archtops were delivered in '41 and '42 to select players such as Oscar Moore, who, thanks to his association with Nat King Cole, gave a lot of exposure to his L-5N and was accordingly featured in a mid-'40s ad. Historically speaking, though, the most famous of all is the ES L-5P (96515) sent to Charlie Christian in June, 1941, shortly before he had to be admitted to the Seaview Sanitarium in Staten Island. The guitar was eventually returned to Gibson, then passed to Tony Mottola, who would use it throughout his long and distinguished career (in the '40s, it was factory-fitted with a second bar pickup near the bridge, with three adjusting screws of the second pickup located between the bridge and the tailpiece). But years later, Mottola had the dubious idea of replacing the bridge pickup with a humbucker, thereby defacing an historically important Gibson electric!
---
This article originally appeared in VG December 2013 issue. All copyrights are by the author and Vintage Guitar magazine. Unauthorized replication or use is strictly prohibited.
---