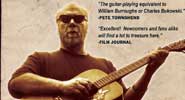 John Fahey is to the solo acoustic guitar what Jimi Hendrix was to the electric. Endlessly inventive, pioneering, and genre-defining, he was the player whom all subsequent guitarists had to listen to.
Many of the 40 albums Fahey cut between 1959 and his death in 2001 are available in one form or another. But his story has largely been forgotten by later generations – which is a shame because it's intriguing, instructive, and important.
Steve Lowenthal's biography and James Cullingham's documentary tell Fahey's tale. And ultimately, you'll want them both: They augment each other, along with another listening to his recordings.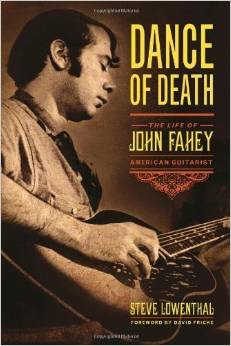 Lowenthal's book is thin at just 240 pages, but it's rich in storytelling thanks to his careful yet colorful prose. He documents Fahey's disturbed childhood, his broken family, and his troubled relationships with women. This all fed into Fahey's music, along with healthy obsessions with the blues, bluegrass, and modern classical music, among other influences.
Lowenthal also describes Fahey the record collector and how he ultimately became a musician collector of sorts. He tells how Fahey chased down rare 78s, sometimes breaking duplicates so his better-quality versions were more valuable, cheating the rest of the world of irreplaceable copies in the process.
This record chase lead to Fahey's tracking down the original bluesmen themselves. He became intrigued by the Delta blues of Bukka White, who hadn't been heard from since his 1940s recordings. After listening to White's "Aberdeen Mississippi Blues," Fahey simply sent off a postcard inscribed to "Bukka White (Old Blues Singer) c/o General Delivery" in Aberdeen. Eventually, White turned up, and Fahey released new recordings by him on his Takoma label.
That label was one of the first independent labels, setting a pattern for others to follow in the decades to come. From blues and roots labels like Yazoo to Jack White's Third Man, we all owe a debt to Fahey's leading the way.
Fahey was also a sly trickster – although over the years it became difficult to tell where the jokes began and ended. He battled alcohol, pills, stage fright, his audiences, homelessness, and mental illness. Yet through it all, his so-called American Primitive music was ominous and dissonant, droning and virtuosic, groundbreaking and visionary.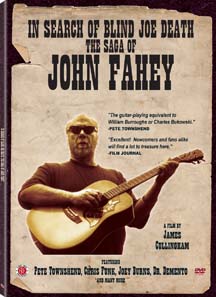 Cullingham's film is also short, at 57 minutes. But it, too, is rich in images and music.
The director is never heavy handed: He lets the archival footage of Fahey tell the story by itself without stomping the message into the audience. And his blend of animated drawings and haunting environmental panoramas bring Fahey's iconoclastic spirit to life.
---
This article originally appeared in VG's December '14 issue. All copyrights are by the author and Vintage Guitar magazine. Unauthorized replication or use is strictly prohibited.
---