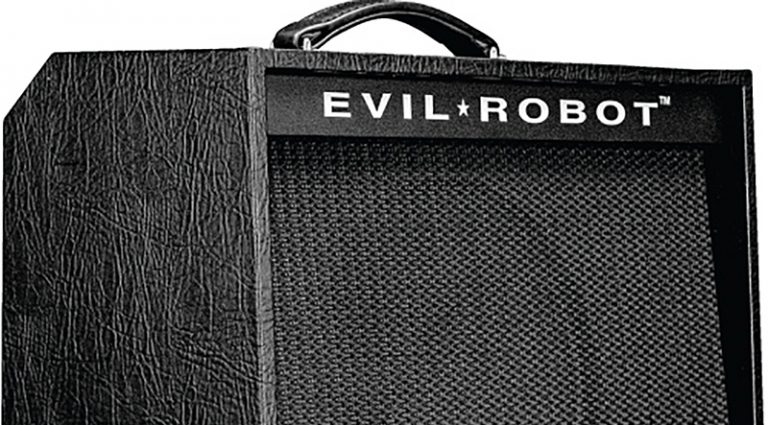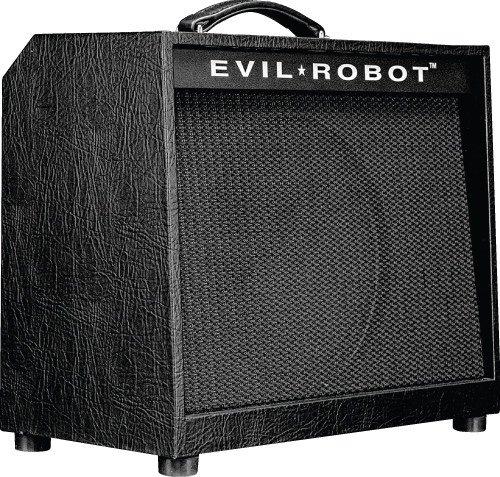 Evil Robot EVR-C30
Price: $999 (list)
Info: www.frettedamericana.com.
In 2010, music retailer Fretted Americana joined forces with amp wizard John Kasha to "reimagine" the tonal qualities of a vintage Magnatone Tonemaster Troubador 214 coveted by guitarist (and FA employee) Phil Xendis, an industry vet with a ton of studio sessions to his credit and a semi-regular fill-in gig with Bon Jovi. The resultant line of amps has been branded Evil Robot, and their newewst offering is the EVR-C30.
The Magnatone has long been known for its smooth Class A tone and harmonics, and the PCB-constructed EVR-C30 attempts to mirror those qualities while maintaining the sonic palette of rock-and-rollers of the late '50s, but with its own twist.
Weighing in at just 28 pounds and sporting four 6V6 power tubes and a preamp section with three 12AX7s, one 12AU7, and one 6AV6, the EVR-C30 is compact and handsome. Its owner's manual shows how to swap tubes for added personalization – no rebiasing required.
With a single custom 12″ speaker, tube-buffered effects loop, and two channels, the EVR-C30 offers very cool tonal opportunities. And the Class A-powered amp has two footswitchable channels with independent volume controls listed as Loudness A and Loudness B. A small slider switch allows the user to adjust the amp from Mellow to Normal to Bright. There's also the option of a High Gain or Low Gain input.
The EVR-C30 has a cooling fan and a '50s-style footswitchable vibrato with Intensity and Speed controls, both with chicken-head knobs. It has a speaker-out, impedance selector for 8 or 16 ohms, and, in keeping with the old-school style of the Magnatone, the controls are placed on the back.
Switching between a Les Paul and a Stratocaster, the EVR-C30 offered a dark, dry, no-nonsense bark and grittiness – perfect for the player who appreciates dirty-amp breakup and likes to sculpt that sound with their guitar's Volume knob. Supro-like sounds from the first Led Zeppelin album come to mind, as does the urge to play the riffs from "I Just Want to Celebrate" by Rare Earth, and Joe Walsh's "Funk #49."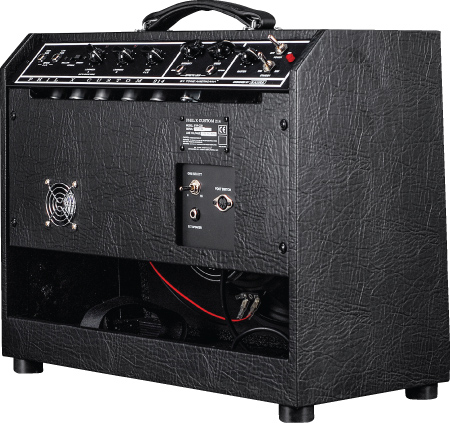 Though it lacks the lush charisma of its higher-priced older sister, the 214, the EVR-C30 conjures rockin' good fun. The footswitch sends the amp from Loudness B's classic cleaner sound to Loudness A's modern drive with snarl. The vibrato is sweet, offering the kind of adjustable dreamy intensity that can conjure ethereal hippy dancing or a surfin' safari. The EVR-C30 wasn't created to be an ultra-clean jazz or funk amp, but experimenting with the Low Gain input, lowering the Loudness control, and cranking the Master volume gets close, as long as one's string attack isn't too aggressive (and the cability to switch from 30 to 18 watts is helpful).
The EVR-C30 is great for the expressive hands-on player who likes to coax a variety of sounds using only their digits. It truly mirrors the player's touch and attack, and the guitar's volume level. Though not a luxurious-sounding amp, it can be used to create some ballsy rock tones. The Mellow setting is bassy and warm, with a slight volume drop, similar to turning down the guitar's Tone control. The Normal setting lightens things up, with a tad more volume, and Bright adds more punch and top-end.
The EVR-C30 is also very pedal-friendly, finding instant compatibility with a plethora of time-based, pitch-shifting, and OD/distortion effects. On the cleanest settings, the amp sounds like a tonal blank slate, allowing the player to dial in pedals and really hear what's going on without colorization. Further, it's very portable and roadworthy for rockin' blues or classic rock. Plus, there's the option to swap out tubes for more crunch or clean.
The Evil Robot EVR-C30 has a classic mojo that allows the user to plug in and quickly acquire some righteous Class A amp tones at an affordable price.
---
This article originally appeared in VG November 2013 issue. All copyrights are by the author and Vintage Guitar magazine. Unauthorized replication or use is strictly prohibited.
---