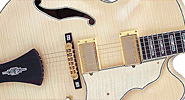 Ibanez has always had two distinct personalities – first as a purveyor of shreddy solidbodies for the hard rock/metal crowd, but also as a maker of fine archtops, thanks to famous users like George Benson, Pat Metheny, and John Scofield.
In the '90s, the company started to brand many of its low-/mid-priced hollowbodies as the Artcore line, imbuing the guitars with a fresh, funky image for alt-rockers, blues players, and jazzers. Depending on how a particular Artcore guitar is appointed, it might veer to one genre or another; the fancy AF105NT is on the high-brow side and will likely turn on jazz and blues players.
When you hold the AF105NT, your eyes will bug out and you'll start droolin' over its flamey natural top. Not to put too fine a point on it, this guitar is drop-dead gorgeous. The maple veneer on the top, back, sides, and even pickguard (likely a photo-flame decal) is stunning. To top it off, the Ibanez folks created dark, wooden control knobs and tailpieces that are downright sexy.
The guitar's rosewood fingerboard – which has a 12″ radius – has a custom inlay of an abalone/mother-of-pearl composite and they distantly echo the "slashed diamond" inlay of classic Gibson Super 400 archtops. The AF105NT also has a bubinga/maple neck sandwiched in three sections – a move both cost-saving and attractive. Other details on this jazzbox are a pair of Custom 58 humbuckers with ceramic magnets, two volume and tone controls apiece, gold hardware, 22 medium frets (with nicely rounded edges), and a 243/4″ scale, akin to a Les Paul. The only design faux-pas is a small knot in the grain on the back of the headstock. It's not a big deal, but it caught my eye – it seems out of step on a guitar that is otherwise so flawlessly constructed.
Plugged into amps by Ultrasound and Line 6, the AF105NT performed admirably. Ibanez is marketing these guitars to a range of players, so they're set up with light-gauge strings and low action, to broaden their appeal. This is clever, ensuring the guitar will immediately feel good to solidbody/rock pickers. Once they catch the jazz bug, they can upgrade to heavier, round-wound strings (trust me, you'll eventually want heavier G, B, and E strings for a fatter tone – it's simply jazz-guitar physics). Overall, the guitar sounds very good clean and with moderate amounts of overdrive, if you start leaning towards the Steve Howe/Alex Lifeson side of things. And in typical Ibanez fashion, the neck is fast, another facet that will appeal to players of all stripes.
What really sets the AF105NT apart from the archtop pack is that it fills a gap in the hollowbody market. Companies like Ibanez and Epiphone have been offering affordable hollowbodies for years, but there has always been a weird hole in the mid-price area; either you get a killer axe for under $600 or over $1,000, but not many in the middle (this one streets at under $900). Feel free to scratch your head. But with this hollowbody, Ibanez is offering a sumptuous, deluxe guitar for a price most players can afford. Granted, they do substitute affordable materials and building techniques here and there to keep the price in check, but most guitarists will never notice.
In all, the AF105NT is a fine guitar that will be prized by rising jazz/blues players or used as a killer gigging guitar for those who keep their $10,000 vintage archtops at home. Either way, Ibanez does it again, offering impressive quality and value for tasty guitarists everywhere.
---
Ibanez Artcore AF105NT
Price: $1,199.99 (list, with hardshell case)
Contact: Ibanez.com.
---
This article originally appeared in VG December 2010 issue. All copyrights are by the author and Vintage Guitar magazine. Unauthorized replication or use is strictly prohibited.
---