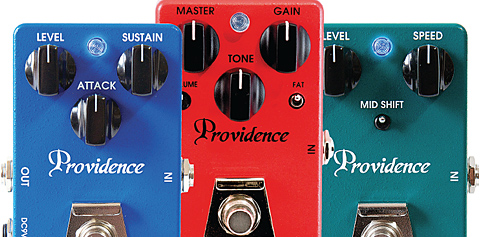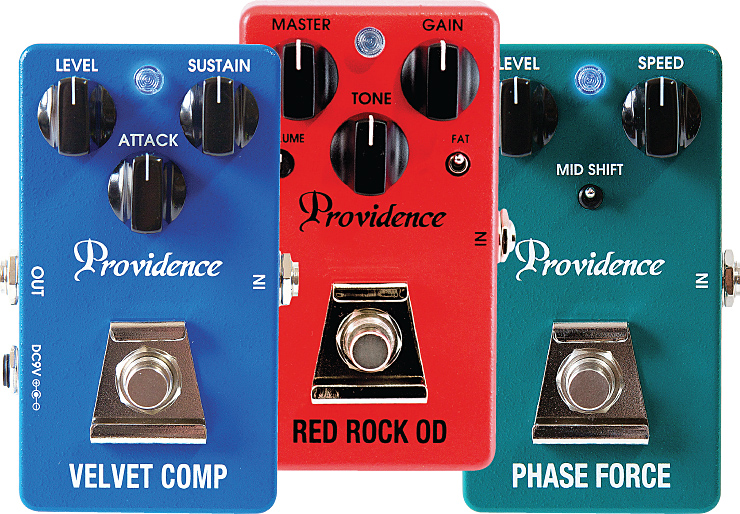 The Providence Velvet Comp, Red Rock OD, and Phase Force
Price: $199 (per piece, list)
Contact: www.providence.jp
Providence is a Japan-based manufacturer of effects, cables, guitars, pickups, and audio-switching devices. Though an established brand in its home country for almost two decades, its products only recently found their way to the United States, including a line of effects pedals.
Providence pedals are housed in industry-standard Hammond/MXR-sized enclosures, and use a unique metal harness around the footswitch that both protects it and gives the pedal a signature look. All units feature 1/4″ in and out jacks, along with a standard barrel DC receptacle. All three reviewed here – the Velvet Comp, Red Rock OF, and Phase Force – can be powered with either a 9-volt battery or a 9-volt DC center-pin negative power supply.
The effects were tested with a '67 Telecaster and an ES-335, along with a reissue '65 Deluxe Reverb. The Velvet Comp is in the Dyna/Ross family but has a very pleasant addition in the Attack knob. While it's true other compressors have attack knobs, frankly, many do next to nothing or are very subtle at best. Here, the Attack knob allows standard smoothing. There's an outright loss of initial attack at the fully counterclockwise setting. As it's turned clockwise, pick attack actually returns. The compression/limiting is smooth and classic, and certainly a joy with the Telecaster/Deluxe combo.
With the Red Rock OD unit, the mini pot labeled "Volume" is a post-input buffer and a pre-gain knob that controls the amount of signal that hits the gain stage. With most guitars, a lower setting is more desirable, unless one wants to dial in a fizzier overdrive. The real strength of the feature is the ability to boost a weak signal so that the overdrive section can be used to its full extent. For Dano lipstick users or fans of low-output Guyatone pickups, the Volume mini pot can boost their weak output to be useable by the dirt stage. The Gain pot functions as a standard drive level, and the Master control is an output that is post-gain and tone stages, yet pre-output buffer, making it a true master volume control for the pedal. The Volume, Gain, and Master controls allow a wide variety of drive textures, with the Tone control and Fat boost aiding in smoothing things out. Twisting the Tone control adds both dirt and volume, along with treble as it is cranked up. Although the pedal has a certain midrange emphasis, one would never confuse it with a Tube Screamer circuit – this is much clearer sounding, and much more controllable due to the pre-gain Volume control, interactive Gain and Tone knobs, and the ability to gain back, via the Fat boost, the low end that is usually lost in Tube Screamer circuits.
The Phase Force is a classically styled phaser with some pleasant twists. The first is its Level control, which allows the user to match, boost, or cut the effected versus the dry signal level. The second is its Speed control that has a much wider variance of slow to insanely fast settings than run-of-the-mill phasers. Finally, the Mid Shift switch provides an enhanced midrange boost to help the guitar cut through.
The Providence Velvet Comp, Red Rock OD, and Phase Force are vintage-inspired effects with helpful tweaks that make them more controllable and stage- and studio-friendly. The Velvet Comp's smooth compression and actually functional Attack knob make it a standout. The Red Rock's input gain and Fat switch make it both versatile and complementary to just about any instrument. And the classic tone of the Phase Force cuts through better than the rest with its mid-boosting Mid Shift switch.
---
This article originally appeared in VG November 2014 issue. All copyrights are by the author and Vintage Guitar magazine. Unauthorized replication or use is strictly prohibited.
---