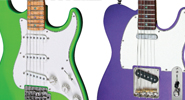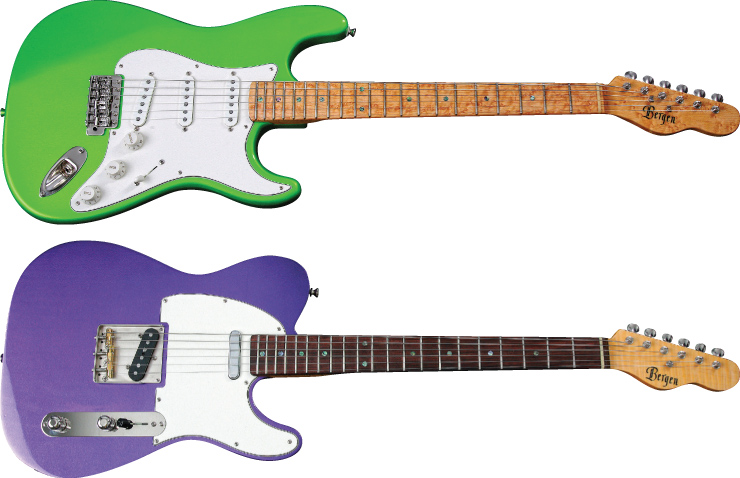 Bergen Guitars ST and TL
Price: $2,195 (ST, base)/$2,595 (as tested); $1,895 (TL, base)/$2,295 (as tested)
Info: www.bergenguitars.com.
If your goal, as a solitary craftsman, is to improve upon two designs that are acclaimed paragons of industrial perfection, what do you do? Paul Bergeson, owner and luthier of Bergen Guitars in Lake Zurich, Illinois, began with eye-catching finishes and primo hardware, and then included figured maple that any Stradivarius disciple would expect in their instrument. The results, his Bergen ST and TL, feature not just old-school craft and aesthetic, but top-notch performance as well.
The ST and the TL share a number of features like an impeccable vintage-thin lacquer applied over alder, a wood with fine tonal attributes that is also appreciated for its woodworking properties. Weighing in at 7 pounds 11 ounces, the TL body has rounded edges, while the ST features a generous top-body bevel, bringing its weight down to an ounce less. Both models feature aged white/black/white plastic pickguards.
Next, both the ST and TL feature nickel hardware, locking tuners, Callaham bridges, CTS potentiometers, Switchcraft switches, and copper foil-shielded cavities. The C-shaped necks include two-way truss rods as well as internal carbon fiber rods to enhance stability and sonic properties. Further, both necks are inserted into their pockets with the kind of care to which every luthier ought to aspire.
The treatment of the Michigan maple necks shows the kind of care that a single guitar builder can apply to the craft. On both models, the '60s-inspired neck is hand-tapered to a slight V for a subtly slimmer feel up to the middle of the neck. Dunlop 6105 fretwire is dressed with loving handwork. While the TL has a fat slab of rosewood, the ST has a visually intense birdseye maple fingerboard. Both are dressed with abalone dots. Both models feature a 111/16″ nut and measure 23/16″ at the heel. A special touch is the application of gun oil over the playing part of each neck and on the TL fingerboard. All of this goodness is topped with a Gothic-script Bergen logo on the lacquered headstocks.
Strung with D'Addario .010s, both guitars' nut, action, intonation, and fret details are on the money, especially for players not addicted to super-low shred action. The string height and 10″ fingerboard radius facilitate bending, and who doesn't want to bend strings when playing these classic designs?
Plugged into a late '50s Ampeg Jet with the Tone knob set at 7, the ST sparkled in all pickup settings. The pickups, set up a little higher on the treble side, gave a balanced response in single-pickup mode, and the frequency cancellation in combination mode that gives a triple-pickup model one of its characteristic voices. Because the Lindy Fralin pickups are slightly overwound, there was no wimp factor. The ST exhibited remarkable sustain, even at low volumes, while the attack was well defined with bare fingers or plectrum. Playing through an Ibanez Tube Screamer, the ST simply sang. For rock shredding, power chording, or teasing out subtle Knopfler-esque phrasing, this interpretation of a time-honored design will please any guitarist.
With its rosewood board, flamed maple neck, and compensated three-barrel bridge, the TL was, predictably, a different animal. The oft-maligned Tele-style neck pickup was powerful enough to show some real character, while the combination voice had the clarity for satisfying funk rhythm with no significant drop in volume from the neck setting. At the bridge pickup, the TL had sting and bite without harshness, with the same kind of sustain that characterized the ST. Country licks tore out of the TL, while a touch of slapback induced primal rockabilly, and the lead pickup, with the Ampeg opened wide, evoked the Boss's intro to "Kitty's Back in Town."
The neck heft and the stabilizing carbon fiber rods were primary factors in the solid response of both guitars, plugged or unplugged. The tightly fitting neck joints, high-quality parts, large frets, and well-cut, rounded nuts all enhanced the overwound Fralins.
No single detail is responsible for what Paul Bergeson has achieved with his Bergen ST and TL. Rather, it's the sum of many factors that add up to exceptional takes on two of the most iconic designs in the history of electric guitar.
---
This article originally appeared in VG November 2013 issue. All copyrights are by the author and Vintage Guitar magazine. Unauthorized replication or use is strictly prohibited.
---