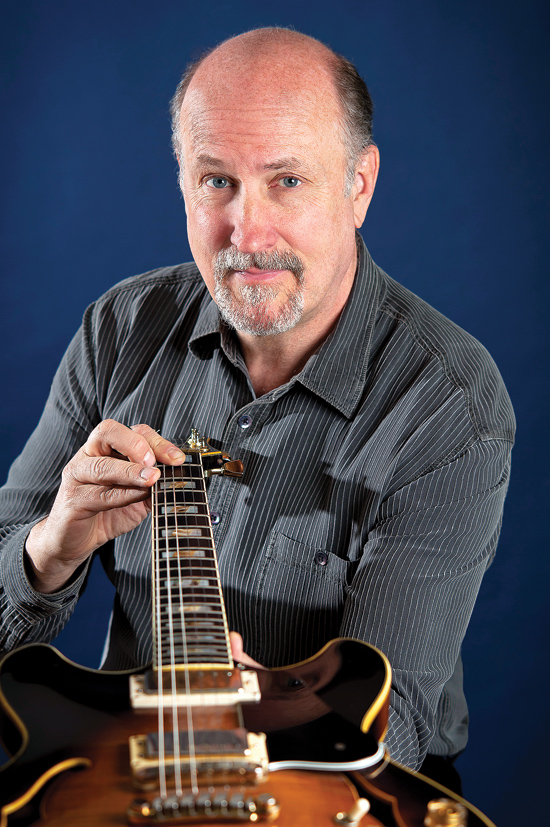 Veteran jazz guitarist John Scofield has released a second album with Uberjam, which includes drummer Adam Detich, guitarist Avi Bortnick, and guest keyboardist John Medeski. It's full of funk and soul, and we talked with Scofield shortly after the group started its current tour.
Why the second record?
We played a lot at the beginning of the millennium, then didn't for awhile, and I thought it'd be fun to see how we could approach the music after a few years. Once you've grown as a group, it's fun to reunite.
Your career has taken so many roads a traditional jazz player may not. Any particular reason?
Part of me would like to have just one group all the time. The way the market works today, they want a different group every time, if you're an old, established person like me. They've had you at their festival or concert series and they want to bring you back, but they want it to be something else. That's a pain in the neck, on one hand. On the other hand, it fits with what I like to do; I can be restless. It helps the music in that you never have time to get bored, and one project will feed the other.
Do you see yourself as a restless musician?
After doing it for a while, I think everybody realizes that things change. The best stuff you come up with is kind of spur-of-the-moment. We have to put ourselves in situations that make us come up with new stuff. We have to be restless. Part of me thinks if I could just practice "All the Things You Are" for my whole life and really get it down, that's the way to go. Part of me feels like that, but I don't do that.
The record has a real soul vibe.
I realize now, looking back at it, that I grew up during the time when soul was really happening, with James Brown and Aretha in the '60s. I was aware of the music then and loved it and was a huge fan. I played in bands since I was a kid that tried to play soul music. So, it just seems part of what I love.
It seems like you're always on tour, usually with someone.
I'm lucky I get to play a lot. This summer, it's a lot of the jam-band festivals with my band. More in the U.S., and then we'll hit Europe and Asia.
Speaking of the jam-band thing, you've made friends in a lot of genres. People think you're a jazz guitarist, but there you are hanging with folks like Warren Haynes.
Yeah, yeah, he's not a jazz guitarist, but he likes jazz. I'm the "jazziest" guy Warren would play with, but when we play, it works. If he played with Tal Farlow, it wouldn't work. I love blues and I love to play electric and loud. It's fun for me to get to play with guys who are blues players or funk players and into a different thing.
Speaking of, a year ago you did shows with Robben Ford.
I thought it was completely natural, and I think Robben did, too. We had a lot of fun playing and I hope we do some more. I've known Robben… well, I've known of him since I saw him at Hop Sing's, a Chinese restaurant in L.A. that was also a club. He was playing with the group that later became the Yellowjackets. He knocked me out. And then when I [left Miles Davis' band], he became the guitar player. I remember going to hear them and thinking "Oh s**t, this sounds really good. I wish I'd been able to play the gig like that." I'm a big Robben Ford fan.
What guitars are you playing these days?
I played my Ibanez AS200 on the record, but I also played a Fender Custom Shop Stratocaster on about half the tunes. My Ibanez is still my number one axe, but I got the Strat a few years ago. I was embarrassed to buy it; I went into Sam Ash in New York and tried a bunch of guitars, and this Strat was great. The thing is, it was all relic'ed up – had a fake cigarette burn on it. And it's pink. But I got over the shock and got it. Now, I think whatever they do to make it look old actually makes it sound better. It's a good one.
What about amp on the record?
On this one I used the Vox AC30 that I've been playing since the late '90s. It's a reissue from then. I didn't use a lot of effects. All the distortion is just the amp.
This month's "Fretprints" column by Wolf Marshall focuses on Scofield's work. See it on page 72.
---
This article originally appeared in VG November 2013 issue. All copyrights are by the author and Vintage Guitar magazine. Unauthorized replication or use is strictly prohibited.
---