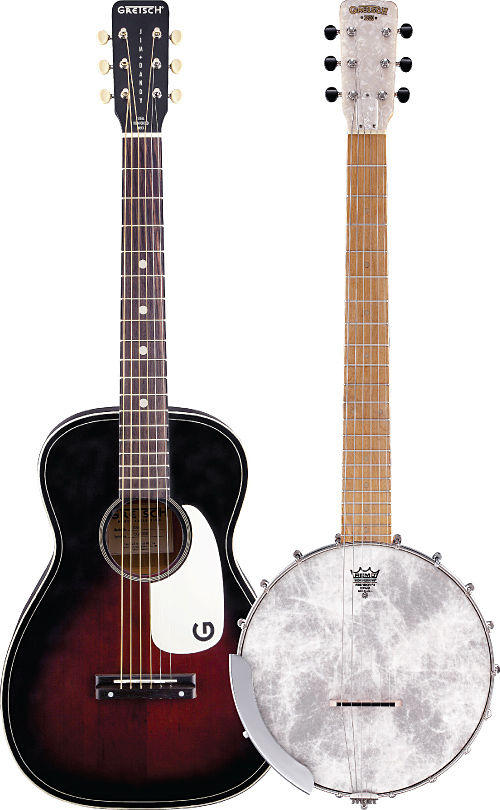 Gretsch Roots Collection: Jim Dandy Flat-top, Dixie 6 Guitar-Banjo
Price: $239 retail (Jim Dandy Flat Top) and $499 retail (Dixie 6 Guitar-Bajo)
Contact: www.gretschguitars.com
Cynics inclined to dismiss Gretsch's Roots Collection as a crass ploy to hop aboard the current washboard-rock chuckwagon popularized by the likes of Mumford & Sons and the Avett Brothers will do well to recall that the company's, well… roots. Gretsch history, after all, extends to late-19th-century Brooklyn, where the company built a reputation producing percussion and acoustic stringed instruments. Considered in this context, it's no stretch that Gretsch should revisit their own history with a 22-instrument collection evoking that period which predates the Fabs and rockabilly hep cats with whom the marque has been most associated lo these many years.
The Jim Dandy Flat Top is the only guitar entry in the Roots Collection, but Gretsch seized the opportunity create a functional instrument that works hard to resemble what many a player's first guitar must have looked like 60 years ago. The Dandy's body is all agathis with a satin-like finish over black back and sides and a Vintage Sunburst top (Gretsch also offers it in Blue Sunburst) with a white pickguard and screened rosette and "binding." The 24″-scale-length nato neck is capped with an 18-fret rosewood fingerboard and sports a three-by-three headstock with open-geared nickel-plated tuners and a '50s Gretsch logo (also screened).
Lest all this talk of painted appointments and what many consider econo tonewoods cause more gentle readers to look askance, rest assured these era-specific cosmetics are where the Jim Dandy's nods to "catalog guitars" of bygone years end. With its X-braced top and compensated saddle, the Dandy puts forth a much warmer and less punchy tone than what one might expect from a parlor-size instrument offered at this price. And needless to say, the guitar's 13″ lower bout, 12″ fingerboard radius, and short scale length make it super-comfy and a gas to knock around on – the perfect distraction to have lying on the sofa (it is a parlor guitar, after all).
Another six-string entry in the Roots Collection is the Dixie 6, a thoroughly enjoyable "banjar" (or is it "gitjo"?). The Dixie 6 is a great-looking instrument right out of the box, its pearloid-faced headstock with black-button Grover Sta-Tite tuners being the first rubberneckin' delight. Other guitar-like accoutrements – a maple neck and fingerboard, 25″ scale length, jumbo frets, and a six-strings-wide neck – in concert with a mottled Remo Fiberskyn head, suggest a quaint 19th-century pre-resonator banjo befitting the "1883" legend (year of Gretsch's founding, natch) that's applied to the headstock facing. The Dixie 6's rim and rear resonator, like the neck and fingerboard, are antique-stained maple, and the body has 24 shiny brackets and an armrest.
One caveat: front-porch-swingin' folk who are lightning-fingered on the six-string and hope the Dixie 6 will have them astounding their slack-jawed pickin' partners with Scruggs-like three-finger rolls will likely be sorely disappointed. However, the Dixie 6 will allow players to add unmistakably banjo-like textures to informal jam sessions, whether using a drop-thumb or frailing technique, or even attacking the Dixie 6 with a plectrum. The latter results in more robust volume, which is perhaps a bit lacking from the Dixie 6. Regardless, for players hoping to quickly add a little banjo twang to their repertoire on a very shallow learning curve, this instrument is a great option.
The Roots Collection also includes five-string resonator banjos, resonator guitars, A-style mandolins, and even ukuleles. With the Jim Dandy and Dixie 6, Gretsch has done a nice job producing affordable instruments that are functional for after-work and weekend pickers, not to mention aesthetically evocative of bygone eras.
---
This article originally appeared in VG October 2013 issue. All copyrights are by the author and Vintage Guitar magazine. Unauthorized replication or use is strictly prohibited.
---