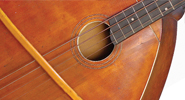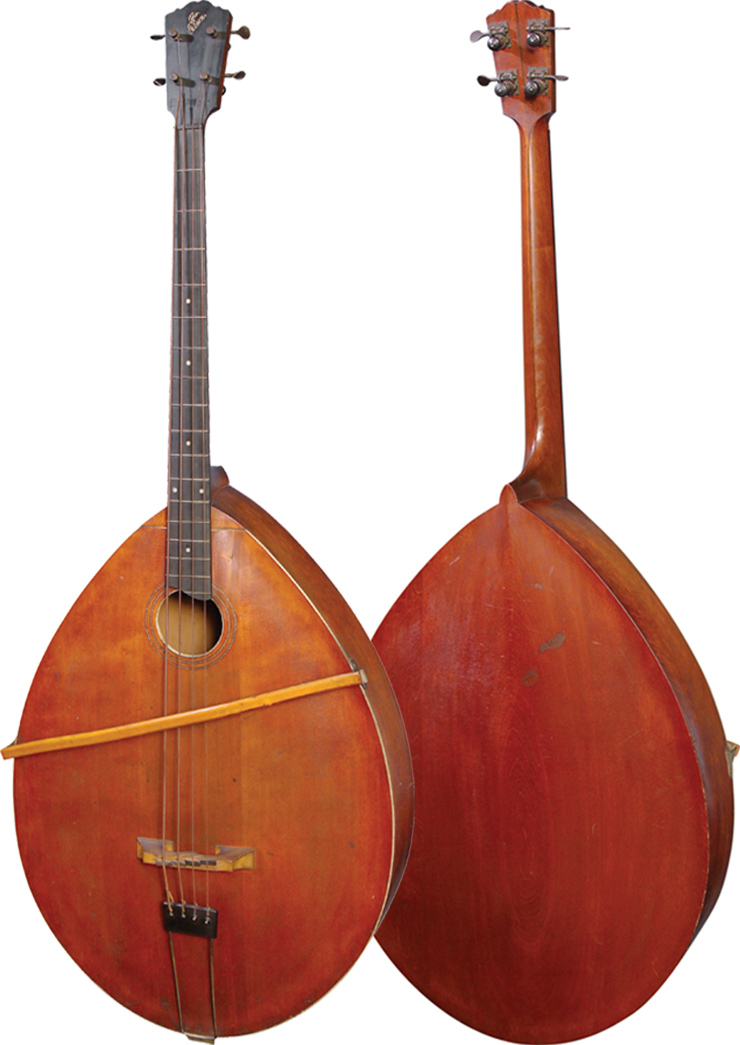 Decades before Audiovox or Leo Fender dreamed of making a fretted electric bass, Gibson started manufacturing fretted acoustic mando-basses that were tuned the same as an upright bass.
Joe Spann, author of Spann's Guide to Gibson 1902-1941 has assembled serial and work-order number information documenting Gibson's production prior to World War II, which indicates mando-bass production started as early as 1906 and that none were shipped after 1931. The style J mando-bass was offered as late as '37, but since none have been documented as being shipped after '31, it's safe to assume demand must have been very low after the mandolin-orchestra boom subsided. Similarly, the Gibson style U harp guitar was offered in Gibson catalogs as late as '39, long after production ceased, so it's not safe to assume that listing in a catalog indicates Gibson was still building it – sometimes, it was merely clearing old inventory. Remaining Gibson ledgers document eight batches of Kalamazoo-branded mando-bass style KJ produced by Gibson between 1935 and '37, but Spann has examined two Kalamazoo mando-basses with batch numbers from 1933 indicating that they were produced at least that early, but none of the Kalamazoo models appear to have been produced or shipped after '37.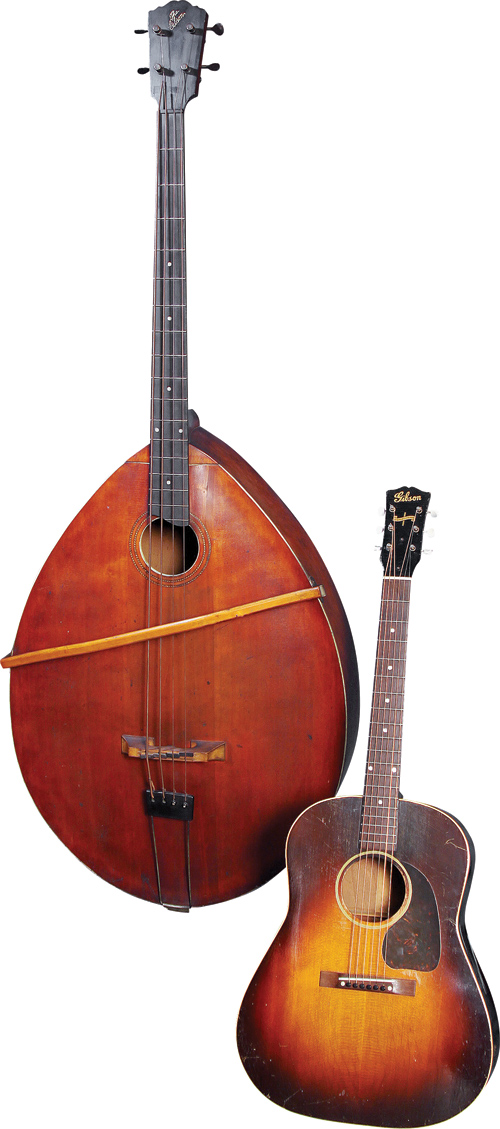 The Gibson mando-bass resembles a gigantic style A Gibson mandolin with four strings. The instrument is 62″ in total length, has a scale of 423/8″, a body width of 24″ and a body length of 331/2″ making it one of the largest fretted instruments ever offered in the Gibson catalog. The mando-bass was designed for use in mandolin orchestras. Its appearance complements the Gibson mandolin family, with the mandolin tuned the same as a violin, mandola tuned the same as a viola, mandocello tuned the same as a cello, and the mando-bass tuned the same as an upright bass. While the first three have four pairs of strings, the mando-bass has four strings. Its top is carved spruce with an oval soundhole, while the back and sides are birch. The neck is mahogany with an ebony fingerboard. The peghead has "The Gibson" pearl script inlay, and the crossbar is a factory installed armrest. The Kalamazoo mando-bass had f-shaped sound holes rather than an oval soundhole, but was otherwise very similar. Mando-basses have an extension end pin much like an upright bass. They could be played upright with the player standing or with the player seated and instrument in a diagonal position much like a gigantic mandolin.
Spann has located production records that list 39 units, but there were very likely more, since his reconstructed serial number list contains only approximately nine percent of serial number units produced by Gibson prior to 1935. Spann has 100 percent of the serial numbers after 1935, having extracted them from shipping ledgers. While he speculates that as many as 400 mando-basses were produced, so few have emerged compared to other models produced in quantities of a few hundred, that the number was probably not more than 200 and may have been less. We simply do not have truly accurate records for total production. Spann has documented 21 Kalamazoo mando-basses (style KJ) and speculates as many as 40 could have been produced sporadically between 1933 and '37.
One possible explanation for today's relative rarity of mando-basses is that they were not offered with hard shell cases, as were the other instruments in the family; Gibson mandolins, mandolas, mandocellos, and guitars with carved tops and backs were relatively expensive instruments in their day, so most buyers opted to get a hardshell case such that we encounter very few of these instruments without a good case, which played a great role in their preservation. A large instrument without a good case is prone to damage. Another factor is that a large, somewhat unwieldy instrument that had gone out of style would take up enough room that people would be more likely to throw it away.
The Gibson mandolin orchestra boom lasted from the very early 1900s through the early '20s, after which the mandolin orchestra craze died abruptly and Dixieland music took over, resulting in strong sales of tenor and plectrum banjos. Mandolin-family instrument sales plunged and thousands of instruments were retired from service. Many later re-entered the market in old-timey country music and bluegrass, but country musicians (and most pop-music players) who took up the mandolin neglected mandolas and mandocellos. It's conceivable that some of these musicians would have been interested in mando-basses had they encountered any, but they're so scarce – especially in playable condition – that one would be hard-pressed to recall a musical group that utilized one after the mandolin-orchestra era.
The Gibson style J mando-bass is a well-crafted, historically significant instrument, worthy of attention from sophisticated collectors and musicians.
---
This article originally appeared in VG September 2013 issue. All copyrights are by the author and Vintage Guitar magazine. Unauthorized replication or use is strictly prohibited.
---