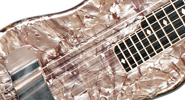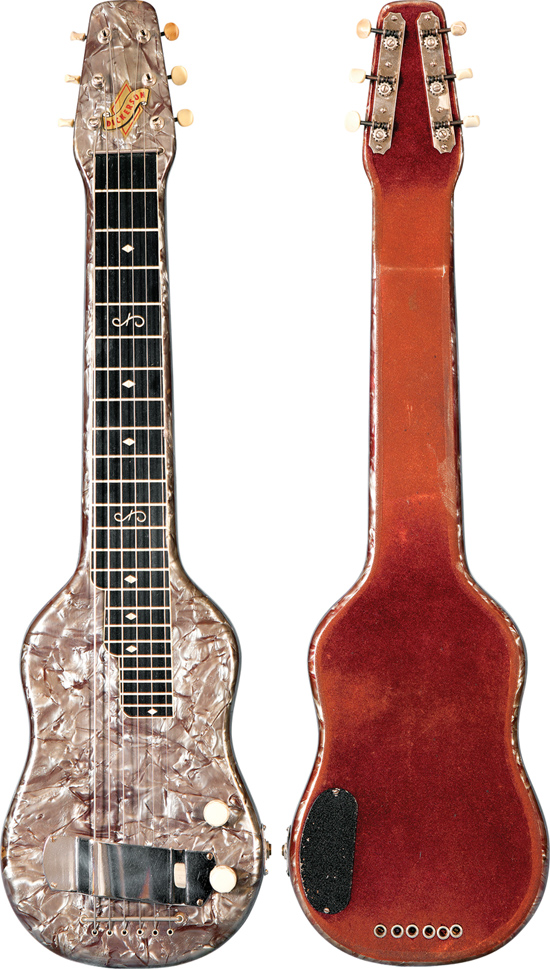 Though today they are viewed as little more than curious relics of a lost era, during the Great Depression, "mother of toilet seat" Hawaiian lap steels were one of the most popular types of guitar. You could argue that these little electrics blazed the trail for the later popularity of electric Spanish guitars. There were almost unlimited choices – a cheap lap isn't that hard to make – and a whole infrastructure was built up to market guitars like the Dickerson Standard.
The Dickerson family was involved with the Los Angeles music scene during the Depression, if not before. The Dickersons also owned a factory known as Dickerson Brothers, and Delbert J. Dickerson began producing Hawaiian lap steels and small tube amplifiers branded with the family name in 1937 or '38 and sold through the American Hawaiian Teachers Association (AHT) in Los Angeles (and likely elsewhere). Dickerson also contract-manufactured guitars and amps for Varsity, The Southern California Music Company, The Oahu Publishing Company, Bronson Publishing Corp., studio and store owner Roland Ball (father of Ernie Ball, who began performing on steel in the '30s), and Gourley, plus others, carrying the purchaser's own brand. Almost all, if not all, of these were covered in mottled sheet celluloid, or pearloid, which Dickerson called "Lumarith."
The infrastructure that supported the Hawaiian music scene was a fairly sophisticated nexus of music publishers, instrument manufacturers, and music education conducted either by teachers or through the mail. The publishers were numerous; some thrived on the music, but others were heavily involved in pedagogy, including National Institute of Music & Arts (L.A.), Oahu (Cleveland), Bronson (Detroit), and Eddie Alkire (Easton, Pennsylvania). All offered instruments – primarily through the mail – made for them by manufacturers including Supro, Kay, and Dickerson. Much of the music published by these firms was clearly pedagogical – that is, often consisting of songs in the public domain arranged in simple, beginner-level melodies. This music might be part of a mail-order course or used by a music teacher.
In L.A. and other larger cities, teachers often joined a larger organization such as the AHT, which would send salespeople door-to-door to recruit children for Hawaiian guitar lessons. They might also offer instruments that the family could either rent or buy. The hawker got a fee and the organization no doubt got a cut of the teacher's pay. A second crew would circle by to pick up the kids and transport them to the AHT for lessons. This is the kind of infrastructure that fed Dickerson, or vice versa!
Dickerson appears to have offered three Hawaiian guitars and four amps, sold in sets. Hawaiian guitar wizard Sol Hoopii, who was teaching Dickerson's daughter, Belva, reportedly consulted on the design of these guitars – the Student, the Standard, and the De Luxe – all of which had a single-coil pickup mounted underneath their top in a design he patented (filed 1938, awarded 1940). The Student was pear-/paddle-shaped and had a handrest with a Volume control mounted on it. The Standard sported top-mounted controls and added a Tone. Pre-war Dickersons had a relatively heavy cast tailpiece, whereas post-war models used the metal rod combined with the through-body grommets. Both had decal fingerboards and were covered in a silver-grey pearloid; they are the most commonly seen. The De Luxe guitar is much rarer. It was dressed in "pearl Lumarith" (a tan-colored pearloid) and sported "tinsel" (sparkle plastic) fingerboard inlays and trim. All had a headstock that was sort of like a simplified mini-Gibson design, with a center peak at the top.
The guitars were typically sold in combination with a matching amplifier. The Student Model came with the Student guitar and a small amp with a 6″ speaker ($49.50). The Standard Model had the Standard guitar with an amp featuring an 8″ speaker ($59.50). The Semi De Luxe Model came with the De Luxe guitar and an amp with a 10″ speaker ($89.50). The De Luxe Professional outfit featured the De Luxe guitar and an amp with a 12″ speaker ($129.50). Cases were extra. A $90 and $130 pricetag during the Depression probably explains why almost no De Luxe guitars ever show up!
Despite their apparent simplicity, these little Dickerson lap steels are pretty sweet, if this example is representative. It has a full, round tone that's redolent of the Islands. The Tone control takes a bit too much off when you dial it down to zero, but the drop off is rapid, so if you just back down a quarter-turn, you get a good bass tone.
Dickerson went on to patent an amp-in-case design (filed 1939, awarded 1940), and one of his employees, Art Duhamell, developed an early push-button Hawaiian guitar tuning changer called the Dickerson Multi-Matic.
There are conflicting accounts about what happened next, but Dickerson apparently tired of making instruments. In '44 or right after war's end, he seems to have sold the company to former AHT crew chief Gaston Fator. That probably explains the post-war design changes like the rounded head and wire-and-grommet tail. Fator seems to have continued making Dickersons, but in 1947, he sold the company (possibly by then called Fator Manufacturing) to Art Duhamell and it became Magna Electronics, which would go on produce some very cool guitars (including designs by Paul Bigsby and Paul Barth) and some of the greatest amps (with True Vibrato) ever. The move meant the Dickerson brand disappeared, replaced by Magnatone.
So, while Tiki bars are on the comeback, this pearloid Dickerson Standard remains a curious token of a lost time – and yes, they actually did make toilet seats out of the same celluloid back in the day!
---
This article originally appeared in VG September 2013 issue. All copyrights are by the author and Vintage Guitar magazine. Unauthorized replication or use is strictly prohibited.
---