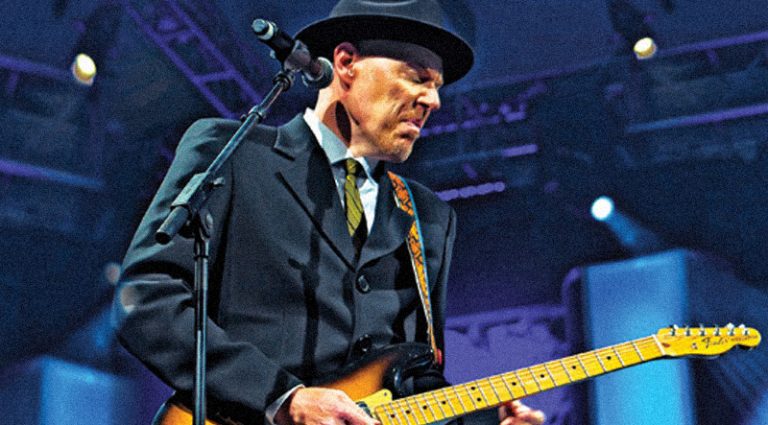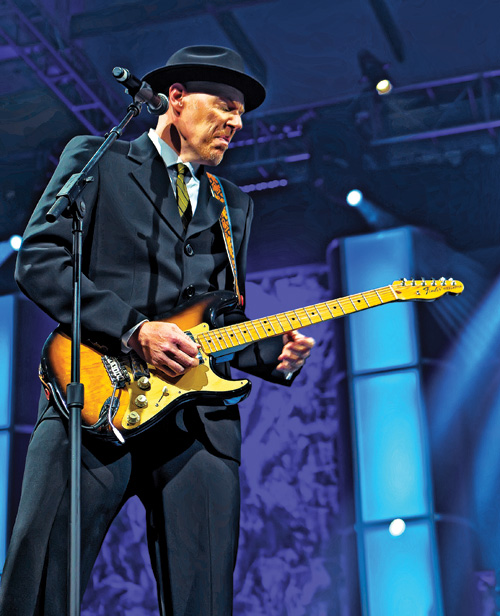 If Hadden Sayers' 2011 release, Hard Dollar, was a way to get his feet wet again, his latest, Rolling Soul, represents a full return to the music world. The guitarist had been at it hard and heavy for more than a decade before personal events took him a bit out of the music realm.
"I was doing well, keeping my act and recordings in-house, just doing albums and touring in my van. But, things were getting smaller and smaller for me. I passed on a couple of record deals that might have been a good idea, and I took one that wasn't a good idea. At the same time, my wife was getting her Ph.D and we knew she could get a job wherever it took us."
The couple ended up in Columbus, Ohio, where Sayers started playing with relatives of his wife. "They were really good musicians," he said. "They were kind enough to include me in their band, and I started to include them in my band. Then the drummer – my wife's uncle – died on a gig. It was a heart-wrenching experience."
That was followed by the death of his wife's boss, the person who brought them to Columbus. For awhile following, Sayers didn't play much.
"It was a crazy time, a shock really," he said. "We bought this old cabin and I met this old man who showed me how to repair it, and we worked on it for a little while. That took the focus off my troubles. After about 18 months, I found a way to start recording and writing again."
It was about that time a break came his way that brought the excitement of music back and served as impetus for his new record.
"A gig popped up to play with Ruthie Foster. That soul trip she's on is just amazing. Rolling Soul was me trying to refine the songwriting process and enjoying that world of soul she exposed me to. I had been aware of that world, but not entrenched in it like I was after playing with her a little bit." He says at that point he started writing a lot again. "I'm not disciplined in the sense that I sit down and say, 'I'm going to write a song today,' but I'm kind of a sponge for ideas and thoughts and how they may be turned into songs. So, when I'm traveling and listening to music, reading the paper – anything really – I'm looking for any nugget that might lead me to a song."
Growing up in east Texas, Sayers' main influences were the blues and the rock and roll of the day. "I took lessons when I was a kid, but it kind of turned me off. Everyone was learning out of the Mel Bay book that had all the sight-reading single-note stuff, and it wasn't exciting at all. I wanted to be like the guy in Kiss, but was being taught how to sight-read 'The Bells of Scotland.'"
Rolling Soul has a huge helping of soul music with plenty of R&B and rock mixed in, but Sayers says despite the variations of sound, most of the guitar work was done on a single guitar he put together. "I had gotten a '64 Teisco Del Rey from Billy Gibbons years ago. I took the pickups out of it. I have a loose relationship with Fender and Epiphone, and I took a Strat that Fender had given me and I put the Teisco pickups in it. The rest of the guitar was built from parts of different guitars Fender had given me. So it's got a Tele neck, a Strat body, and the pickups from the Teisco. I put the thing together when I started playing with Ruthie about three years ago, and I just got more and more enamored with it. That's the main guitar on this record, and my main guitar live."
Sayers' gigging amps are a pair of Marshall 2×12 combos, one a 1978 master-volume. In the studio, things get a little trickier. "I own a bunch of amps, probably about 30. I use a lot of them in the studio, but on this album mainly I used a '64 Fender Vibroverb, a '55 Tweed Pro that's been on every one of my albums, and a '64 Vox AC30."
While he still plays with Foster, this year, he's concentrating on his own career. "I still play occasionally with Ruthie when she uses a full band, but my own band has a lot of club dates lined up and we're going to be doing a lot of festivals." Sayers' band is a four-piece with a drummer, bassist, and keyboardist joining him onstage. Those familiar with his history know a van has always played an important role in his career and, with a laugh, he says that continues. "Yeah, we are flying a bit more than we used to, but we still load up the 15-passenger band van for plenty of gigs."
With the release of Rolling Soul, Sayers is re-establishing himself as a triple threat singer/guitarist/songwriter. He's enthusiastic about being back in the game. "I never thought my troubles were bad, because lots of people have things way worse than me. Looking back now, I realize it was a journey, and here I am."
---
This article originally appeared in VG July 2013 issue. All copyrights are by the author and Vintage Guitar magazine. Unauthorized replication or use is strictly prohibited.
---