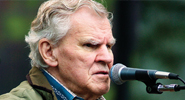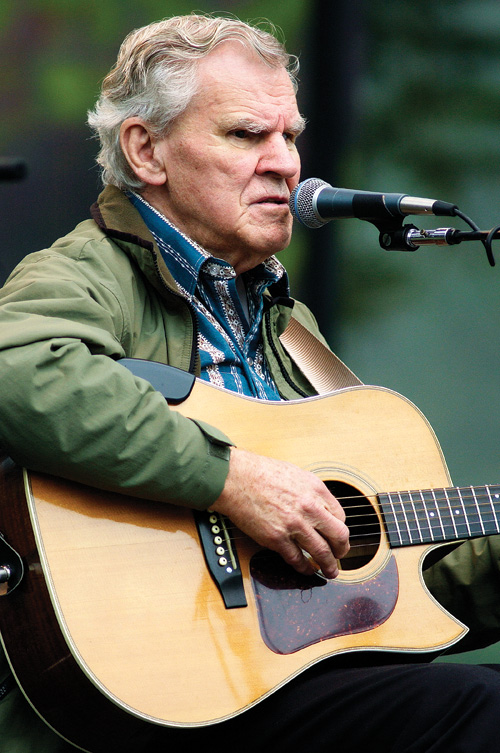 Over a career spanning 52 years, the passage of time only enhanced Doc Watson's stature. His virtuosity and musical range, merged with an abiding sense of tradition, entertained, amazed, and moved generations of fans, players, and non-players. It ended with his death May 29 at age 89 at a hospital in Winston-Salem, North Carolina. A month earlier, he'd played Merlefest, named for his only son and former second guitarist Merle, who died in a 1985 tractor mishap.
Born in Stony Fork, in North Carolina's mountainous Wautuga County, Arthel Lane Watson wasn't a year old when an eye infection blinded him. Music came to him through his mother's singing, hymns heard at church, and old tunes played by other local musicians. He absorbed records by various artists, among them Jimmie Rodgers, the Carter Family, and the Delmore Brothers. Radio brought in the Grand Ole Opry. He played on harmonica and fretless banjo before attending the Morehead School for the Blind in Raleigh. There, he learned his first guitar chords. His dad helped him acquire a $12 Stella. He'd trade up several times.
Set to play on a local radio broadcast in 1941, the announcer felt Arthel an awkward name. A woman in the crowd yelled out "Call him Doc!" and it stuck. His friendship with local fiddler Gaither Carlton led to him marry Carlton's daughter, Rosa Lee, in 1947. Their son, Eddy Merle, named for Doc's favorite country stars (Eddy Arnold and guitarist Merle Travis) arrived in 1949, daughter Nancy Ellen two years later. With money tight, he tuned pianos and played for tips in the streets of nearby Boone, North Carolina.
Watson's guitar heroes were diverse. One was obscure Texas electric-guitarist Smitty Smith, who played the melodic break on Ernest Tubb's 1941 hit "Walking the Floor Over You." Others included Travis, Chet Atkins, and Nashville session ace Grady Martin. He played a Martin D-18 when he joined Jack Williams and the Country Gentlemen, a local bar band, in 1953. Soon, he'd switched to a Gibson Les Paul goldtop. Since they lacked a fiddler, he began flatpicking fiddle tunes. It became his calling card. His Travis/Atkins fingerstyle skills came in handy when the band played rockabilly.
He had the goldtop in 1960. With the Folk Revival in full swing, New York folklorist-musician Ralph Rinzler arrived to record traditional singer-banjoist Clarence Ashley and others including Doc, who wanted to play electric guitar. Rinzler convinced him to borrow an acoustic. Impressed by his range, he felt Watson could succeed as a folk artist, but knew traditional trumped contemporary with folkies of that day. Counseling Watson to stress traditional, Rinzler added that after establishing himself, he could include any music he wanted.
That's precisely how it played out. He re-learned old numbers and early-'60s engagements in New York City led to a 1963 Newport Folk Festival appearance. A year later, Vanguard Records signed him. He began adding country and folk tunes on his 1966 album, Southbound, and around that same time Flatt and Scruggs enhanced his bluegrass appeal by featuring him on their Strictly Instrumental album. On Doc Watson in Nashville (1968), that town's famed A-team of session musicians, including Grady Martin, accompanied him. Merle, who'd began playing guitar in '64, was touring with his dad by the late '60s.
The acclaimed, Grammy-winning 1972 album, Will The Circle Be Unbroken , featured Watson, Scruggs, Jimmy Martin, Roy Acuff, Merle Travis, and Maybelle Carter teamed with the Nitty Gritty Dirt Band. The album's success exposed him to a younger audience, many of them rock fans. Eventually, he won eight of his own Grammys, including a Lifetime Achievement Award.
Jack Lawrence joined Watson in '83, when Merle, anxious to focus on construction work, decided to scale back much of his touring with his father. Lawrence, though steeped in bluegrass, had recently worked in a rock band and only jammed with Doc a couple times backstage. He never forgot his first concert in Illinois, working with Watson and bassist T. Michael Coleman. "I played as many solos as he did," Lawrence recalls. "He gave me every other solo. He'd play one, and the next time around, it was my turn. That was very gracious for him to share the stage like that – especially with someone he had never worked with.
"At festivals, everybody would want to jam with him. I'd say, or Michael would say, 'Sam Bush is standin' over here.' Or Tim O' Brien or Mike Auldridge or Jerry Douglas. And he'd say. 'Well, ask 'em if they want to play!' We'd get onstage and he would direct everything.
"If I carry anything away from my whole experience with Doc, it's that you can still be the center of attention but still spread the music to everybody around you and give them a little spotlight."
Watson later gave Lawrence the 1945 D-18 he'd bought in New York in '63, played onstage and on all his records before embracing Gallagher guitars in '68. Lawrence remembers how Watson influenced his playing. When he joined, he'd been caught up in playing hot licks. That began to change.
"He taught me to settle down. He never said anything, but after awhile, I thought, 'I don't have to play everything I know on every solo.'"
Reflecting on his mentor's contributions, Lawrence says, "His legacy is certainly going to be the introduction of flatpicked guitar (soloing) to bluegrass, though Doc never considered himself a bluegrass artist. I would consider him to be one of the first… Americana artists. He took a little bit from every kind of American music form and made it his own, mixed it all up and it came out as Doc Watson music.
"But I also know the legacy he would rather be remembered for was just being a good ol' boy from down there in Deep Gap, who made a living for his family. I think he would treasure that above all."
---
This article originally appeared in VG September 2012 issue. All copyrights are by the author and Vintage Guitar magazine. Unauthorized replication or use is strictly prohibited.
---