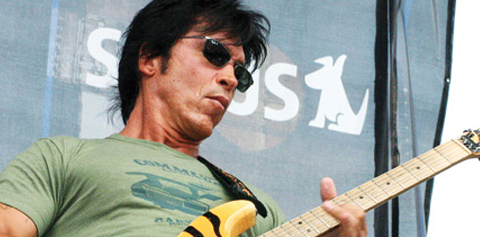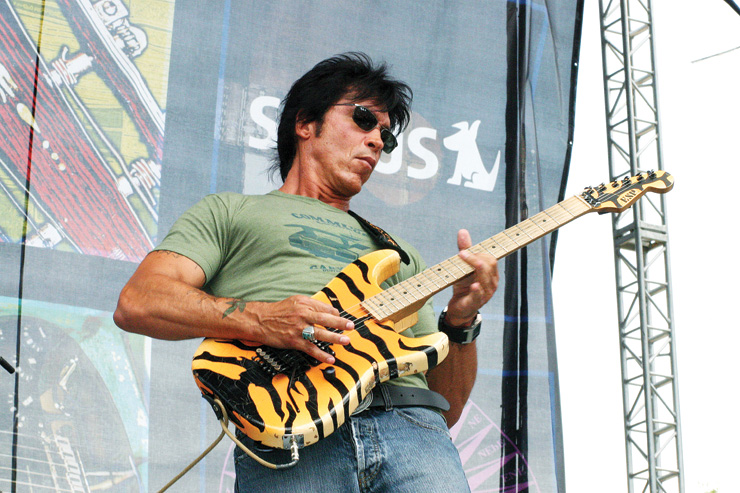 George Lynch is one of the premier axe men to emerge in the '80s. His melodic hard-rock riffs were the driving force behind Dokken and he later launched Lynch Mob while releasing several solo discs and collaborations. He recently joined with former Dokken bassist Jeff Pilson and drummer Mick Brown under the moniker Tooth & Nail (abbreviated to T&N after a dispute with a record label using the name) and transforming material he and Pilson created for Lynch Mob. While the tunes didn't work out for Lynch Mob, they became a perfect means for the trio to work together, and resulted in a killer debut, Slave To The Empire.
Why were the new songs "wrong" for Lynch Mob?
The band thought it wasn't the right material – Lynch Mob was more organic and blues-based rock. So Jeff and I put it on the backburner, then the idea for another band with Mick came up.
How the idea for T&N come about?
We didn't have a clear vision except for generally tying into our Dokken legacy by making half the record Dokken remakes. We used different singers on the Dokken songs to create a little more appeal and variety, rather than trying to "outdo" Dokken. Jeff sang the new songs; he and I have always had great writing chemistry, and we really love playing together. About 10 years ago, we did a record called LP, for Lynch/Pilson, and this is just an extension.
How did you select guest vocalists and the songs?
We made a list and whittled our way down, then matched singers to songs.
Did you encounter any obstacles?
We felt the original material and re-makes didn't match up, so there's no continuity between them on the record. That's a challenge we hope to overcome while we write new music. In other words, we want to bridge the gap between the '80s and the new material. It's tricky, because I just can't write the way I did back then. Some people think I'm still George Lynch from 1987 and they want me to write another Under Lock and Key. But I don't play or write that way anymore. That's always a challenge for any musician who's had some recognition or notoriety – it's hard to break the mold and be accepted. You're kind of stuck, because on one hand, it's your livelihood and people mark their personal history with these songs that are meaningful to them, and then you go on a different path and evolve. You want to try different things, but some people don't want to hear it. So it's tough to balance the two.
It was difficult to sequence because it felt like two different records. Since we're older guys, we kept thinking in terms of vinyl, where the Dokken songs were all going to be on one side and the original songs would be on the other. Then we tried one from each, and that didn't work, either. It took weeks to figure it out, and that's why we have this issue with writing new material while keeping the old material in mind so, hopefully, the next record will sequence more smoothly.
What was used to track your parts?
I had my old ESP, which is like a Tele, and I used that on a majority of the tracks. To me, a Tele through a big rock amp or a combo is really interesting. That's what Led Zeppelin I was recorded with, and it was good enough for Zeppelin, so it's good enough for me! I usually do two rhythm tracks and often used it for one side of the rhythm. Many solos were recorded with it, as well. I played my ESP tiger guitar for the other side and a lot of solos, too. In addition, I used a Les Paul replica ESP built for me in the '80s. It sounds and plays great. I play that when I need something a little beefier and chunkier. I also used my ESP Super V, which is all-mahogany. It has a very warm low-mid tone that fills up a lot of space. For acoustic parts, I used a vintage Gibson J-200 that belongs to Mick Jones from Foreigner, and a vintage Fender 12-string.
For amps, I used my Randall Lynch Boxes, which are 100 watts, my '68 100-watt Marshall plexi, and a few different combos, like a '65 Fender Super Reverb and a wonderful little '30s Gibson combo that's the same model Billy Gibbons used on his first records. We had a nice selection of stuff, and we wanted to use it all!
I've got hundreds of pedals, but I didn't get too crazy on this record. I used an old Clyde wah and a Cusack Screamer, which is like a Tube Screamer. When I got into coloring and overdubs, I busted out my Echoplexes. I've got an EP-2 and EP-3 that I used for delay. I used an early-'70s Mu-Tron Octave Divider for an overdub on one song, and used my script-logo MXR Phase 90 quite a bit for solos to that Eddie "Eruption" thing. I used the ZVex Seek Wah and Seek Trem sparingly. For slide, since I'm not really a slide player, I faked it and used a 9-volt battery because I didn't have a slide!
And you're now building guitars…
Yes. I'm not a luthier, but I enjoy dabbling. They're unique and built in the spirit of the early-'80s Charvels – a one-trick pony with a wide-flat neck. I don't do lathing or frets because I don't have the equipment or expertise, but I do the carving and everything else, including winding pickups. I make them in my backyard when it's not raining – about 10 a year. I'm just trying to be a Renaissance man, like that other guy – Michelangelo! It's a lot of fun!
---
This article originally appeared in VG June 2013 issue. All copyrights are by the author and Vintage Guitar magazine. Unauthorized replication or use is strictly prohibited.
---
---