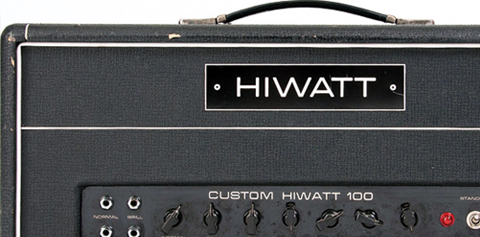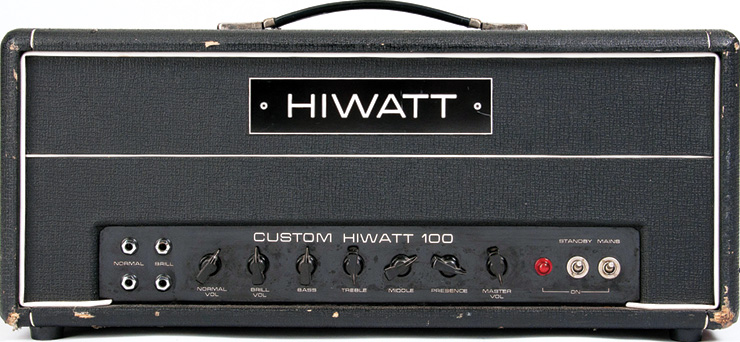 1969 Hiwatt 100 (Model DR103
Preamp tubes: four ECC83
Output tubes: four EL34
Rectifier: solidstate
Controls: Normal Vol, Brill Vol, Bass, Treble, Middle, Presence, Master Vol
Speaker: four Fane 12s
Output: In excess of 100 watts RMS.


The written history of British guitar amplification tends to trace the rising importance of power and volume through the 1960s, and the efforts of makers such as Vox and Marshall to increase their outputs to meet the needs of guitarists of the day. Rather than having to grow with the times, like so many, though, Hiwatt was born loud. Really loud!
The "stack" already existed in the mid '60s – if barely – when Dave Reeves founded Hylight Electronics, the original manufacturer of Hiwatt amps. So he never had to evolve from small combo to large combo to arena-sized rig, as did so many other makers. Virtually from the start, Hiwatt aimed straight at the virtues of efficiency and volume. To get there, Reeves blended painstaking technique, original designs, and top-notch components in the name of creating serious professional performing tools. Even the styling tells us these amps meant business; they weren't dressed to be the star of the show, but to stand unassuming at the backline, supporting the star of the show.
Just one artist amid a growing list of notable British guitarists who appreciated what Hiwatt had to offer, Ronnie Wood epitomized the professional that Reeves aimed to please. After stints with the Jeff Beck Group and other projects, Wood jumped in with the Small Faces in '69 to fill a void left by the departed Steve Marriott, alongside replacement singer Rod Stewart. The change marked the band's transition from "Small Faces" to "Faces," a simplification represented by someone's effort to rub out the "Faces" from the stencil on the side of the head shell. This Hiwatt DR103 Custom 100 was built for the band by Reeves in '69, in the small garage of his house in New Malden, Surrey, when Hiwatt was a one-man operation. After training at Marconi and Mullard, Reeves worked for Mullard in the mid '60s, and built amps for Ivor Arbiter's Sound City music store in '67-'68, but was developing his own Hiwatt designs all the while. By the time the familiar black-and-white block logo appeared on the amps in late '66/early '67, Reeves had already established the meticulous wiring techniques and an obsession with quality in all facets of the manufacturing process – characteristics that would help Hiwatt amps stand out from the pack (and which Reeves would insist on maintaining even as the company expanded and wiring work was jobbed out to Harry Joyce after 1971).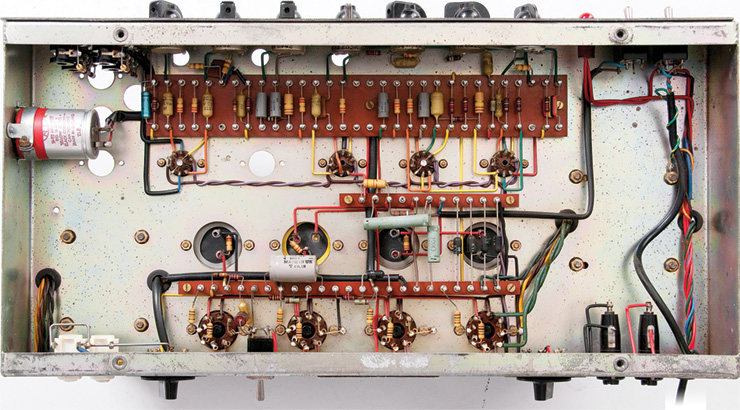 Inside of this amp are ultra-neat, efficient wiring runs and sharp right-angle turns, evident even to the untrained eye. And while Hiwatts might look rather like impressive "copies" of the better-known Marshalls, Reeves' designs were all his own, and never borrowed from Marshall's repertoire the way that, for example, Jim Marshall had borrowed from Fender to launch his own amp production. In short, everything about Hiwatt amps was engineered to take the signal efficiently – and in grand style – from input to output, making it bigger- and better-sounding at each stage, and squeezing as much juice as possible from the four EL34s that powered the tone to well beyond the amp's 100-watt rating. Being essentially a custom amp, particularly in the early days, Hiwatts often displayed features added at the customer's request. This one has a rare half-power switch (on the back, beneath the road crew's handwritten "Lead 2" legend), presumably intended to reduce the DR103's blistering volume levels for studio use. The Master Volume on the front is another innovative feature adopted by Reeves years before it appeared on any Fender or Marshall amps.
This Hiwatt is owned by Vintage Guitar reader Jack Wright, who purchased it several years ago from Paul Tribe in the U.K. In a recent letter to Wright, Tribe relates the "collector's dream" scenario of finding the amp himself a few years before. "It was in a pub in London, and had been used as a small PA with two horrible little speaker cabs. After I bought it, and before it was unpacked, the guy said, 'Oh, it has some stencil on it – I hope you don't mind,' And I didn't! I had it about five years and it nearly did a full circle when Woody's guitar tech asked me if I might sell it, as he wanted an older sound again for a new album, but I didn't want to sell it at the time."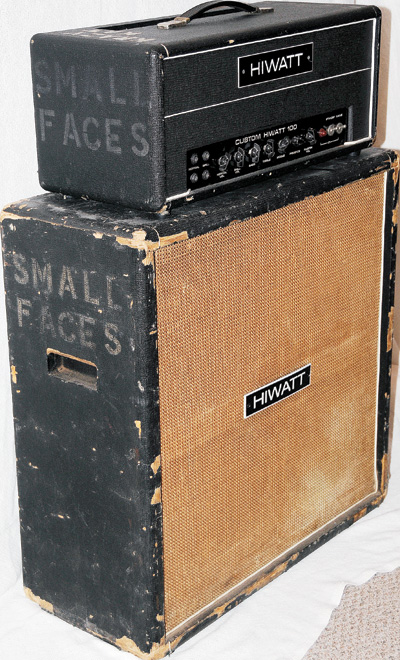 Wright found the matching – if somewhat more road-weary – 4×12 speaker cab some time after buying the head, purchasing it from an owner in Texas who had acquired it from California. It wasn't unusual for touring British acts to sell off the heavier (and less prized) components of their rigs at the end of the road, rather than paying to ship them back to the U.K., and Wright speculates this Hiwatt might have landed on the West Coast at the end of a Faces' tour in the early '70s.
As for the sound, this immaculate example of an early DR103 head offers everything a player would hope to hear in a great Hiwatt.
"Those who say pedals are required for a Hiwatt to crunch have never listened to this amp," Wright said. "It has a very bright, euphonic distortion and a tight low-end when cranked with vintage Fanes, compared to the darker, looser, more aggressive distortion familiar to Marshall users. The moderate crunch I hear on Faces and Rod Stewart albums would by no means be a stretch for this amp unaided by pedals or slaved Fenders. In fact, the sound is somewhere near a cranked Fender but without a trace of mud or raspiness – and really, really loud."
As a bonus, somewhere between touring with Ronnie Wood and belting out quiz-night questions in a London pub, this DR103 head appears to have resided in the backline of short-lived British band Krazy Kat (previously known as Capability Brown). With guitarists Tony Ferguson and Grahame White, Krazy Kat toured with Genesis and Peter Gabriel in the mid '70s, and released the albums China Seas and Troubled Air in '76 and '77 respectively, before fading into the prog-rock night.
Born in an era when it had to be loud to be heard, and rising quickly to the top of the heap for both volume and full-bore tone, the Custom Hiwatt 100 is simply an unabashedly powerful performer, as this historic head can no doubt attest.
---
This article originally appeared in VG August 2013 issue. All copyrights are by the author and Vintage Guitar magazine. Unauthorized replication or use is strictly prohibited.