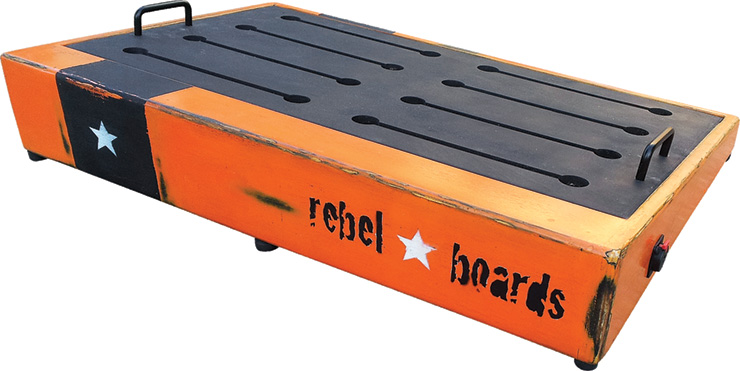 Rebel Board's Rockstar Pedalboard
Price: $159 (Rockstar); $199 (Rockstar Pro)
Info: www.rebel-boards.com.
Puzzle-piecing a pedalboard together is equal parts fun and frustration. If you've ever wished for a custom board but price got in the way, one manufacturer now has you covered.
Rebel Boards produces a handcrafted wooden pedalboard called the Rockstar that measures 24″ x 16″ x 4″ (the Rockstar Pro measures 36″ wide). The board is a sturdy, wedge-shaped piece of 3/4″ birch-top plywood. Its generous topside platform is cut through with eight barbell-shaped slots and sits slightly recessed in the frame (useable space: 22 1/2″ x 12 1/2″). Rebel Boards ship with a locking 1/4″ jack on each side panel for input from a guitar and output to an amp; underneath, each jack leads to an 18″ reinforced Neutrik male cable that can be passed through a slot and plugged into the first or last effect in the chain.
The Rockstar also features a 110-volt IEC input jack that's mounted to one side and leads to a female end to accept a power supply or strip. Built-in connectivity for audio and power is a fantastic convenience for gigging guitarists, minimizing setup to the point of being truly plug-and-play when it's time to hit the stage. It's also unheard of in a pedalboard at this price, let alone as a stock offering.
And guitarists who hate doing that pointy-toe ballet step to access their pedals on a flat pedalboard will appreciate the Rebel Board Rockstar's pitched top – even when the board is crowded with stompboxes, each is easy to click. The Rockstar's nonslip rubber feet raise the frame a half inch, which not only prevents errant cables from being crunched but raises wah and volume pedals to a more comfortable height (especially when the guitarist is seated). Finally, even with a few odd-shaped pedals in the mix, the platform remains useable (i.e., no worries about horizontally oriented pedals falling into a gap).
It's tough to find a pedalboard that will suit every guitarist (show me a seemingly perfect board and I'll point out three guys whose rigs won't fit it), so Rebel Boards offers a number of affordable customizations, each of which can be ordered on their website, to manage the inevitable idiosyncrasies. For example, additional 1/4″ jacks for stereo output, dual input, and/or effects loops can be added at $10 each, and for $7.50 Rebel Boards will swap right-angle tips for the straight male plugs of the attached cables. Additional AC connections can also be added for $15 each, which is great for pedals that require isolated power. Rebel will even cut a board to custom dimensions for a total cost of $50 plus $0.45 per square inch.
The Rockstar is heavier than simpler platforms made of aluminum alloy or thin wood composite, but at less than nine pounds, the birch ply build is lighter than most integrated pedalboards. Plus, the DIY crowd will appreciate a frame that can be drilled, screwed, and rewired with little effort. While power supplies, power strips, and cable fasteners are easily mounted underneath without screw tips protruding through the top, Rebel Boards recommends 3M Dual Lock (which could mount a pedal on the belly of a plane and be there when the plane landed) for affixing both underside and topside units.
Some find a wedge shape bulky while others appreciate the pitched top and the ability to hide a whole lot of spaghetti below deck. With a handle on each side, the Rockstar carries like a mixing board; Rebel indicates they're working on a self-contained case and an ATA flight case.
Rebel Boards are available in a variety of distressed color schemes, most geared to a rock aesthetic. And those relic paint jobs may look even better over time as they withstand the real wear and tear of a few years of gigging.
---
This article originally appeared in VG May 2012 issue. All copyrights are by the author and Vintage Guitar magazine. Unauthorized replication or use is strictly prohibited.