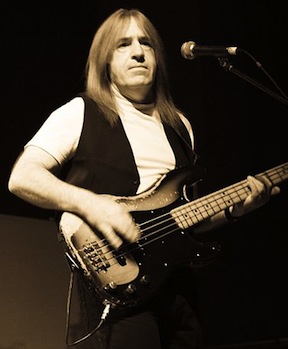 Bassist Trevor Bolder, who played with Uriah Heep for decades, died May 21. He was 62 and had been battling cancer.
After playing on the local R&B scene in the '60s near his hometown in East Yorkshire, England, bolder scored a gig with The Rats, which included guitarist Mick Ronson. In 1971, re replaced Tony Visconti on bass in David Bowie's backing band, the Spiders from Mars, and played on Bowie's Hunky Dory, Alladin Sane, and The Rise and Fall of Ziggy Stardust and the Spiders from Mars albums.
He joined Uriah Heep in 1976, and left for a brief time to play with Wishbone Ash, recording Twin Barrels Burning with that band before returning to the Heep, with which he continued to perform and record until his illness forced him to step down earlier this year. He was usually seen playing a well-worn sunburst Fender Precision Bass, modified with a Jazz-style pickup.