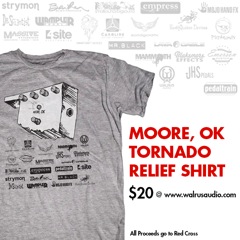 Brady Smith, proprietor of the Oklahoma-based Walrus Audio, has organized 19 fellow effects-pedal builders for a raffle to benefit the Red Cross of Oklahoma in the wake of the tornado that struck Oklahoma City and the suburb of Moore on May 20, leaving 24 people dead and approximately $2 billion in damage to buildings including as many as 13,000 homes.
Smith is selling raffle entries for $5, and contributing builders include Caroline Guitar Company, Earthquaker Devices, Emerson Custom Guitars, JHS Pedals, Mr. Black, Dwarfcraft Devices, Empress Effects, Pedal Train, Mojohand FX, Barber Electronics, Dr. Scientist Sounds, SolidGoldFX, Pigtronix, Lava Cable, Strymon, Blakemore Effects, Wampler Pedals, Smallsound/Bigsound, Quinn Amplifiers and Effects, and Voodoo Lab.
Raffle entries and a specially designed t-shirt with the logos of every contributing builder can be purchased at walrusaudio.com. A winner will be drawn May 29 and all proceeds from the sale of both the raffle and the t-shirt to the Red Cross of Oklahoma.