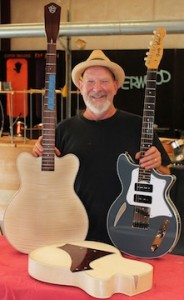 Luthier Roger Fritz has relocated his business from northern California to the Eastern Shore area of Mobile Bay, in south Alabama.
Fritz came to prominence as a guitar builder in Mobile in the late '80s, when he collaborated with the late Roy Buchanan on a signature guitar. Following Buchanan's death, the brand changed to Fritz Brothers, and the guitars were played by George Harrison and members of the Bangles.
Roger eventually moved to Nashville, where he worked for Gibson, then became a guitarist in Shelby Lynne's band. He eventually relocated to Medocino, California, where he cranked up his guitar building again.
"I was making records for producer Bill Bottrell; he was a big advocate for Kay basses, and he started showing me how great they were in the studio," Fritz remembered. "It wasn't too long after that I started making my own version, as well as guitars, and I heard through the grapevine that the guy who owned Kay was thinking of getting back into production."
Fritz would subsequently sign on to make Kay-branded retro instruments, and he designed instruments for Kay's import division.
"I went to China and helped them set up production," he said.
The high cost of living in the Golden State meant that Roger and his family opted to move back to his home turf. He now handcrafts instruments under the Fritz Brothers and Kay brands in a shop in Fairhope. Most Kay guitars and basses are special-order instruments.
"This is the Kay custom shop, right here," he said succinctly. "I'm making a little bit of everything, and whatever somebody wants, I'll build." – Willie G. Moseley