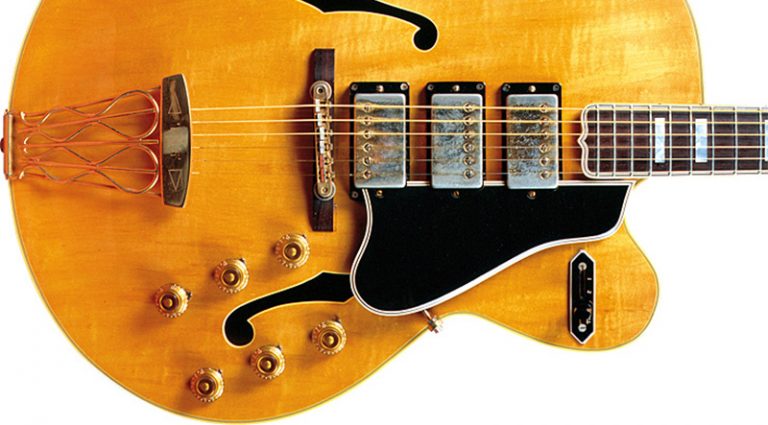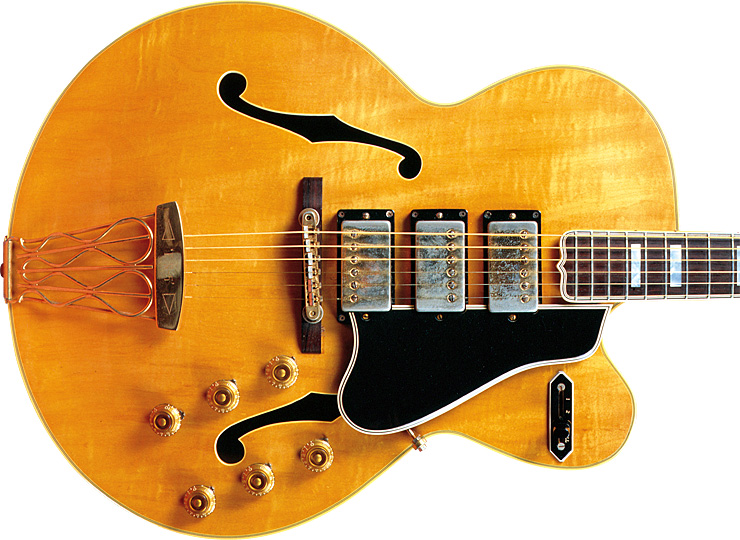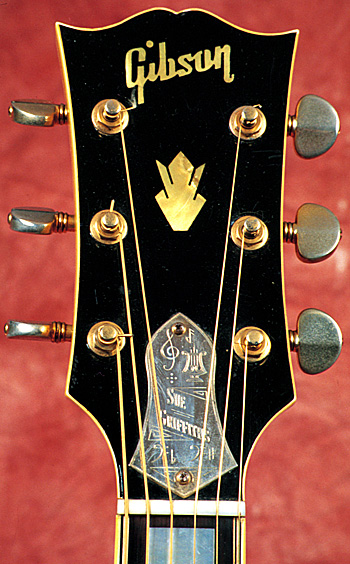 In 1949, Gibson did something nifty, introducing the ES-5. The number 5 had special significance for Gibson, dating back to the Lloyd-Loar-inspired master Models of 1924. Each of these – guitar, mandolin, mandocello, and mandola – bore that numerical designation.
And, when a deluxe and pricey electric made its debut, what better name than "Electric Spanish 5?" With a cutaway, body size and style borrowed from the acoustic L-5C, and with slightly plainer versions of the L-5's neck, fingerboard, and headstock, the model was in many ways a new electric version of the L-5. It was quite an impressive thing in its own right, but its three pickups made it downright groundbreaking.
Trouble was, its Spartan complement of controls left it functionally, well…awkward. With a Volume potentiometer for each pickup, a master Tone control, and no selector switch, all the pickups in the world weren't any use if you couldn't coordinate them quickly and easily. As many players will attest, pots do not make good switches. Gibson soon remedied all of this with the ES-5 Switchmaster, unveiled in 1955. The Switchmaster designation not only conjured up images of deluxe '50s automobile instrumentation, but heralded the inclusion of separate Volume and Tone controls for each pickup, linked to a swanky master four-position selector. Gibson's attention to detail extended even to the daintily engraved plastic switch surround. With these modifications, the guitar had arrived. The next evolution occurred when Gibson replaced the P-90s with their new humbucking pickups in late 1957.
The two ES-5 Switchmasters pictured here are of this last variety. Both incorporate similar tightly grained maple throughout, with stunning figure. Both are endowed with gleaming natural finishes and, bearing serial numbers less than a 100 apart, both are unmistakably from the same batch. These gorgeous deep-bodied blond twins would be difficult enough to track down individually, let alone reunited like this in a pair. They are surviving representations of the most practical incarnation of the three-pickup hollowbody technology, and some of the most desirable and valuable as well. The carefully engraved metal truss rod cover that graces the headstock in the close-up bears the name of the guitar's original owner – Sue Griffiths. An option that was offered by the company to those who purchased the guitars, personalized name engraving is encounted only occasionally by collectors today. Most have long since been discarded or changed. The fact that this one survives is a testament to the owner's love.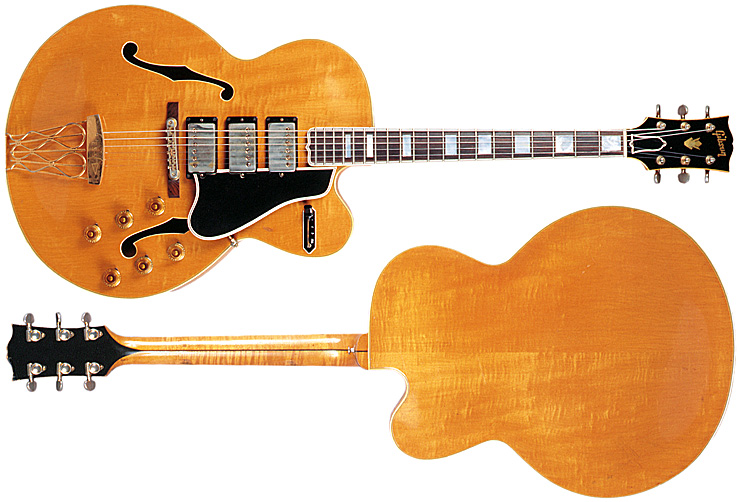 From their curly maple necks and laminated bookmatched backs to their opulent gold-plated parts; from their neatly bound f-holes, fingerboards, and body edges to their decorated curlicue tailpieces and pantographed switch-plates, these two are pristine examples of a lost cultural icon and one heck of a guitar.
---
This article originally appeared in Vintage Guitar Classics No. 1 issue. All copyrights are by the author and Vintage Guitar magazine. Unauthorized replication or use is strictly prohibited.
---
---