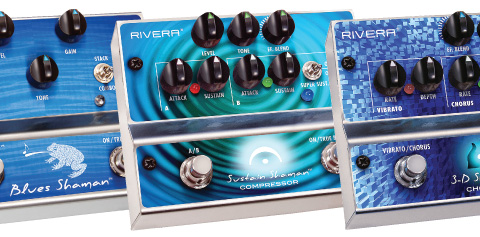 Rivera Shaman Series Pedals
Price: $299 each (street)
Info: www.rivera.com.
With roots stretching to the late '70s, SoCal-based Rivera Amplification is best known for their handbuilt-in-the-U.S.A. tube amps. Not to be overlooked, however, are the firm's pedal offerings, specifically their Shaman series of effects boxes. With the exception of the Acoustic Chorus Shaman, all were tested through clean amps set with flat EQ to hear each pedal's uncolored characteristics (the Acoustic box was tested through a PA).
The Blues Shaman is an overdrive designed to produce the tone and response of smaller class A amplifiers. The box comes equipped with Tone, Level, and Gain knobs, as well as a Combo/Stack switch that changes the dynamics to simulate an open-back combo amp or a closed-back stack. The Blues Shaman has an additional footswitch labeled "Ascension" that delivers a gain boost when engaged. Tonally, this pedal impresses with its dynamic response to pick attack, invoking the sensation of being plugged straight into a nice tube amp. It delivers a raunchy, unique overdrive sound that stands out in a market full of transparent drive pedals. The Combo/Stack switch is a great addition to the pedal, too. The Combo position lends an intimacy to the dynamics of the Blues Shaman, while the Stack position really opens it up and lets it rip.
The Double Shaman is a dual overdrive that offers two distinct drive sounds that can be changed with the click of a footswitch. It comes with two rows of Tone, Level, and Drive knobs, as well as a Combo/Stack switch for more versatility. One row is dedicated to the "L.A." sound, the other to "Austin." The Austin mode is reminiscent of '60s-era American combo amps and, tonally, could easily be mistaken for something shaking out of Muscle Shoals. The Combo/Stack switch acts much like it does for the Blues Shaman, with the Combo position tightening up the bottom end and providing a little more in the way of dynamics, while the Stack switch lends itself to a bigger, more open sound. The L.A. mode is not subtle in the least about its characteristics, but in a good way. Those looking for that '80s metal sound will certainly get it from the Double Shaman.
The Sustain Shaman is a dual compressor that comes packed with low-noise circuitry designed to rival compressors found in pro studios. Each compressor channel comes with independent Attack and Sustain controls. In addition to these controls, the Sustain Shaman offers Level, Tone, and Effects Blend knobs that allow guitarists to dial in how much compression they want in their signal. Overall, the pedal offers clean, transparent compression and some of the most impressive sustain this side of an EBow. The compressor's dual channels offer great versatility and the ability to have both a rhythm and lead section. The feature that most guitarists will dig, however, is the Super Sustain switch in the B channel, which increases sustain to almost unbelievable levels, stretching notes far beyond their natural duration.
Rivera's Metal Shaman's tonal roots are based in the Bay Area thrash scene. It displays tight and aggressive characteristics but without the oft-grating treble associated with thrash. The EQ section offers enough flexibility for guitarists to key in on their ideal tone, while the Brutality switch opens the bottom end and lends a modern sound that is well-suited to lower tunings. The Noise Gate is a welcome addition, allowing thrashers who love high gain to find a low-noise solution. If the sheer power of the Metal Shaman isn't enough, kicking in the Disintegrate switch will definitely take you there.
The 3D Shaman Chorus, an all-analog stereo chorus pedal, comes with separate Chorus and Vibrato modes that can be changed with the stomp of a footswitch. Both modes have independent LFO sections, each with a Rate and Depth knob. The top row of controls consists of an Effects Blend knob that adjusts the amount of chorus mixed in with the dry signal, a Tone knob, and a Panoramic switch that widens the pedal's sound spectrum. The Vibrato mode is no slouch, either, providing some truly fantastic warbling. Dial in the Rate and Depth knobs of each effect.
The big news is that the 3D Shaman Chorus is equipped with three output jacks; Wet Left, Dry/Center, and Wet Right. They can be used in three output configurations; Mono, Wet (either both Wet outputs or one Wet output with the Dry output), and 3D (all three output jacks). The 3D Shaman's deep and lush tone aside, this feature truly sets this pedal apart from the rest of the chorus-pedal pack. It's quite an achievement and will likely make this stompbox a must-grab for many pickers.
Finally, the Acoustic Chorus Shaman is a feature-packed analog chorus pedal for acoustic-electric players. It comes with a three-position switch that allows the user to choose between Legend, Standard, and Custom tonal modes. A secondary footswitch offers a choice between Chorus and Vibrato modes, both of which come with their own dedicated low-frequency oscillation section controlled by Rate and Depth knobs. In addition to the separate LFO controls, the Acoustic Chorus Shaman has an Effects Blend control that can set the desired mix between dry and effected signal, a Low knob for bottom frequencies, and a High knob for top frequencies.
The Acoustic Chorus Shaman is also the only chorus pedal in the world with a balanced input, making it perfect for Taylor guitars with the ES pickup system. This cool feature makes up 4 to 6dB of gain that would be lost when plugged into an unbalanced output. But the Acoustic Shaman sounded great tested with several different acoustic-electric guitars.
Overall, this series of Rivera pedals offers a terrific array of tones in bulletproof, boutique-style construction. Check 'em out.
---
This article originally appeared in VG May 2013 issue. All copyrights are by the author and Vintage Guitar magazine. Unauthorized replication or use is strictly prohibited.
---