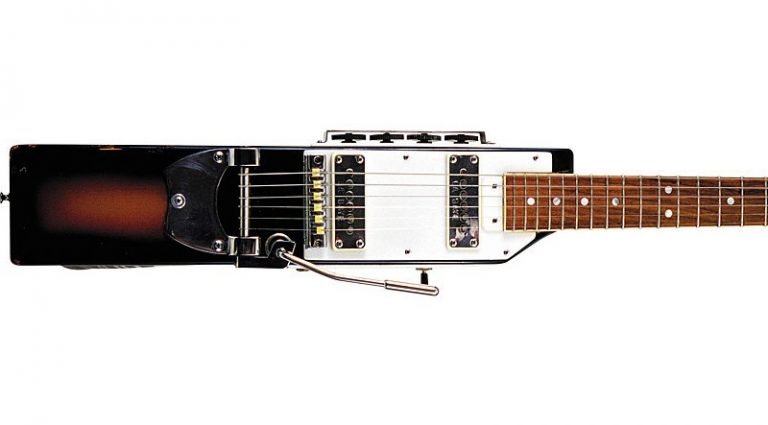 1967, the Summer of Love. Everything still seemed possible, and anything went. No more war, racial and gender equality, Fresh Cream, the Beatles best record ever, the Jimi Hendrix Experience. Phew! What a difference the next year would bring! And that applied to guitars. None more than this classic minimalist La Baye 2×4 "Six." This is just one of the many great American guitar stories!
The legendary La Baye guitars were the brainchild of Dan Helland, at the time a guitarist and guitar teacher in Green Bay, Wisconsin. La Baye is the hoity toity Frenchified name of "the bay," the local name for that sprawling, shallow body of water at the top of Lake Michigan just before you pass into Lake Superior. There's more than a little humor in this because north of "the bay" is Michigan's Upper Peninsula, home to many people of French descent.
Now, guitar players fall into two camps. The true aficionados, like wine fanatics, will swear by their combination of carved maple and lush mahogany, or maybe their basswood, or swamp ash, or whatever. The cynics say an electric solidbody is a slab of wood with a neck and pickups, and their sound is all in the electronics pushed through an amp. Helland fell into the latter camp. To him, an electric guitar was just a 2×4 with a neck. The idea of the La Bay 2×4 line became a real possibility.
The idea dawned on Helland around 1964 or '65. He was working at Henri's Music, an area music store chain owned by Henri Czachor. Czachor gave Helland space to work on his ideas. Helland doesn't recall how he ended up there, but someone probably knew someone who knew someone and he hooked up with the Holman-Woodell factory in Neodesha, Kansas.
Holman-Woodell, Inc., was founded in Neodesha in May of '65 by Howard E. Holman and Victor A. Woodell. Holman had worked for the Wurlitzer Music Company – the famous piano and organ manufacturer and instrument distributor from Elkhart, Indiana – before moving to the little town of Independence, Kansas, located a few miles to the west, where he opened the Holman Music Company store in Neodesha. Woodell was the money man described as a "former industrialist" with experience in electronics manufacturing who had already retired to Sarasota, Florida. A local guitarist and former woodshop teacher named Doyle Reading served as the company's guitar designer. By the time Holman guitars first appeared in November of '65, the company had inked a distribution deal with Wurlitzer to sell "The Wild Ones: Stereo Electric Guitars."
Trouble followed quickly. Not long after the Wurlitzer line was introduced, dealers began to find the finishes flaking off and started returning them to Wurlitzer. They were not happy campers. Nor patient campers; Holman-Woodell Wurlitzer guitars and basses lasted only through 1966, maybe into early '67, when Wurlitzer dumped the Holman contract. To this day it's rare to find a Holman Wurlitzer with its paint intact.
The loss of such a potentially lucrative contract – not to mention the cost of doing refins – spelled trouble for Holman-Woodell. They promptly re-branded their guitars as Holmans. Right around the time of the Wurlitzer debacle, Dave Helland and his La Baye 2×4 idea entered the picture.
As you can see, the LaBaye 2×4 was pretty close to being a 2×4 board bolted to a Holman guitar neck. The Holman neck is pretty comfortable – thin, but not as thin as contemporary lines such as Kapa. The light fingerboard wood is actually an inexpensive grade of rosewood, and the inlays are real pearl. The serial number (#155540) doesn't signify anything unless this is #40, which it very well could be… The Sensi-Tone pickups look and sound a lot like cheaper DeArmonds, but they're genuine Holmans. The height is controlled by the number of thin plastic shims or plates placed between the top and the bottom. The vibrato was another Holman invention, a common variation on the Bigsby that appeared on the Wurlitzers. These may say "Channel 1" and "Channel 2" left over from the Wurlitzer stereo days, but this has mono output, like most Holman-brand guitars. Controls are two volumes and two tone thumbwheel knobs, like on some Fenders.
One definite design flaw is the placement of the three-way pickup select on the bottom of the guitar. It may look cool, like a rifle trigger, but there's almost no way to play this guitar without hitting the toggle! And forget about playing it while sitting down!
So, aside from the toggle, how does it play? The neck and fingerboard are fine. The vibrato is swell. Like virtually all other Holmans we've seen, the pickups are just never going to win the hearts and minds of guitar players. There have been worse, but these have relatively weak output with little tonal range. But hey, the appeal of the La Baye 2×4 lies in its cool factor!
And their rarity. Helland had Holman-Woodell build him around 45 "Six," "Twelve" (12-string), and "Four" (bass) guitars. He took them to the summer NAMM show in Chicago in '67, where they were quite the rage… and produced zero orders. He did get some novelty pickup among a few pros; Tommy James and the Shondells played them for about 15 minutes, and a Milwaukee-area band called the Robbs donned them briefly. That was it before the La Baye 2×4 entered the annals of guitar legend. And Holman-Woodell, too. Helland became a professional photographer, and in late '67/early '68, the factory was sold to two folks named Al and Ray, who made Alray guitars for a limited time. But by '68, the guitar market had gone soft and that was it for the guitarmaker from Neodesha. Leaving us with this '67 La Baye 2×4 "Six," one of about 45 instruments produced on the plains of Kansas during the Summer of Love, a dream unfulfilled, despite the possibilities.
---
This article originally appeared in VG's September 2008 issue. All copyrights are by the author and Vintage Guitar magazine. Unauthorized replication or use is strictly prohibited.
---