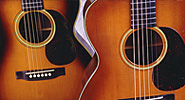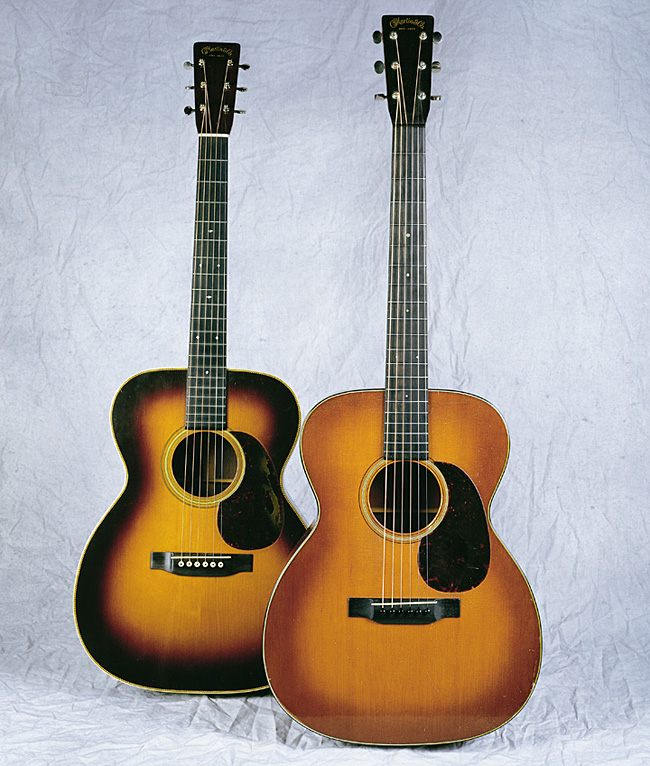 What makes these two Martins remarkable is not necessarily their rarity or historical importance, though both would be welcome additions to any serious collection.
Martin has offered sunburst finishes as an option since the 1930s.The earliest Martin catalog reference is a 1932 C-1 archtop with a "top shaded golden brown;" sunburst R-series archtops and dreadnoughts followed in 1933 and '34, respectively. It was also a popular finish on Martin's O-18H and 00-40H Hawaiian guitars during this period.
Over the years, however, most Martins have been finished in clear nitrocellulose lacquer, which ages to a mellow golden color. So the occasional sunburst has always been something of a rarity and a special treat.
Sunbursting is truly an individual art, the most spectacular examples have a subtlety – a delicate blending of colors – that only comes from years of practice. To my knowledge, Martin sunbursts have always been two-tone, either tobacco (natural to brown or black) or, more recently, cherry (natural to red). But in the hands of a master airbrush artist, you'd swear the finishes are three- or even four-tone. Martin sunburst finishes exist in just about every imaginable shade and hue – yellow, amber, brown, black, gold, red, light, dark, medium, and on and on.
In the '60s, even Martin's F-series acoustic, electrics featured a unique "shaded honey maple" top, with a natural center and caramel color feathering.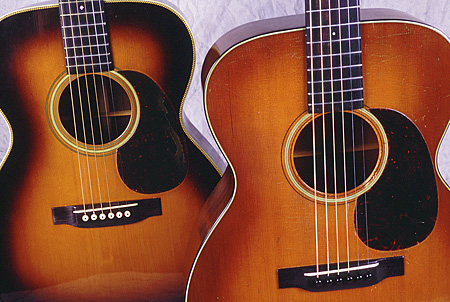 Surprisingly, many feel sunburst finishes are used primarily to hide poor materials or sloppy workmanship. That may be the case with other companies, but not Martin. Their sunburst finishes re, for the most part, translucent so there's not much top area to "hide" anything. Certainly, a top that is less than perfect, cosmetically, would benefit from sunbursting, but Martin grades its top wood by model, with the most expensive receiving higher-grade wood.
---
This article originally appeared in Vintage Guitar Classics No. 2 issue. All copyrights are by the author and Vintage Guitar magazine. Unauthorized replication or use is strictly prohibited.
---
---