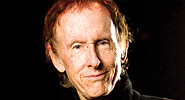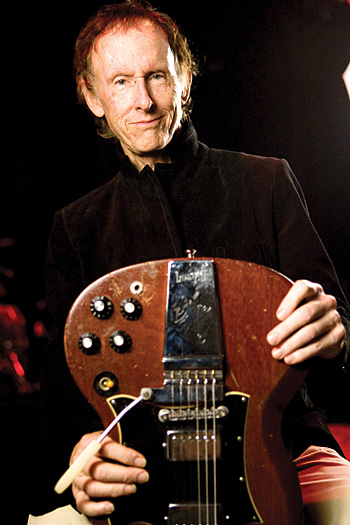 For all of his decades of noteworthy guitar work, Robby Krieger isn't resting on his laurels.
In 2002, Krieger and Doors keyboardist Ray Manzarek formed Doors of the 21st Century (and they still perform as Manzarek-Krieger), but the guitarist's newest album, Singularity, is an ambitious instrumental effort that expands on his desire to create music with numerous instruments and musicians.
Throughout his solo career, Krieger has crafted tightly arranged songs, avoiding meandering jams. Those on Singularity underscore that reputation.
Named after a Krieger painting that graces its cover, he described singularity as "…a profound event such as the big bang… I could have started with something smaller, such as, say, the destruction of a galaxy or two, but I figured 'What the hell?' Hopefully, the music evokes thoughts along those lines."
Singularity is more cohesive and melodic than his previous solo disc, Cinematix, and while there are plenty of guitars to be heard (Krieger used a '59 Fender Stratocaster, a Gibson SG, a '59 Gibson Les Paul, and his three vintage mono ES-355s), reeds, horns, drums, acoustic bass, a Hammond B-3 organ, etc. get to solo, as well.
"I think it's a little less fusion-y than Cinematix," said the guitarist. "It's got a bit more of a Spanish flavor, and more traditional jazz."
As if to underline Krieger's "Spanish" musical inclinations, the first track, "Russian Caravan Intro," is a solo flamenco-guitar piece of the sort he has been wanting to record for many years. He used a 1953 Ramirez. It's followed by "Russian Caravan," a 10-minute, almost-orchestral work that incorporates trumpet, flugelhorn, trombone, sax, flute, and acoustic bass, in addition to traditional small-combo instruments. It doesn't even pick up a tempo until the 2:50 mark, and the tempos noticeably shift for the balance of the song. An overdriven electric guitar played by Krieger can be heard harmonizing with a flute.

(LEFT) Robby Krieger is recognized as a Gibson SG player. With the Doors, he played a '67 Standard that served as the basis for Gibson's new Krieger signature SG. Its neck profile was modeled after a Les Paul Junior, and its pickups are wired out-of-phase. "Other than that, the guitar is a copy of my '67," Krieger said.
"I actually started writing the song about 15 years ago, when Miles Davis died," Krieger recounted. "My friend, Arthur Barrow – who wrote most of the songs with me – and I decided to do some kind of Miles tribute; maybe something like (Davis' 1960 album) Sketches of Spain. And we kind of forgot about it until we resurrected it for this record."
"Southern Cross" is a Latin-tinged easy-listening tune that features slide work by Krieger, playing Barrow's old Kay, often very high on the fretboard. "The guitar had a big cutaway on the back, so I could go way up on the neck," he noted. For the majority of slide parts, Krieger relied on a '54 Les Paul.
There's more flamenco on "Event Horizon Intro," followed by what Krieger calls "a soundtrack vibe" on "Event Horizon." Other songs on Singularity have a small-combo jazz feel." Numerous instruments get to solo, which is exactly how Krieger wanted each song to develop. For example, the opening melody of "Trane Running Late" (inspired by saxophone legend John Coltrane) is carried by sax, and when it came to solo parts for the other instruments, Krieger was laissez-faire. "I didn't tell [the other musicians] what to play," he said.
The final track, "House of Bees," has a be-bop feel, with more than one instrument playing melodies with each other, note-for-note. There's even a low-end sax solo, a la Gerry Mulligan.
He was meticulous getting the album exactly as he wanted it, with its extensive instrumentation and arrangements. Recording and producing it, he recalled, took "…a couple of years. It wasn't something we could do all at once. I'd been playing the Doors stuff with Ray so much that I wondered when I'd get (Singularity) done. But I love the way it turned out."
Krieger plans to tour in support of the new album, and continue performing with Manzarek.
---
This article originally appeared in VG January 2011 issue. All copyrights are by the author and Vintage Guitar magazine. Unauthorized replication or use is strictly prohibited.
---
---