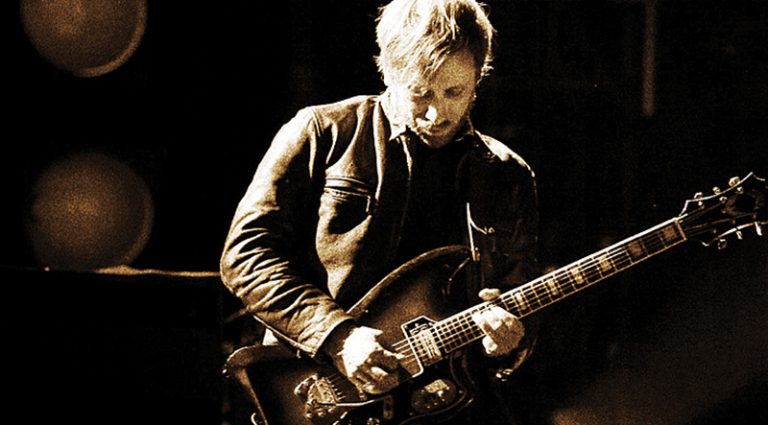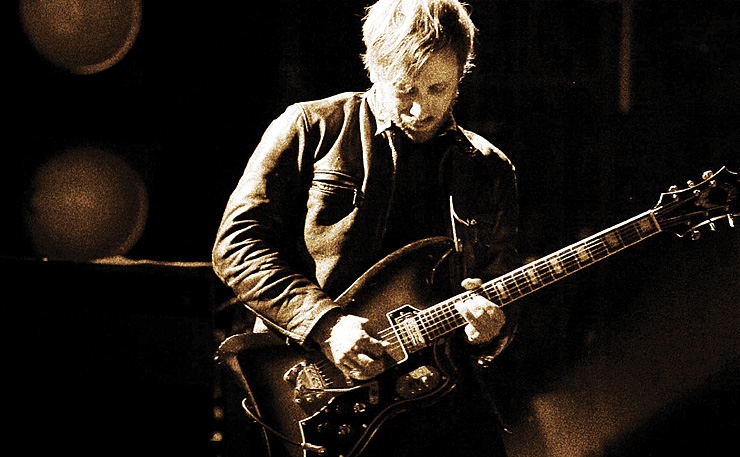 Forget about the classic quartet. Forget the power trio. Forget any preconceived shortcomings you may have concerning a rock-and-roll duo. There's no denying it – the Black Keys crank out impressive noise.
As one half of the band – drummer Patrick Carney – once joked, "We're normally a 12-piece jazz big-band, but the other 10 pieces just couldn't be with us on this tour."
Carney and guitarist/vocalist Dan Auerbach's current tour in support of their latest album, El Camino (Nonesuch Records), will take them on a five-month jaunt around the globe and across North America. Along the way, they'll headline at stadiums and arenas, including two sold-out nights at New York City's Madison Square Garden.
To play these grand venues, the Black Keys have augmented the group with touring bassist Gus Seyffert and rhythm guitarist/keyboardist John Wood. But at heart, the band is still just a duet.
The burden of crafting the guitar riffs and solos falls on the shoulders of Auerbach. Asked how two guys can create such a wall of sound onstage, he shrugs it off as "Nothing out of the ordinary. No trickery; just a guitar, some pedals, and some amps."
Again with no trickery beyond good rockin' music, the Black Keys got big fast in the past two years. Auerbach and Carney joined forces a decade ago in their native Akron, Ohio, and released their debut, The Big Come Up, in '02. The album was a down-and-dirty rave-up of classic deep blues by Muddy Waters, R.L. Burnside, and Junior Kimbrough, blended with originals.
But it wasn't until their 2010 album, Brothers, that the Keys broke wide. The album won them three 2011 Grammy awards and an ever-broadening fan base ranging from guitar enthusiasts to frat brothers. Their rootsy music – stripped-down but full-on – spoke to deep-blues traditionalists just as well as classic rockers.
Auerbach recently told VG about his guitar inspirations; "From Marc Ribot to Robert Quine to Fred McDowell to Junior Kimbrough, Jerry Garcia to Lightnin' Hopkins to the Sonics to Shinki Chen." And that's not including his love for rockabilly, psychedelia, doo-woppers like the Cadillacs, and above all, his deep respect for John Fogerty and Creedence Clearwater Revival.
"I'm inspired by all kinds of guitarists from all genres," he said. "Anything goes – as long as it's interesting."
This broad base of interests led to El Camino – Spanish for "the road" – which pays tribute to the Keys' own musical journey. Car geeks, relax! The minivan on the cover is not what the bandmates think is a Chevy El Camino. Instead, this down-at-the-wheels, plastic-wood-sided vehicle is a brother to the van that Auerbach and Carney originally toured in back when.
El Camino is a road map for the route the group is now traveling. Brothers boasted a modern blues and soul sound, thanks in part to the band's self-production at the famed Muscle Shoals Studio in Alabama. El Camino rides a funk, British rock, and heavy-metal groove, recalling bands like Led Zeppelin, Cream, Black Sabbath, and T. Rex. It was cut in Nashville, at Auerbach's own Easy Eye Studio.
Both albums were produced by Brian "Danger Mouse" Burton, whose wide-ranging résumé runs from his own pop group, Gnarls Barkley, to production for Beck, Gorillaz, even U2. Burton helped the Keys' spice their rock and blues with hip-hop and R&B. But deep down, this is still an album all about guitar and drums.
El Camino was cut blending old-school and new tech. In Auerbach's studio, they had time to play, crafting each song the way they wanted. "Every song has a foundation of a live guitar-and-drums performance, but then we added instrumentation and vocals on top liberally until we were satisfied."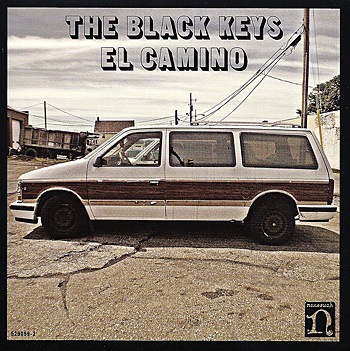 Auerbach's guitar collection runs in tune with his roots-music fascination.
"For the most part, [on this record] I used a '53 Les Paul, a '58 Strat, a '50s Harmony, and a '60s Danelectro," he reports. In truth, his Les Paul and Stratocaster – as well as a Gibson J-160E, Gibson Firebird, and Rickenbacker bass – are rare nods to "normalcy." Auerbach is perhaps the highest-profile user of bizarre guitars on the current rock scene – those great off-brand classics that fueled much of the blues and early rock and roll. And he's proud of it.
His Harmony collection boasts a dual-pickup Stratotone and a triple-pickup H77 modded with a Bigsby. His quiver also includes a black National Westwood 77 "map guitar," a white Supro Martinique with two DeArmond single-coils, and a glorious funky-shaped sunburst Guild Thunderbird.
The tone of these guitars cuts through El Camino. "Gold On The Ceiling" features Auerbach's trebly guitar soaring above Carney's deep drumbeat and fuzzed-out keyboards. "Run Right Back" rides a riff that is a feast of fuzz.
Auerbach loves fuzz. In the studio, he opts for small amps and their inherent overdrive, all in the spirit of Jimmy Page and his mystery Supro or Eric Clapton and his Fender Champ on Layla. Auerbach's fave is a little Magnatone with a 10″ speaker.
"No matter what size amp I use, I'm generally trying to find that sweet spot where the overdrive – the tube or speaker or combination of both – is constant, but still reacts well to pedals… fuzz especially."
On tour, he's using a Fender Quad Reverb and Marshall JTM45 with a vintage Marshall 8×10 cab.
He admits to owning a "sick amount of pedals." He has a small collection of Russian-made Sovtek Big Muff Pi fuzzes for use with large amps on the road, an early-'70s Ibanez Standard Fuzz octave fuzz with two sliders that he has used throughout his career, and a vintage '60s Marshall Supa Fuzz. But his favorite for coaxing the best sound out of a smaller amp is his Japanese-made Shin-ei Companion Fuzz.
Other effects on this album include a Fulltone tube Echoplex re-creation "…and various other normal, over-the-counter effects." In other words, too many to list politely!
---
This article originally appeared in VG May 2012 issue. All copyrights are by the author and Vintage Guitar magazine. Unauthorized replication or use is strictly prohibited.
---
CAPTIONS:
Dan Auerbach photo: Reid Long.
The Black Keys' El Camino pays tribute to the band's musical journey, recalling the music of bands like Led Zeppelin, Cream, Black Sabbath, and T. Rex.