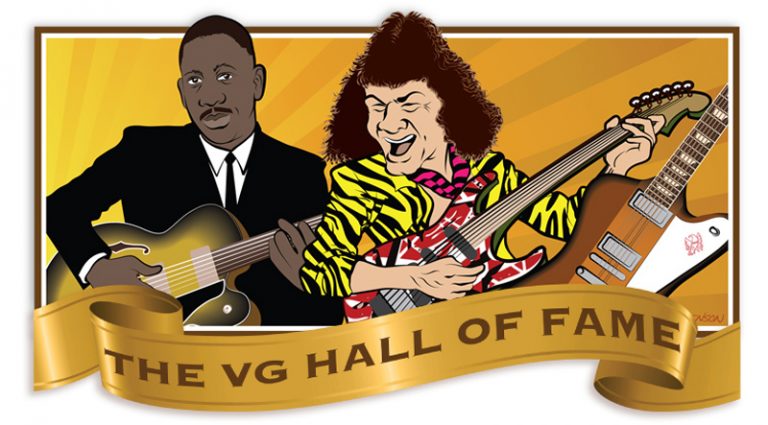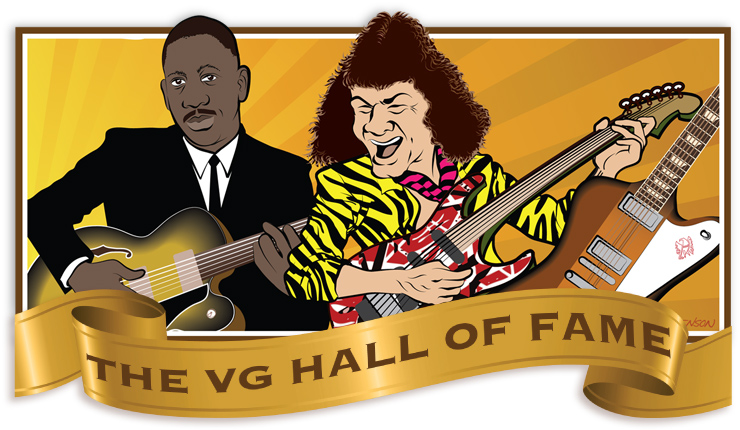 Each year, VG asks contributors and readers to choose inductees to its Hall of Fame. And each year, the magazine adds two players, an innovator, and an instrument for inclusion. Hundreds of votes are tallied via the magazine's traditional written ballot, while hundreds more vote at VintageGuitar.com. Here, we proudly present the 2013 inductees to the VG Hall of Fame. In conjunction with the Hall of Fame, we also ask readers to vote for Album of the Year. Any guitar-centric single, EP, or album that stood out for its performance and tones could be nominated, whether it was electric- or acoustic-based, and 0released between July 1, 2012, and June 30, 2013.
---
2013 Players

| | |
| --- | --- |
| 29% | Edward Van Halen |
| 24% | Wes Montgomery |
| 17% | Scotty Moore |
| 15% | Danny Gatton |
2013 Innovators

| | |
| --- | --- |
| 40% | Ernie Ball |
| 21% | Roger Mayer |
| 20% | Bob Taylor |
| 19% | James D'Aquisto |
2013 Instruments

| | |
| --- | --- |
| 33% | Gibson Firebird |
| 31% | Fender Champ |
| 27% | Epiphone Casino |
| 8% | Hamer Standard |
2013 Albums of the Year

| | |
| --- | --- |
| 38% | Mark Knopfler, Privateering |
| 19% | Gary Clark, Jr., Blak and Blu |
| 19% | Jon Herrington, Time On My Hands |
| 18% | Tommy Emmanuel and Martin Taylor, The Colonel and The Governor |
| 7% | Mudhoney, Vanishing Point |
---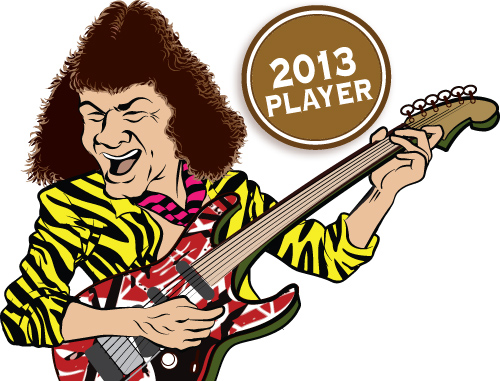 Edward Van Halen
2013 Player
Born in the Netherlands to musical parents (his father was a professional clarinetist/bandleader), as a child, Edward Van Halen studied classical piano and violin. When the family emigrated to California in the '60s, young "Eddie" first turned to drums, then guitar – learning solos by slowing his turntable – and was deeply influenced by a list of heroes including Hendrix, Page, Gibbons, Blackmore, and especially Eric Clapton.
Through his early/mid teens, he and older brother Alex played with bands at backyard parties and small, organized events first as Genesis, then Mammoth, and finally as Van Halen. By the time Ed was 19, the band – whose lineup also consisted of bassist Michael Anthony and an over-the-top front man named Dave Roth – had secured a record deal; they released a self-titled debut album in February, 1978.
The album hit home and proved hugely influential, opening the doors to a new heavy metal sound and attitude, and starting the band on a steady ascent to becoming one of the biggest acts of the '80s. And every step of the way, Eddie revealed layer after layer of virtuosic technique that pushed the boundaries of many facets of the electric guitar – everything from how it could be physically handled and manipulated to the way it could be incorporated as a melodic, syncopated element deep in the structure of a song – all delivered with artistry and nuance. Almost immediately, Eddie's playing inspired thousands to pick up the guitar after just one listen to his instrumental "Eruption" (the album's second track), which revealed a style that employed scorching runs, whammy-bar dives, and two-hand fretboard tapping like it had never before been done, along with more-nuanced touches like volume swells.
Another supremely influential element was Eddie's tone; sculpted using a stripped-down D.I.Y. parts guitar with a humbucking pickup angled in the bridge position and a modified vibrato bridge, he ran it through an old 100-watt Marshall head, a voltage regulator that contributed significantly to what would become his famed "brown sound," a touch of flanger, an MXR Phase 90, and added a bit of delay courtesy of an old Echo-Plex tape device.
In late 1982, Eddie recorded the solo on the Michael Jackson single "Beat It" which became an enormous hit and brought the admiration of a wave of pop-music fans who theretofore had little or no awareness of what he and his guitar could add to a song. The ingenious turn inched him ever closer to pop-culture ubiquitousness. Further contributing was the fact that with each successive Van Halen album, the band's fan base grew exponentially.
As Wolf Marshall said in his February '05 "Fretprints" column dedicated to the subject, "There are great guitar innovators, there are virtuoso geniuses, and then there's Eddie Van Halen – one of a kind, incomparable, and uncategorizable."
"For much of the '70s, the Clapton/Hendrix/Beck/Page formula ruled rock and roll – blues scales, bends, and a nice wrist vibrato," noted VG contributor Pete Prown. "Eddie Van Halen didn't just change that – he detonated it. Like the '50s painter Jackson Pollock, Van Halen splatter-painted notes all over the canvas, not caring where they landed, but launching them with an incredible, visceral force. In truth, Eddie was such a radical that many players didn't know what he was doing for years and, to this day, no one has been able to match his random, almost-nonsensical note choices. He didn't play patterns, scales or modes – just wild, amazing flights of brilliance, topped with stunning displays of two-handed tapping. While the music of Van Halen, the band, was catchy, mainstream FM hard rock, the guitar solos are purely avant-garde, a mesmerizing mix of Eric Clapton, Steve Hackett, and Allan Holdsworth. Looking back 36 years later, Eddie Van Halen was the sound of pure genius."
Buckcherry co-founder/guitarist Keith Nelson is one of the generation of players profoundly influenced by Van Halen. But, he was struck hardest by an element of Eddie's playing beyond the leads.
"The thing that has always knocked me out about Eddie is his rhythm-guitar playing," said Nelson. "His lead style gets the headlines, but for me, his rhythm playing is the secret weapon in his bag of tricks."
---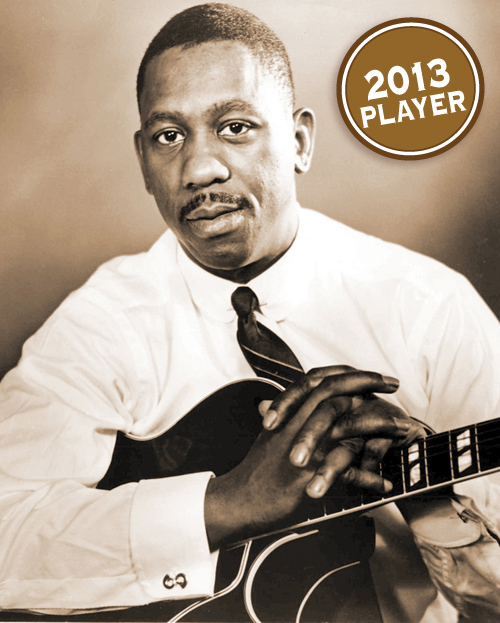 Wes Montgomery
2013 Player
Among modern jazz guitarists, there really is no greater influence than John Leslie "Wes" Montgomery. Born in 1923, he started playing the tenor guitar when he was 12 and used it while committing to memory much of the Charlie Christian catalog (yes, on a tenor guitar!). At 19, he switched to six-string and by the time he joined Lionel Hampton's band in 1948, his proficiency and fluency were beyond question.
Rooted in blues and affected by wind players like Charlie Parker, Dizzy Gillespie, Miles Davis, and John Coltrane, along with jazzers on other instruments, his single-note playing style reflected the influence of the bebop music of the era.
Amongst jazz guitarists, there are two epochs – pre-Montgomery and post-Montgomery. Name a "modern" jazzer – George Benson, Kenny Burrell, Grant Green, Pat Martino, Pat Metheny, Lee Ritenour – and they cite Montgomery as integral to their passion for jazz. Even top-shelf players in the rock idiom, including Jimi Hendrix and Steve Howe, have dropped (and continue to drop) his name.
In his suitingly in-depth analysis of Montgomery's style in the May '01 installment of "Fretprints," VG's Wolf Marshall said, "Montgomery's single-note playing and harmonic conception reflect the modernism and sophistication of traditional bebop with the soulful blues edge and grittiness of hard bop. A true musical pioneer, Wes did not confine himself to straight-ahead jazz. He explored various musical tangents throughout his career, experimenting with rock grooves, Latin and Afro-Cuban rhythms, R&B and funk, and varied orchestral settings.
"Octave-playing is a prime identifier of the Montgomery guitar style," Marshall added. "This approach involves the use of parallel octaves to render melodies which are normally found as single-note lines. At this, he is the uncontested champion… Another identifier is Montgomery's astonishing facility with block chords. The ease and grace with which he played pianistic chord-melody passages at breakneck tempos struck many listeners, including seasoned players, as 'impossible.' Underlying it all is an ever-present, infectious swing feel. Montgomery never sacrificed feel for complexity or technical concerns."
"Wes' playing was unique and fascinating because he was a bridge between the pioneering jazz guitar soloists like Django and Charlie Christian, leading us into a brave new world of modern jazz guitar," further noted VG music editor Michael Dregni. "A key component to his sound was that he primarily played with his thumb instead of a pick. It gave him that gorgeous, lustrous tone that other jazz guitarists have been striving for ever since. And yet, even with his thumb, he still played uptempo and virtuosic lines – often at the same time!"
"Wes was a genius because he changed things," added VG contributor Jim Carlton. "Of course, his command of octaves was extraordinary, but I also loved the melodic minor sounds he created so intuitively. I once asked the late Ted Greene, who was an authority on Wes, and Ted said, 'Did he use melodic minor and jazz minor scales? Yes. But if he knew he was using them, I'm the Easter Bunny.' The point is, Wes' playing was pure; his solos were stories that came from the heart.
"Django, Charlie Christian, and Wes are our guitar geniuses. They changed things, and jazz guitar hasn't been the same since."
---

Gibson Firebird
2013 Instrument
Hired in 1948 to oversee the books and more at Gibson, Ted McCarty dove full-force into design and helped create some of history's most-coveted instruments (and integral elements like the Tune-O-Matic bridge and PAF humbucking pickup), including the now-esteemed Firebird. While it was not a raging sales success or McCarty's crowning achievement, the model has a unique place in the guitar pantheon.
By the early 1960s, Gibson was headed toward "forgotten" status in the solidbody market. The single-cut Les Paul was gone, the SG and its entry-level Junior brethren were flailing, and Gibson's other solidbodies…. well, there were no other Gibson solidbodies. Fender was kicking Gibson's keester up and down, having added the oddly-shaped – and successful – Jaguar and Jazzmaster to broaden the audience created by the Tele and Strat. McCarty, in desperate need of a modern-looking instrument and seeking input from an outsider with a portfolio of classy designs, co-opted retired automotive designer Ray Dietrich to devise something different. Dietrich, drawing from his expertise and aiming at the enormous popularity/culture of the automobile, was inspired by the oversized tailfins on cars of the day. From its neck-through design (with noticeable square "hump" running down its midsection) to its banjo tuners, "flipped" body with extended upper treble and lower bass bouts, and new mini-humbucker pickups, it was decidedly un-Gibson-like. Plus, when it debuted in '63, it also served as the introductory platform for the company's custom colors, which were, again, a shot at/copy of Fender's Jazzmaster and Jaguar.
Those mini humbuckers, which were previously used on certain Epiphone guitars, were tweaked to give the Firebird a truly unique sound that could compare favorably with a Fender; McCarty had his electronics folks wind the wire of each coil around its own Alnico II bar magnet. More treble-biased than the Epiphone minis, its tone was also more focused, emanating from a narrower area of the strings' vibrations; it all meant their sound hit the player's ear with a high-midrangey tone that was thicker than Fender single-coils, but not as thick as Gibson's P-90.
"With the Firebird, Ted McCarty sent the same message to Fender that he had with the Flying V and Explorer five years earlier: Gibson will not be outdone when it comes to innovative guitar design," said Gibson expert and VG contributor Walter Carter. "The issue, however, became moot within a few years, when rock guitarists shunned new designs from both companies in favor of older Les Pauls and Strats."
Though greeted with some enthusiasm and decent sales, the Firebird lasted less than two years in its original form. Shortly after it was offered, Fender cried "copycat," pointing out that it had a design patent on the Jazzmaster based on its offset body waists. McCarty and company adapted by giving the Firebird a more-traditional form that came to be known as the "non-reverse," with less-angular bodies, glued-in necks, and traditional tuners. Today, however, the "non-reverse" variant runs a very distant second in terms of collectibility.
Special thanks to Walter Carter.
---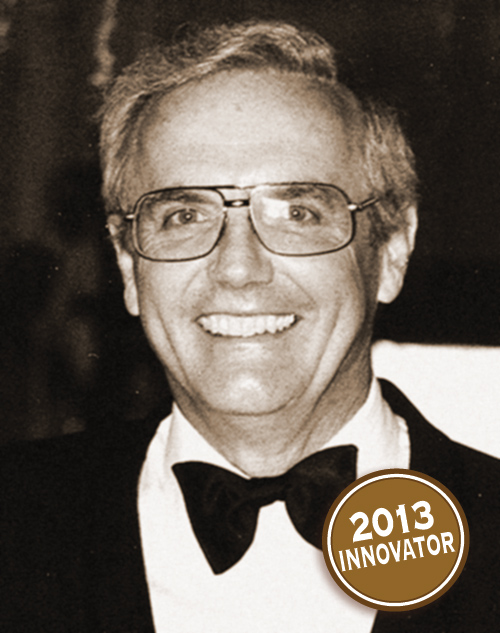 Ernie Ball
2013 Innovator
In the "realm" of the guitar, his name is well-known. But the "why" behind that reality is much less-known.
Born Roland Sherwood Ball, he grew up in Southern California and learned to play Hawaiian-steel guitar when he was just nine years old. As a young adult, he toured with the Tommy Duncan band and in the '50s enlisted in the U.S. Air Force, where he played with the USAF Band. Afterward, he returned to SoCal and resumed playing guitar in local clubs and lounges. His profile increased, however, when he scored a gig on "Western Varieties," a weekly show on Los Angeles' KTLA-TV, and from there better opportunities arose, including studio work and teaching.
In 1958, he opened a guitar shop in Tarzana, and though he took some heat, for the first several months, Ball (in a move that may have been an industry first) kept it dedicated to guitars and guitar accessories – no percussion, no woodwinds, no brass. A few years later, and perhaps as a result of that focus, Ball took a step toward music-industry immortality when, after hearing complaints from customers who couldn't find lighter-gauge strings, he asked several string makers to package sets that were gauged smaller and with a non-wound third/G. The move was intended to help tender-fingered beginners, which made learning easier and in turn encouraged them to continue with their lessons! He further adapted the concept by ordering strings in various sizes and allowing players to buy individual strings to create their own personalized sets.
Ball dubbed his string sets "Slinky" and they quickly proved popular, eventually appearing on shelves in thousands of music stores and generating $40 million in annual sales. Their success spurred a major expansion of his business, which in 1985 bought Music Man.
Ball was 74 when he passed away in September, 2004.
One of the many players who recall being impacted by Ball's work was Seymour Duncan, who would himself go on to become highly regarded for his innovations.
"I remember meeting Ernie Ball and his family when I moved to California from England in 1976," said Duncan. "He was such a great, kind man and gave me advice about manufacturing and his love for music."
Duncan was also one of the thousands of electric-guitar players, who, before Slinky sets, went to great lengths when it came time to re-string his guitars.
"When I was in my teens, I used Black Diamond strings, but I removed the low E, moved the rest over, and put tenor-banjo A string in place of the high E – which was then the B.
"I loved using Ernie's strings because, beyond giving players what they needed, he would talk to – and truly help – them.
"I am proud to have known Ernie and his family. He had a great vision for manufacturing and expanding his product, and is such a great role model. I'm so thrilled to see him get this great honor."
"We're incredibly honored to be inducted into The Vintage Guitar Hall of Fame!" added Ball's grandson, Brian, who today serves as Vice President of Ernie Ball, Inc. "Our family is extremely passionate about innovation, and to be included in such prestigious company is something we're very proud of!"
---
Privateering, Mark Knopfler
2013 Album of the Year
In his January '13 review of the album, VG music editor Michael Dregni focused on Mark Knopfler's career-long penchant for writing song "stories"; tales of people often sad, lost, or desperate, each highlighted by his incredible ability to relay varying musical (and guitar) styles. And even on a resume that includes truly stellar work as both songwriter and guitarist, this album stands out not only for the quality of the material, but – as his first double-disc studio recording – the quantity.
"The result is the most far-ranging album of Knopfler's career," said Dregni. "With electric guitar, slide, National resonator, and acoustic guitar, he lays down sea shanties, Celtic folk songs, country and electric blues, rootsy Americana tunes, and yes, some good old rock and roll. It's as if he standing at a crossroads alongside where the Mississippi meets London's Thames River."
Dregni went on to remind us that Knopfler has never mellowed with age. "He [has] become more introspective, which has added depth to his lyrics and his fretwork. But he still rocks out or gets low-down and dirty at the drop of a hat… it's the sound of a master craftsman enjoying himself, striving to create something special and unique in each song. And knowing that he has succeeded."
---
VG Readers' Choice Awards history:

Players
Instruments
Innovators
Albums
Artists

---