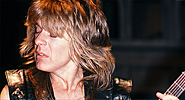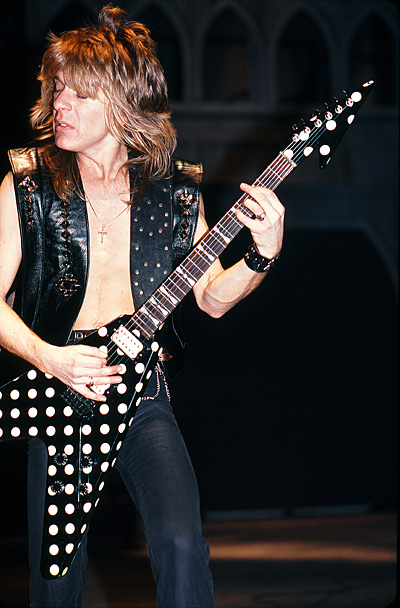 (RIGHT) Rhoads' polka-dot guitar was built in 1979 by Karl Sandoval, with a mahogany body, modified '60s Danelectro non-adjustable maple neck with a rosewood fingerboard and bow-tie inlays, two DiMarzio humbuckers (PAF in the neck position, Super Distortion in the bridge), separate Tone and Volume controls, a standard vibrato, and a selector switch on the upper bass bout. Rhoads photos: Neil Zlozower.
Randy Rhoads was only in the rock and roll spotlight briefly before dying in a freak airplane stunt. Yet here we are, 30 years later, still talking about Ozzy Osbourne's sideman and the impact he had on several generations of rock guitarists. In tribute, Sony Legacy has issued a spate of 30th anniversary releases featuring the two Osbourne studio albums with the diminutive guitar hero, as well as a freshly unearthed live recording from 1981, and a DVD documentary titled Ozzy Osbourne: Thirty Years After The Blizzard. A fresh book on the guitarist's life is also imminent. No matter how you slice it, Randy Rhoads still matters.
Part of the Rhoads legend has to do with Ozzy himself, a frontman who has led an uncanny 40-year career, first fronting Black Sabbath, then as a top solo artist and then as a reality-show star on television. But the meat of the matter are the two initial Ozzy solo albums, Blizzard of Ozz and Diary of a Madman, both packed with top-notch metal anthems and stellar musicianship from the guitarist and a fiery rhythm section.
In retrospect, Randy Rhoads' performance on these LPs was one of those "a star is born" moments, a combination of natural ability, timing, and sheer kick-ass attitude. Over the course of about 18 months, this band set towering standards for '80s metal, studio production, and lead-guitar pyrotechnics. Yet Rhoads virtually appeared out of nowhere and was gone before many people appreciated or acknowledged his gift. With these ideas and conundrums as a base, we'll explore his influences and recordings to get perspective on this brief, glittering guitar god.
Roots of Randy
Born at the end of 1956, Rhoads was part of a generation poised to witness the explosion of the Beatles and the Stones; the huge guitar evolution that began with the Yardbirds, John Mayall's Blues Breakers, the Jimi Hendrix Experience and Cream; and finally the harder rock of the Jeff Beck Group, Led Zeppelin, Mountain, and then all of the great bands of the early '70s. It was a blissful time to be a young electric guitarist with a good set of ears and the desire to become proficient on the instrument. Add to that the fact his mother, Delores, owned a music store in North Hollywood and Randy had a strong foundation to nurture his love of the guitar.
By the time he joined Ozzy Osbourne's group, Rhoads' style began to morph into a singular voice. Like his Southern California peer, Eddie Van Halen, Rhoads used two-handed tapping and a trebly, edgy guitar tone that bordered on harshness (his was even more razor-sharp than Van Halen's). Yet in contrast to Eddie's more-abstract lead style, Rhoads' style was grounded in the European classical-metal styles of Ritchie Blackmore, Uli Roth, and Michael Schenker. Fold in generous dollops of Jimmy Page, Jeff Beck, and Leslie West, and you begin to piece together his guitar style and why it was so popular. It was "contemporary daredevil guitar" like Van Halen, but firmly rooted in '70s blues-rock and Euro-metal styles.
"A big influence on Randy at the time – one that isn't spoken about very much – was Alice Cooper's guitarist, Glenn Buxton," said Kelly Garni, original bassist in Rhoads' early band, Quiet Riot, speaking to VG. "Randy liked all the weird noises and feedback Buxton came up with and would always point them out. Then Mick Ronson came along with Bowie, and he, too, was a noisy guitarist. Randy liked that, so he started coming up with his own strange sounds and noises, and that proved to be the basis of his own style. In fact, he started getting a style very young and, when later, I heard Randy's big guitar solo on the live Ozzy Tribute record, I just kind of shook my head because there were all these licks that he used to play when we were kids.
"We first heard about Van Halen when they were still known as Mammoth," Garni adds, elaborating on the Rhoads/Van Halen connection. "They were playing parties in Pasadena, which is a world away from Burbank. We'd hear rumors of how there was this great, loud band down there, and Randy got his girlfriend to drive him down to one of the parties. When he came back, I asked how they were, and all he would say was they were 'pretty good.' Later, after they had become Van Halen, we played a gig with them at the Glendale College Auditorium.
"Despite the rumors, Randy didn't mind when his students would ask to learn Van Halen licks. In fact, he always thought that he learned more from giving lessons than the students did."
Caught in the Blizzard
Through the late '70s, Rhoads played heavy glam-rock with Quiet Riot, earning enough following to record two albums for Sony Music in Japan. The story of his famous audition with Ozzy has been told many times, but suffice to say, in the fall of '79, Rhoads found himself in England with Ozzy, producer Max Norman, bassist Bob Daisley (Rainbow, Gary Moore) and drummer Lee Kerslake (Uriah Heep), writing songs and prepping for Osbourne's debut solo effort for Jet Records, a Columbia/Epic imprint. A lot was on the line – Ozzy had been unceremoniously dumped after nearly a decade fronting Black Sabbath, and both his new guitarist and producer were untested.
Eventually, the lineup migrated to Ridge Farm, near Dorking, in the south of England. The band started working with producer Chris Tsangarides, who had worked with Judas Priest and was making a name for himself helming Thin Lizzy's records. But after a week, Ozzy was reputedly dissatisfied with the early mixes and switched production duties to Ridge Farm's in-house engineer – Max Norman. As Norman later told KNAC.com radio about the guitarist and his tone, "Randy spent a lot of time playing – that's all he ever did, really. He didn't drink or do drugs; just a clean-living guy and very quiet. Randy was also a big fan of Eddie Van Halen, but when it came to his guitar sound, he wanted it a lot brighter than Eddie's. As a result, we did some pretty interesting things at that time, like triple tracking solos, which have never been done before."
As these things sometimes go, the combination of players and producer was harmonious, and the resulting Blizzard of Ozz album was a surprise hit and today stands as a masterpiece of '80s metal. In fact, paired with AC/DC's Back in Black, Blizzard helped ignite what would become heavy metal's most successful decade, and remains Ozzy's best-selling record with over six million copies sold worldwide. The album kicks off with "I Don't Know," a full-bore stomper that, in retrospect, sounds like Black Sabbath on steroids. Certainly, you can hear the Van-Halen-esque approach, with Rhoads providing all the harmonic content behind Ozzy's vocals, including salvos of chords, lead licks, riffs and squeal galore. Suffice to say, there's a lot of guitar playing going on – but it's what the music calls for. Its solo is classic Rhoads, a frantic mass of bends, jittery wrist vibrato, two-handed tapping, and muted arpeggios that became the bedrock of his style.
Next up is another definitive Ozzy/Randy track, "Crazy Train," a perfect blend of Rainbow's euro-metal riffery with Van Halen's sunny SoCal metal. A major-key power riff fuels the verse, laced with fast, open-string pull-offs that had been previously used by Les Paul and Jeff Beck. The solo, however, is a multi-tracked Rhoads attack, launching with classically infused two-handed tapping – a straight evolution from Van Halen's "Eruption" – as well as Michael Schenker modal-styled runs before going back into the dark, dramatic chorus riff.
"I remember when I first heard 'Crazy Train' and then its freight-train of a guitar came screaming in," Steve Vai of the lead in an interview on the box set's documentary. "I think it's the first rock track I heard where the solo came in and got scared."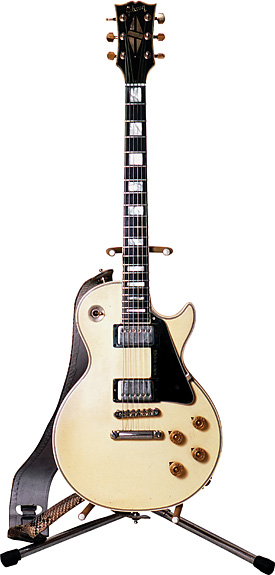 (LEFT) Rhoads' 1970 Gibson Les Paul Custom had stock pickups, his name engraved on the pickguard, a brass toggle-switch tip, and (after this photo was taken) his initials on the truss rod cover. This and the polka-dot V made by Karl Sandoval were the principal guitars heard on Blizzard of Ozz and Diary of a Madman. They are easily identified on the tracks by the vibrato (Sandoval) or non-vibrato (Les Paul Custom) style of playing on each song.
On the ballad "Goodbye to Romance," you can observe two things – Rhoads' elegant rhythm work and Ozzy's famous Beatles fetish. It's a mild, likeable pop song, but most noteworthy for Randy's stately, melodic solo. A better glimpse of the guitarist's mellower side is "Dee," a multi-tracked bit of classical-styled guitar. Certainly, Rhoads was not the first, nor best, rocker to play classical guitar (having been ably preceded by Steve Howe, Steve Hackett, Steve Morse, Rik Emmett, and Alex Lifeson), but in light of Rhoads' brief career, the song became hugely popular among his fans. And in the new DVD documentary, later Osbourne guitarist – and über-Rhoads fan Zakk Wylde, plays a perfect, note-for-note rendition of "Dee" on nylon-string guitar.
Another bonus on the 30th Anniversary Expanded Edition is the inclusion of the B-side, "You Looking at Me, Looking at You." It's a catchy pop-metal anthem, one that will make you wonder why it wasn't included on the original album – it says "hit single" all over it. Blizzard of Ozz's pièce de résistance, however, is "Mr. Crowley," which captures Ozzy's "Vincent Price of rock and roll" image in one tidy package. Here, Rhoads pulls out all the stops for the famous solo, a skittering gem of speedy picking and Gothic-metal melody, with yet another lead burning up the outro. It's easily one of the guitarist's very best performances. Adds 
Wylde, "When you really listen to Randy's solos, each one is like its own composition. They're a song within a song."
Diary of a Masterpiece
In September, 1980, Osbourne, Rhoads, Daisley, Kerslake and a tour keyboardist hit the road for the Blizzard of Ozz tour, which lasted for much of the next year. Released in the U.K. that fall, Blizzard was released in the U.S. in January, 1981, and, surprising to all (including Ozzy), it was an instant smash in the States, ratcheting up the pressure for a monster tour. Prior to the U.S. leg, however, Ozzy's manager (and later wife), Sharon Arden, shrewdly sent the band back into the studio to cut a follow-up album. In retrospect, this was a master stroke – considering Rhoads' brief life, had Sharon not made this pivotal call, Diary of a Madman might never had been created. Thus, when Ozzy began his American tour in April, he not only had a hit album on the charts, but another full album in the can.
Beyond the music, the tour gained notoriety for countless other reasons. Inexplicably, the powerhouse rhythm section of Daisley and Kerslake were sacked prior to the tour and their parts on the Diary LP were credited to their replacements, bassist Rudy Sarzo (later of Whitesnake) and drummer Tommy Aldridge (from the Pat Travers Band). Not surprisingly, many lawsuits later arose from this move. The U.S. tour itself was near-pandemonium, with sell-out shows, rampant drug and alcohol use, Ozzy's high-profile arrest in San Antonio (for urinating on a wall at the Alamo) and, of course, the infamous incidents where Ozzy bit the head off a dove (intentionally) and a bat (unintentionally). Regardless of the bacchanalian atmosphere, the Blizzard of Ozz tour was one of the hottest concert tickets of '81; in contrast, Osbourne's old mates in Black Sabbath were still grinding it out on the mid-level metal circuit. The combination of great rock and roll and outrageous offstage behavior proved a great marketing asset for Osbourne.
As for Diary of a Madman, the album can be viewed as the perfect bookend to Blizzard of Ozz. While cut in only six weeks and sounding a bit rushed in places, it delivered a new batch of metallic anthems for FM radio, as well as ample Rhoads fretboard acrobatics. By this time, the guitar magazines were beginning to notice his playing, bringing word of a new guitar sensation to entice their readers. Interestingly, the guitarist was becoming more enamored with classical guitar and, as the initial thrill of touring with Ozzy began wearing off, expressed an interest to get off the road to practice his nylon-string skills. Randy reputedly even hired local teachers to give him classical lessons as the Ozzy machine rolled across the country.
Live Recordings
In 1987, the double-live LP Tribute was issued and credited, generously enough, to both Osbourne and Rhoads. Taped in '81, tracks on this album capture the relentless energy of the Osbourne band, featuring Rhoads with the pummeling Sarzo/Aldridge rhythm section. The album was another hit (hitting #6 on the U.S. charts and selling more than two million copies), and captured the group in all its raw, metallic glory.
In the spate of 30th anniversary reissues, Sony has unearthed another concert recording from that year for the box set, again showing the skill and relentless energy of Rhoads in concert. One thing that becomes quickly clear, however, is that Rhoads preferred to play his guitar parts note-for-note from the studio versions and therefore, there aren't many new solos to savor. On the other hand, you again have to appreciate how much of the show he carried on his shoulders – Rhoads had a million riffs, licks, and leads to remember and he nailed them on these concert documents. This approach further alludes to his interest in classical music and the art of playing music perfectly night after night.
Rhoads' Rig
Rhoads' guitar rig helped set the standard for modern metal and has been duplicated by thousands of aspiring players. Its basic ingredients were a solidbody with humbuckers and a vibrato bridge fed through a battery of effects; an MXR Distortion+, wah, MXR 10-band graphic EQ, Korg and Roland tape echoes (as well as MXR and Yamaha analog units), and MXR Stereo Flanger and Chorus pedals. His amp of preference was Marshall JMP-series Super Lead 100-watt heads with 4×12 cabs, many covered with white Tolex.
Rhoads is identified with several guitars, among them, a white Gibson Les Paul Custom, which was likely from the early '70s. Fitted with stock Gibson humbuckers, he used this axe with Quiet Riot and with Ozzy. Photos also showed him with a black Les Paul Custom with three humbuckers.
Another key axe was the V built by luthier Karl Sandoval in the summer of '79, just prior to landing the Ozzy gig. A polka-dot solidbody with "bowtie" inlays (one of Rhoads' trademarks during the Quiet Riot years), the guitar also had a vibrato bridge and DiMarzio humbuckers, each with its own Volume and Tone controls. The set neck was taken from an old Danelectro guitar. Rhoads paid $738 for the guitar and today the model is known as the Sandoval Dot V.
The last piece in Randy's guitar arsenal was a pair of custom-offset V-style guitars designed by Grover Jackson, Tim Wilson, and Mike Shannon. One black, one white, both Jacksons had Seymour Duncan humbuckers, vibrato bridges, and set-neck designs. These now-iconic guitars became quintessential metal axes after Rhoads' death for their killer looks and fierce tone, and the list of players who've used them is impressive, including Dave Mustaine, Kirk Hammett, and Children of Bodom's Alexi Laiho. And in the accessory department, Rhoads used Fender medium picks and GHS strings in both .010 and .011 sets.
Legacy
For a player who accomplished so much in such a short time, Rhoads remains a beloved icon of rock guitar, and duly so. With his death, of course, a certain cult of personality has grown around the man, some of it true, some of it fan-based hyperbole. But thanks to the internet, there's a lot of Rhoads material to decipher, from print interviews to live videos and fan recordings. For the truly obsessed, there are audio recordings where you can hear Rhoads' guitar lessons at his mother's music store in his pre-Ozzy days.
Perhaps it's from his peers we hear the greatest praise for Rhoads. "When you listen to his solos, there are moments of uniqueness," Vai says on the new DVD. "And when I say uniqueness, I mean things that have never been done before by a guitar player." Adds Ozzy nostalgically, "He was a phenomenal player, a genius. And he also loved playing guitar. You can tell." And that's probably Rhoads' greatest legacy – an unbridled passion for the guitar that has inspired generations of players.
---
You can receive more great articles like this in our twice-monthly e-mail newsletter, Vintage Guitar Overdrive, FREE from your friends at Vintage Guitar magazine. VG Overdrive also keeps you up-to-date on VG's exclusive product giveaways! CLICK HERE to receive the FREE Vintage Guitar Overdrive.
---
This article originally appeared in VG August 2011 issue. All copyrights are by the author and Vintage Guitar magazine. Unauthorized replication or use is strictly prohibited.
---