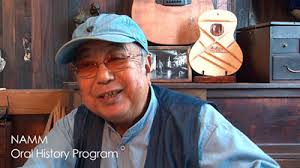 Kazuo Yairi, owner and president of the Yairi Guitar Company, passed away in his hometown of Kani, Japan, on March 5.
Yairi's company was one of the first to export professional-grade acoustic guitars to the United States, and became the primary manufacturer of Alvarez and Alvarez-Yairi guitars, which are now owned by St. Louis Music.
Yairi was born in 1932. His father, Gi'ichi Yairi, trained as a luthier at the Suzuki violin factory before establishing Yairi Musical Instruments to make his own violins and classical guitars. Kazuo took over his father's business in 1965. After studying steel-string guitar making in the U.S., he formed the Yairi Guitar Factory and began exporting acoustic and classical guitars. In the late 1960s, Yairi and Gene Kornblum, former owner of St. Louis Music, forged a business relationship that built Alvarez and Yairi into recognized brands.
He is survived by his wife, a daughter, and two granddaughters.